Vitamin D3+K2 Gummies
Nordic Naturals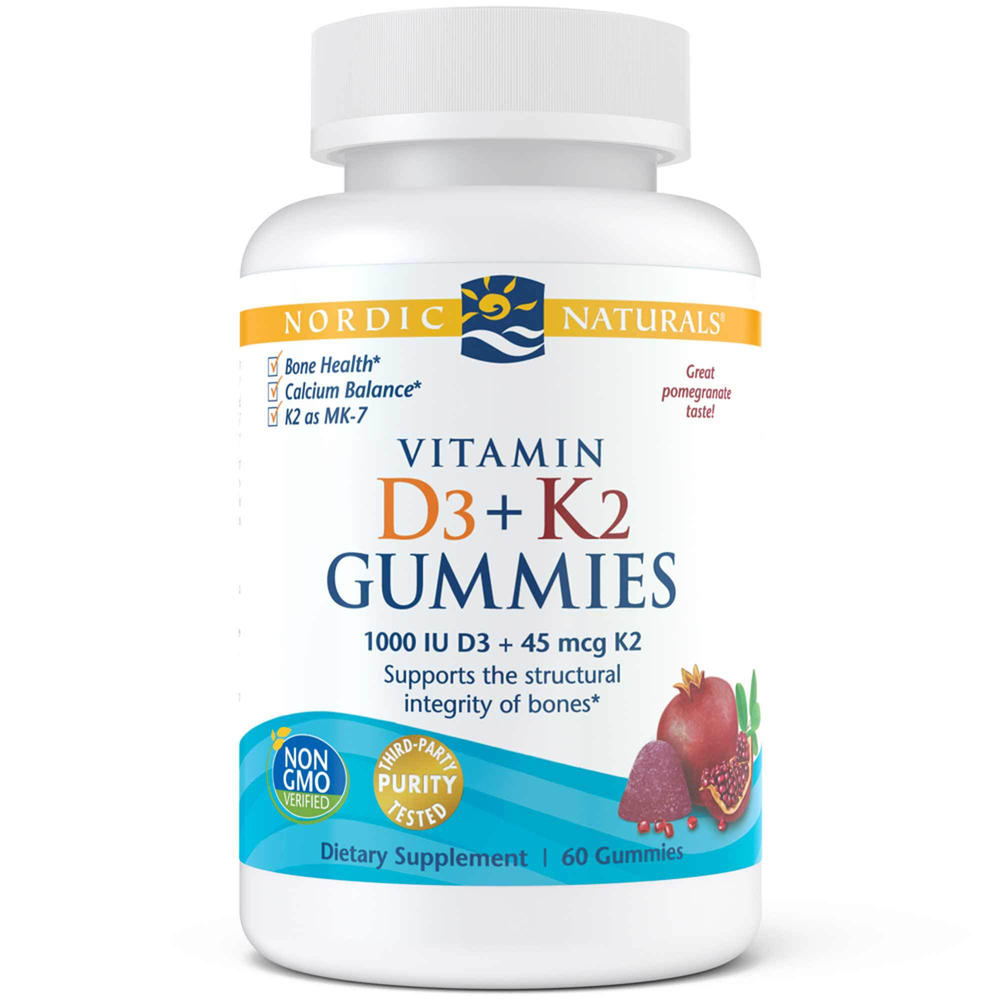 SKU: NORD-31160
Seriously flavorful, these made-for-adults gummies combine vitamin D3 and vitamin K2 to support healthy bones and calcium balance.*
Did you know your bones are constantly being rebuilt over time? Yep, bone itself is dynamic, living tissue. Vitamins D3 and K2 are two nutrients that work together to help you build and maintain healthy bones as you move beyond your peak bone-production years.* Vitamin D3+K2 Gummies give you a convenient, delicious way to get a healthy dose of these important nutrients. Vitamin D3 helps the body absorb calcium from the gut and reabsorb calcium from the kidneys while vitamin K2 supports the formation of healthy bones, redirecting calcium away from your arteries, where you definitely don't want it to accumulate.* In combination, vitamins D3 and K2 help the body use calcium effectively, maintain healthy bone density, and also support cardiovascular health.*
1000 IU Vitamin D3; 45 mcg Vitamin K2
Helps balance calcium and phosphorous in blood, and promotes healthy bone and muscle function*
Delicious pomegranate flavor
Gelatin-free gummies for adults
No artificial coloring, flavoring, or preservatives
Suggested Use:
Take one (1) gummy daily, with food, or as directed by your healthcare professional or pharmacist.
Serving Size: 1 Gummy
Calories … 10
Total Carbohydrate … 3g
Total Sugars … 2g†
Includes 2g Added Sugars
Vitamin D3 … 25 mcg (1000 IU)
(cholecalciferol)
Vitamin K2 … 45mcg†
(as menaquinone-7) (MK-7)
Other Ingredients: Organic cane sugar, organic tapioca syrup, purified water, pectin, citric acid, natural flavor, sodium citrate dihydrate, fumaric acid, fruit and vegetable juice (color).
No gluten, milk derivatives, or artificially derived colors or flavors.
Warning: Consult with your physician before using this product if you use anti-coagulants (e.g., Coumadin/warfarin).