Vitamin D3 VESIsorb
Pure Encapsulations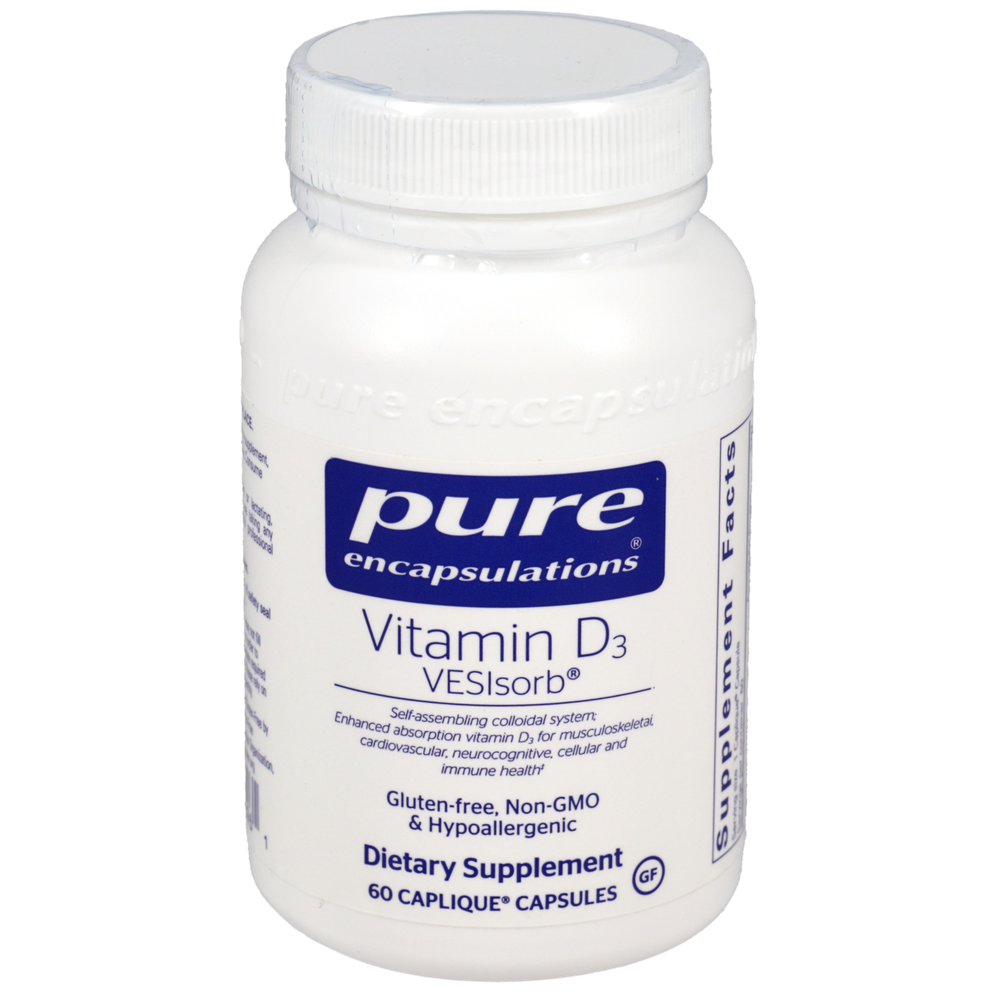 SKU: PUR-VDV6
*Self-assembling nano-colloid system for enhanced vitamin D absorption
-VESIsorb® delivery system offers enhanced absorption by promoting the ability for vitamin D to dissolve readily in an aqueous environment*
-Vitamin D offers support for calcium homeostasis, promoting bone and cellular health, and cardiometabolic health, promoting healthy inflammatory balance, glucose metabolism, blood flow and antioxidant defense*
-Each capsule offers 2, 000 i.u. of enhanced absorption vitamin D Caplique®
1-2 Caplique® Capsules per day, in divided doses, with meals.
Serving Size: 1 Caplique® Capsule
Amount Per Serving
vitamin D ... 50 mcg (2,000 IU)
(as cholecalciferol)(D3)
other ingredients: medium chain triglycerides, polysorbate 80, polyglycerol fatty acid esters, vegetarian Caplique® Capsule
It is recommended that individuals using more than 2, 000 iu vitamin D per day have their blood levels monitored. Large doses of vitamin D can cause hypercalcemia, signs include headache, weakness, nausea, vomiting, and constipation. Individuals with hyperparathyroidism or kidney disease are at particular risk. Consult your physician for more information. If pregnant or lactating, consult your physician before taking this product.
Vitamin D may result in hypercalcemia in certain individuals taking digoxin or thiazide diuretics. Consult your physician for more information.
Caplique® Capsule is a registered trademark used by Pure Encapsulations under license. Each Caplique® Capsule is preserved with a nitrogen bubble, which may give the appearance of the capsule not being full. Contents may appear cloudy or thick and may settle or separate. VESISORB® is a registered trademark of Source One Global Partners.
*These statements have not been evaluated by the Food & Drug Administration. This product is not intended to diagnose, treat, cure or prevent any disease.