VitaPrime Iron-Free Capsules
Klaire Labs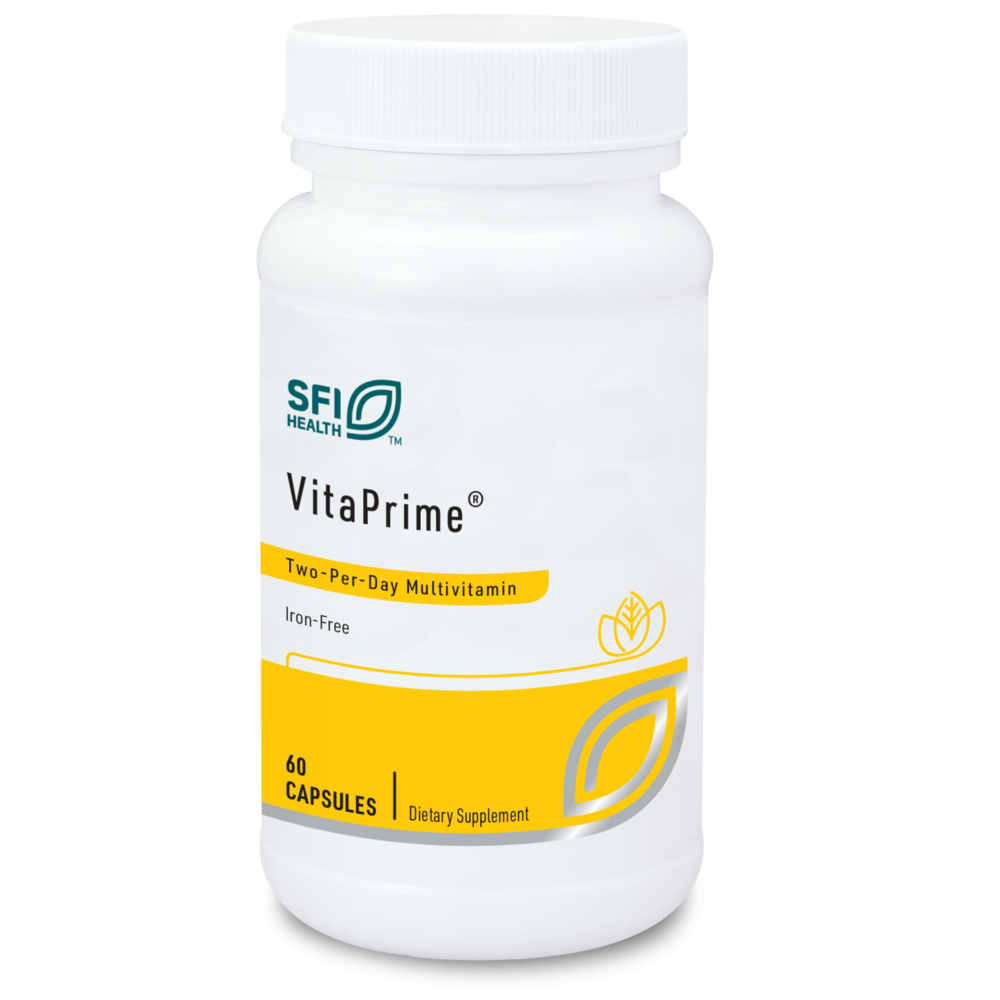 SKU: KLP-VTPC
This moderate potency multiple vitamin/mineral/trace element supplement is provided in just two capsules, yet provides significant amounts of essential nutrients in bioavailable forms. Compared to over-the-counter multivitamin products, VitaPrime® offers enhanced antioxidant protection, broader trace element nutrition, and augmented B vitamin support.† This core foundation of essential nutrients provides an extra measure of nutritional support that can be recommended to accompany a healthy diet.

 
Suggested Use:
Adults: 2 capsules daily with food. 
Children 4 to 14: Take 1 capsule daily with food or as directed by healthcare professional. 
Children less than 4 years of age: As directed by healthcare professional.


Serving Size: 2 Capsules

Amount Per Serving
Vitamin A ... 1,800mcg RAE
(as natural carotenes (beta-carotene, alpha-carotene and beta-cryptoxanthin) from D. salina)
Vitamin C ... 180mg
(as L-ascorbic acid)
Vitamin D3 ... 15mcg
(as cholecalciferol)
Vitamin E ... 108mg
(77% as RRR-alpha-tocopheryl acid succinate, 23% as RRR-alpha-tocopherol)
Vitamin K1 ... 60mcg
(as phytonadione)
Thiamin ... 25mg
(as thiamine HCl)
Riboflavin ... 15mg
(as riboflavin)
Niacin ... 60mg NE
(67% as niacinamide and 33% as niacin)
Vitamin B6 ... 15mg
(as pyridoxine HCI)
Folate ... 680mcg DFE
(as Metafolin®‡ calcium L-5-methyltetrahydrofolate) (400 mcg)
Vitamin B12 ... 50mcg
(as methylcobalamin)
Biotin ... 300mcg
(D-biotin)
Pantothenic acid ... 50mg
(as calcium D-pantothenate)
Choline ... 75mg
(as choline bitartrate)
Calcium ... 45mg
(90% as calcium citrate-malate and 10% as calcium D-pantothenate)
Iodine ... 150mcg
(from kelp)
Magnesium ... 40mg
(75% as dimagnesium malate and 25% as TRAACS® magnesium bisglycinate chelate‡‡)
Zinc ... 15mg
(as TRAACS® zinc bisglycinate chelate‡‡)
Selenium ... 200mcg
(as selenium amino acid complex)
Copper ... 2mg
(as TRAACS® copper gluconate)
Manganese ... 2mg
(as TRAACS® manganese bisglycinate chelate‡‡)
Chromium ... 150mcg
(as TRAACS® chromium nicotinate glycinate chelate‡‡)
Molybdenum ... 100mcg
(as TRAACS® molybdenum glycinate chelate‡‡)
Boron ... 2mg
(as boron aspartate-citrate)
Vanadium ... 50mcg
(as bisglycinato oxovanadium)
Inositol ... 25mg
Citrus Bioflavonoids ... 65mg
(50 mg as citrus bioflavonoid complex (50% bioflavonoids) and 15 mg as hesperidin methylchalcone)
Natural Mixed Tocopherols ... 6mg
(RRR-gamma, RRR-delta, RRR-beta)
Natural Mixed Carotenoids ... 40mcg
(lutein and zeaxanthin from D. salina)

Other Ingredients: Vegetarian capsule (hydroxypropyl methylcellulose, water), stearic acid, silicon dioxide, and natural citrus flavor.

Free of the following common allergens: milk/casein, eggs, fish, shellfish, tree nuts, peanuts, wheat, and gluten. Contains no artificial colors, flavors, or preservatives.

‡Metafolin® is a registered trademark of Merck KGaA, Darmstadt, Germany.
‡‡Albion®  and TRAACS® are registered trademarks of Albion® Laboratories, Inc.

 
Caution:
If you are pregnant, nursing, have a medical condition, or taking prescription drugs, consult your physician before using this product. KEEP OUT OF REACH OF CHILDREN.