Whey Cool Chocolate Powder
Designs for Health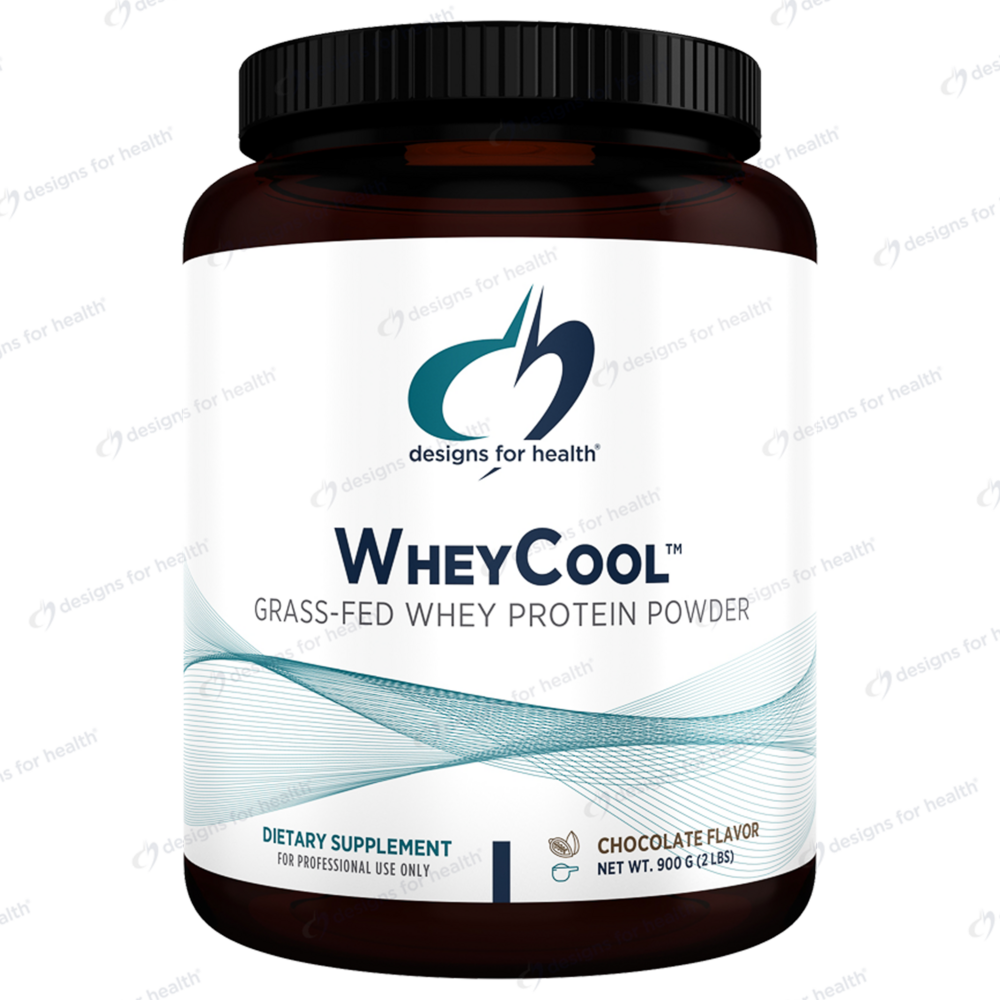 SKU: DFH-WCC900
Whey Cool™ is a great-tasting high protein, low carbohydrate functional food powder. It is made with an exceptional quality whey protein made from the milk of cows that graze on pesticide- and chemical-free, non GMO grass pastures in New Zealand, which is known to have one of the least polluted environments in the world. The milking cows are never fed grain, nor subjected to hormone or antibiotic treatments. This whey is instantized with sunflower lecithin (non-GMO), which helps it dissolve more easily in water and prevents foaming during blending.
Made with non-GMO ingredients.
As a dietary supplement, mix 30 grams (approx. one scoop) in eight ounces of water or any other beverage per day, or as directed by your health care practitioner.
Serving Size: 30g (approx. one scoop)
Amount Per Serving
Calories ... 120
Calories from Fat ... 20
Total Fat ... 2g
Saturated Fat ... 1g
Cholesterol ... 20mg
Total Carbohydrate ... 5g
Dietary Fiber ... 1g
Sugars ... 2g
Protein ... 20g
(from whey)
Calcium ... 135mg
Phosphorus ... 90mg
Sodium ... 100mg
Potassium ... 115mg
Other Ingredients: Cocoa powder, natural flavors, certified organic stevia leaf extract powder, vegetable cellulose, sodium chloride.
Contains milk.
This product does not contain gluten.
Typical Amino Acid Profile:
Alanine ... 1.1g
Arginine ... 0.6g
Aspartic Acid ... 2.3g
Cysteine ... 0.6g
Glutamic acid ... 3.7
Glycine ... 0.4g
Histidine ... 0.4g
Isoleucine ... 1.4g
Leucine ... 2.3g
Lysine ... 1.9g
Methionine ... 0.5g
Phenylalanine ... 0.7g
Proline ... 1.3g
Serine ... 1.1g
Threonine ... 1.5g
Tryptophan ... 0.4g
Tyrosine ... 0.7g
Valine ... 1.3g
NOTICE
This is a natural product that may exhibit color, taste, and density variations from lot to lot. It contains naturally occurring nutrients, therefore amounts may vary within the whey protein and flavor profiles.
Store at room temperature. Keep out of reach of children.