Whey Protein Isolate-Chocolate
Biotics Research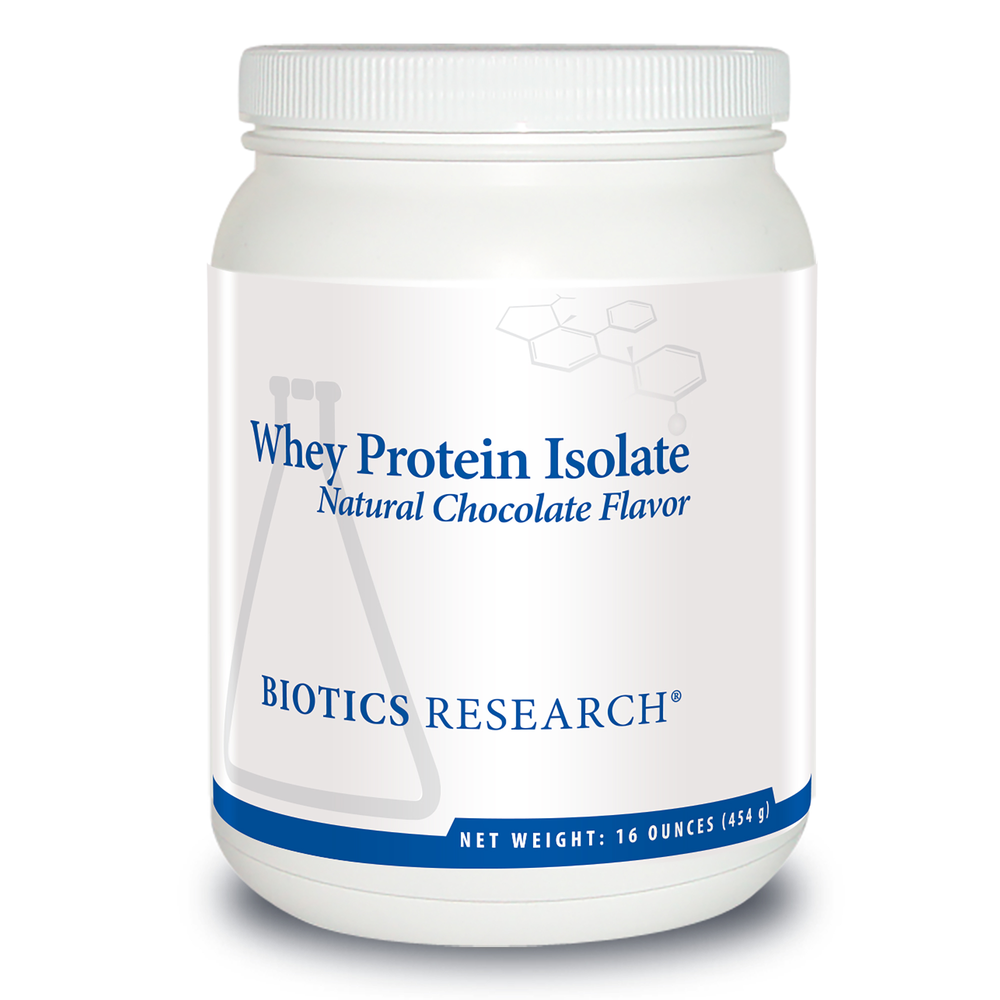 SKU: BRC-6422
Whey Protein Isolate is an excellent source of protein. Whey Protein Isolate is considered by many practitioners to be the premier dietary source for protein. It provides the body with the necessary building blocks that are used to build or maintain muscle tissue. Whey Protein Isolate from Biotics Research is produced using a micro-chilled process, thus the protein is undenatured, and retains significant amounts of important immune factors including Immunoglobulin (lgG) and Lactoferin. Additionally, Biotics Research's Whey Protein Isolate is devoid of added sugar or artificial flavorings, and each serving of supplies 20 grams of naturally complete protein, making it ideal for low-carbohydrate or metabolically balanced diets.*
Two (2) level scoops of Whey Protein Isolate mixed with eight (8) ounces of cool water (or the beverage of your choice). Add product to the liquid for ease of mixing.



Serving Size: 2 level scoops (approx. 27g)

Amount Per Serving
Calories ... 90
Total Fat ... 0g
Sodium ... 40mg
Potassium ... 115mg
Total carbohydrates ... 2g
Dietary Fiber ... 1g
Sugars ... 1g
Protein ... 20g

Ingredients: Whey protein isolate with natural sunflower lecithin (low temperature micro-filtered) and natural chocolate flavor (erythritol, cocoa, chocolate flavoring, xanthan gum, stevia leaf extract).

Contains ingredients derived from milk.

Does not contain gluten.

Each serving provides the following:

Beta-Lactoglobulin 14,252mg
Glycomacropeptide (GMP) 962mg
Bovine Serum Albumin 206mg
Alpha-Lactalbumin 3,362mg
Immunoglobulin (IgG) 861mg
Lactoferrin (LF) 42mg

Typical Amino Acid Profile Per Serving:

Alanine 990mg
Arginine 381mg
Aspartic acid 2,176mg
Cystine 453mg
Glutamic acid 3,476mg
Glycine 326mg
Histidine 339mg
Isoleucine† 1,357mg
Leucine† 2,077mg
Lysine 1,877mg
Methionine 400mg
Phenylalanine 623mg
Proline 1,287mg
Serine 895mg
Threonine 1,412mg
Tryptophan 328mg
Tyrosine 630mg
Valine† 1,203mg

†Branch chain amino acids

Stated amounts are typical and representative.
Caution: Not recommended for those allergic to dairy.

Keep out of reach of children.

Store in a cool, dry area.

Sealed with an imprinted safety seal for your protection.