Whey Protein Natural Vanilla
NOW Sports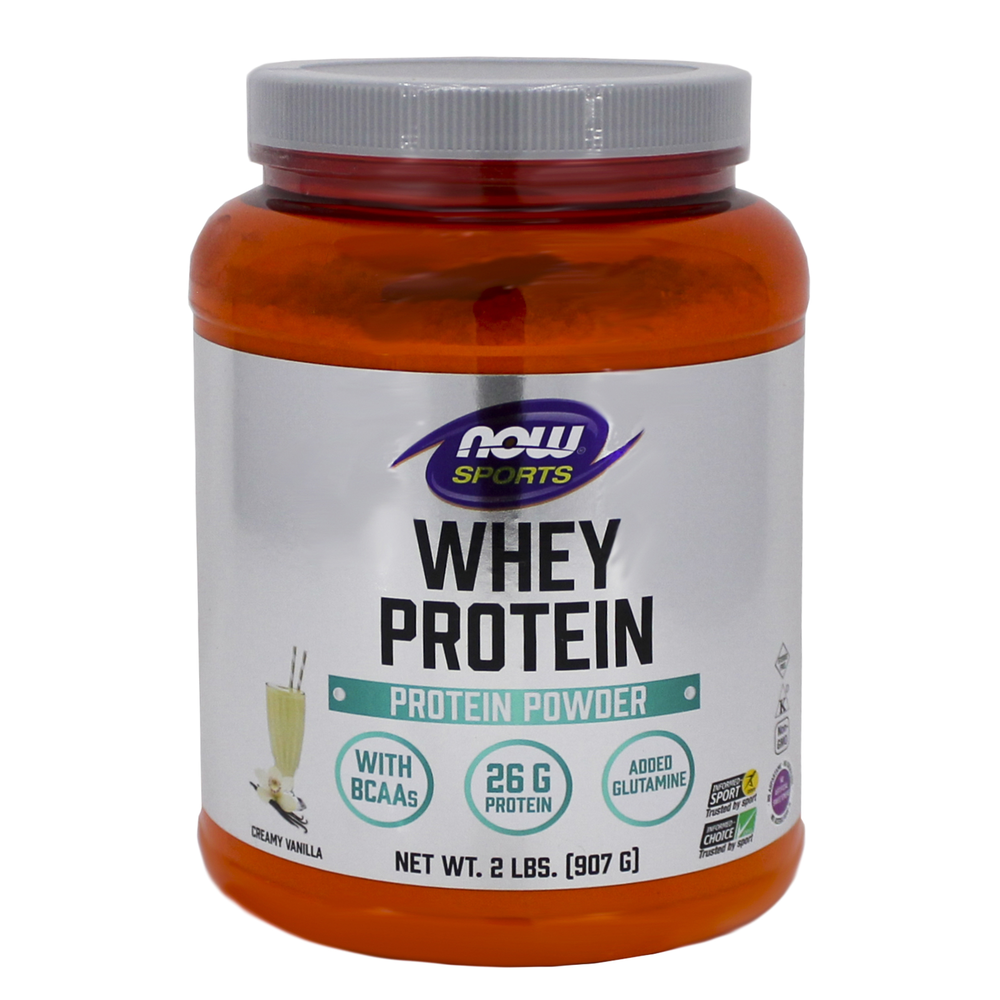 SKU: NOW-2185
No Artificial Ingredients
Ultrafiltered
Microfiltered
With Branched-Chain Amino Acids
Added Glutamine
NOW® Whey Protein is a delicious blend of three of the highest quality whey protein concentrates and isolates from around the world: ultrafiltered, microfiltered and enzymatically hydrolyzed (partially predigested). This blend of specially processed whey proteins is designed to maximize amino acid absorption and biological value (BV). In addition, extra glutamine has been added (460 mg per serving) to this blend.
Whey protein is considered to have the highest biological value (BV) of any protein source - superior in essential amino acid content to beef, milk, casein or soy.
Natural color variation may occur in this product.
This product is sold by weight not volume.
Add 1/3 cup daily to 8 oz. of cold water, milk, or your favorite juice. Stir or blend.
Serving Size:
1/3 cup (43g)
Amount Per ServingCalories
... 170
Total Fat
... 2g
Saturated Fat
... 1g
Trans Fat
... 0g
Cholesterol
... 55mg
Sodium
... 135mg
Total Carbohydrate
... 7g
Dietary Fiber
... 2g
Total Sugars
... 2g
Added Sugars
... 2g
Xylitol
... 2g
Protein
... 26g
Vitamin D
... 0mcg
Calcium
... 123mg
Iron
... 0.4mg
Potassium
... 186mg
Ingredients:
Whey Protein Concentrate, Natural Vanilla Flavor, Xylitol, Whey Protein Isolate, Whey Protein Hydrolysate, Xanthan Gum, L-Glutamine, Organic Stevia Leaf Extract.
Contains:
Milk and soy.
Does not contain:
Wheat, gluten, egg, fish, shellfish or tree nut ingredients. Produced in a GMP facility that processes other ingredients containing these allergens.
Typical Amino Acid Profile:
L-Histidine ... 467
L-Isoleucine ... 1668
L-Leucine ... 2730
L-Lysine ... 2364
L-Methionine ... 555
L-Phenylalanine
... 831
L-Threonine ... 2042
L-Tryptophan ... 471
L-Valine ... 1533
Non-Essential Aminio Acids:
L-Alanine ... 1370
L-Arginine ... 677
L-Aspartic Acid
... 3171
L-Cysteine ... 504
L-Glutamic Acid ... 4884
L-Glutamine ... 460
Glycine ... 513
L-Proline ... 1671
L-Serine ... 1449
L-Tyrosine ... 563
Use this product as a food supplement only. Do not use for weight reduction.
Xylitol is harmful to pets; seek veterinary care immediately if ingestion is suspected. Learn more about pet safety.
Store in a cool, dry, dark place after opening.
Natural color variation may occur in this product.