Wholemega™ for Moms
New Chapter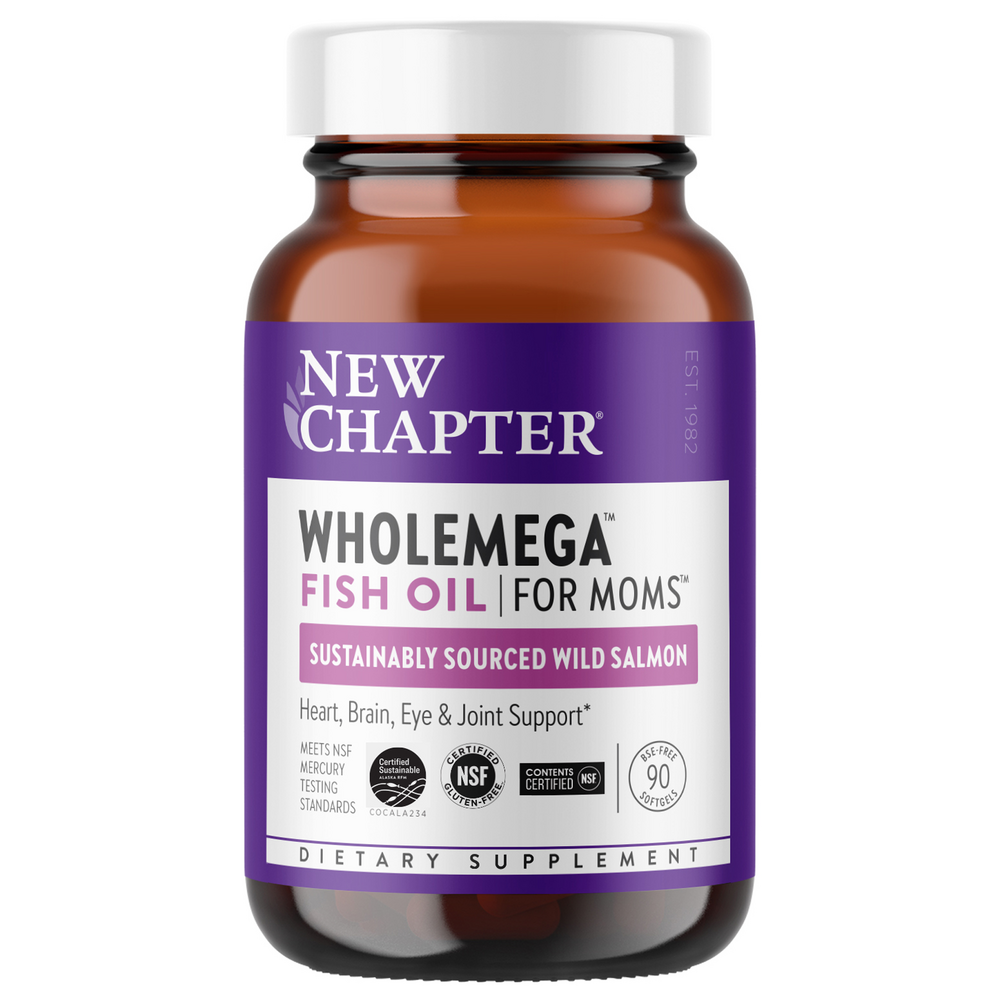 SKU: NCH-5016
Whole Fish Oil Supplement for Mother and Baby Nature's Profile of Seventeen Whole Omegas – 3, 5, 6, 7, 8 and 9's
-Critical Omegas: With whole DHA, important during pregnancy and breastfeeding*
-Whole: Natural source of whole omegas + Vitamin D3 + antioxidants
Omega 3, 5, 6, 7, 8 and 9's are fatty acids found in wild fish and often referred to as "good fats." Why so good? Primarily because omegas are present and play an important role in every human cell. Specifically, omega fatty acids serve to nourish brain, heart, eye, and kidney tissues.*
Wholemega Prenatal is a whole fish oil supplement that delivers the natural profile of 17 omega fatty acids found in one of Nature's true superfoods: Wild Alaskan Salmon. In fact, taking the daily serving of Wholemega Prenatal fish oil for a week provides the same amount of whole omega fatty acids as three servings of Wild Alaskan Salmon.
Wild salmon oil is a pure source of whole DHA and other critical omegas that are important during pregnancy and breastfeeding. Emerging research also suggests that other omega fats, including EPA and AA, play an important role in delivering this critical DHA to the fetus and in promoting a healthy pregnancy.


Two softgels two times daily. For best results, take two softgels immediately before your two largest meals.
Serving Size: 4 Softgels
Amount Per Serving
Calories ... 20
Calories from Fat ... 18
Total Fat ... 2000mg
Saturated Fat ... 480mg
Monounsaturated Fat ... 840mg
Polyunsaturated Fat ... 680mg
Cholesterol ... 15mg
Vitamin D3 ... 100IU
(from Wild Alaskan Salmon Oil)
Wild Alaskan Salmon Oil ... 2000mg
Total Omega-3 Fatty Acids ... 520mg
EPA ... 180mg
(Eicosapentaenoic Acid)
DHA ... 220mg
(Docosahexaenoic Acid)
Other Omega-3 Fatty Acids ... 120mg
(Octadecatetraenoic Acid; Docosapentaenoic Acid; Linolenic Acid; Heneicosapentaenoic Acid; Eicosatrienoic Acid)
Total Omega-6 Fatty Acids ... 60mg
(Linoleic Acid; Arachidonic Acid; Eicosadienoic Acid)
Total Omega-5; 7 & 8 Fatty Acids ... 95mg
(Myristoleic Acid; Palmitoleic Acid; Margaroleic Acid)
Total Omega-9 Fatty Acids ... 300mg
(Oleic Acid; Gadoleic Acid; Erucic Acid; Nervonic Acid)
Other Omega Fatty Acids ... 545mg
Astaxanthin ... 5mcg
(from Wild Alaskan Salmon Oil)
Other ingredients: Capsule (Gelatin [Halal], glycerine and water), B.A.S.S.® [Botanical Antioxidant Stability System® [extracts of rosemary, organic oregano, and organic sunflower oil]), and natural mixed tocopherols.
Contains: 100% Wild Alaskan Salmon Fish Oil
Naturally gluten free.
BSE free.


Store in a cool, dry place. DO NOT REFRIGERATE.
Caution: As with any dietary or herbal supplement, you should advise your health care practitioner of the use of this product. If you are nursing, pregnant, or considering pregnancy, you should consult your health care practitioner prior to using this product.
It looks like there are no similar
products available