Wholly Immune
Allergy Research Group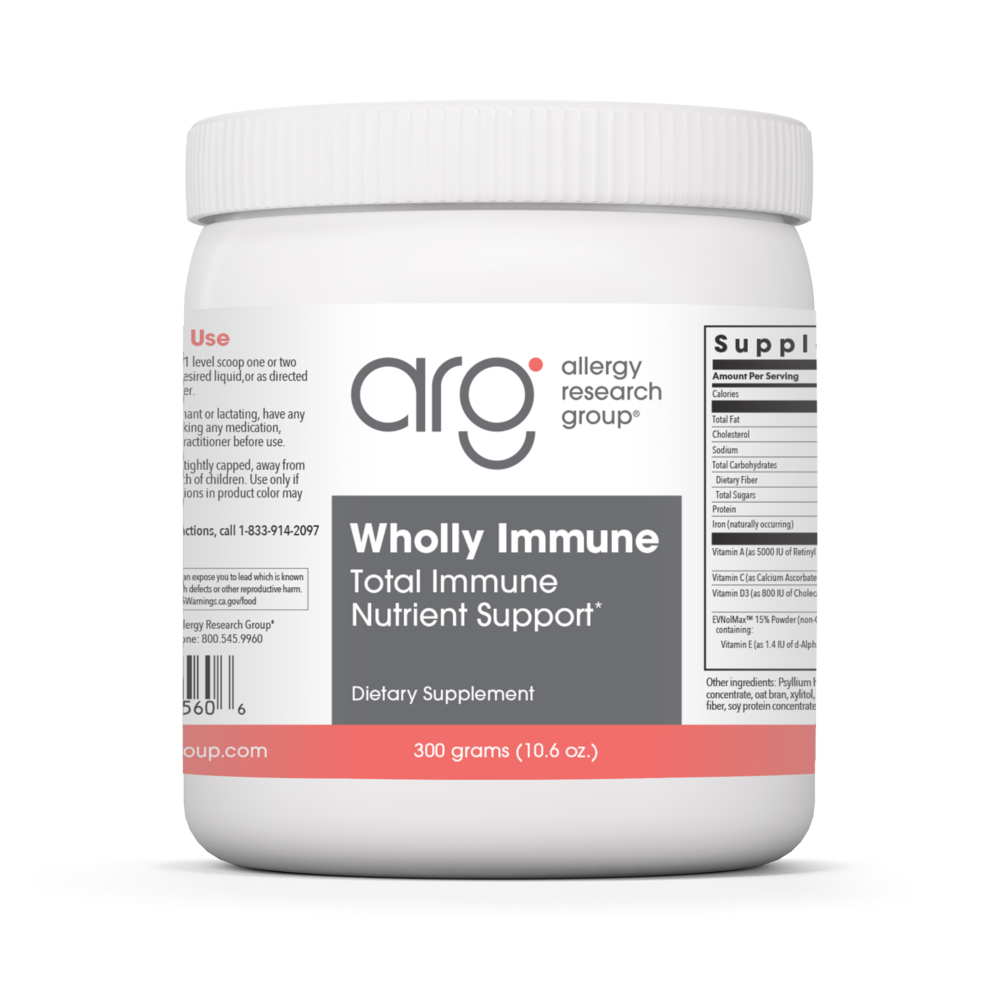 SKU: ARG-73560
Originally formulated by Dr. Friedrich Douwes, MD (Klinik St. Georg) and Stephen A. Levine, PhD (ARG), this reformulated proprietary blend of herbs and nutrients now includes riboflavin-5-phosphate, P5P, 5-MTHF, and methylcobalamin. Convenient powder form is a fraction of the cost of these nutrients taken separately.
As a dietary supplement, 1 level scoop one or two times daily, mixed with desired liquid, or as directed by a healthcare practitioner.



Serving Size: 1 Scoop

Amount Per Serving
Calories ... 75
Total Fat ... 0.7mg
Cholesterol ... 7mg
Sodium ... 69mg
Total Carbohydrates ... 10g
Dietary Fiber ... 3g
Total Sugars ... 0.5g
Protein ... 6.6mg
Iron ... 1.3mg
Vitamin A ... 5,000IU
(Retinyl Acetate)
Vitamin C ... 1g
(as Calcium Ascorbate)
Vitamin D3 ... 800IU
(as Cholecalciferol)
Thiamine ... 10mg
(as Hydrochloride)
Riboflavin ... 10mg
(as Riboflavin-5-phosphate)
Niacin ... 25mg
(as 50% Niacinamide and 50% Nicotinic acid)
Vitamin B6 ... 10mg
(as Pyridoxal-5-phosphate)
Biofolate® ... 100mcg
(5-Methyltetrahydrofolate Calcium)
Vitamin B12 ... 200mcg
(as Methylcobalamin)
Biotin ... 100mcg
(as d-Biotin)
Pantothenic Acid ... 25mcg
(as Calcium Pantothenate)
Calcium ... 135mg
(as Ascorbate and Pantothenate)
Iodine ... 50mcg
(as Potassium Iodide)
Magnesium ... 150mcg
(as Bisglycinate)
Zinc ... 15mg
(as Zinc Picolinate)
Selenium ... 100mcg
(from SelenoExcell® organically bound high - selenium yeast)
Copper ... 1mg
(as Copper Bisglycinate)
Manganese ... 2mg
(as Manganese Citrate)
Chromium ... 50mcg
(as Chromium Picolinate)
Molybdenum ... 100mcg
(as Sodium Molybdate)
Potassium ... 100mg
(as Potassium Gluconate and Potassium Iodide)
N-Acetyl Cysteine ... 250mg
Lycopene ... 4mg
L-Carnitine ... 250mg
Taurine ... 125mg
Tocotrienols ... 34mg
(11% Beadlets)
Trimethylglycine ... 250mg
Quercetin Dihydrate ... 250mg
Sulforaphane ... 100mg
(Broccoli Extract 20:1)(Brassica oleracea)
Decaffeinated Green Tea Extract ... 200mg
(Leaves)(30% Catechins and 40% Polyphenols)(Camellia sinensis)
MaitakeGold 404® ... 150mg
(5% with Multi-Mycelia Blend)
Proprietary blend containing: Ganoderma lucidum, Pleurotus ostreatus, Coriolus vesicolor, Schizophyllum commune, Hericium erinaceus, Lentinula edodes, Grifola frondosa, Inontus obliquus, Poria cocos, Agaricus blazei.
Bromelain ... 200mg
(1200 GDU/g)
Turmeric Extract ... 500mg
(Root)(95% Curcuminoids)
Asian Panax Ginseng Extract ... 250mg
(Root)(12% Ginsenosides)
Astragalus Extract ... 250mg
(Root)(40% Polysaccharide)
Alpha Lipoic Acid ... 100mg

Other Ingredients: Psyllium husks, whey protein concentrate, oat bran, xylitol, rice bran, apple fiber, soy protein concentrate, silicon dioxide.

MaitakeGold 404® is a trademark of Tradeworks Group, Inc.
Variations in product color may occur.Keep in a cool, dry place, tightly capped. Product is sold by weight, not volume. Some settling may occur.