Women Over 40
Innate Response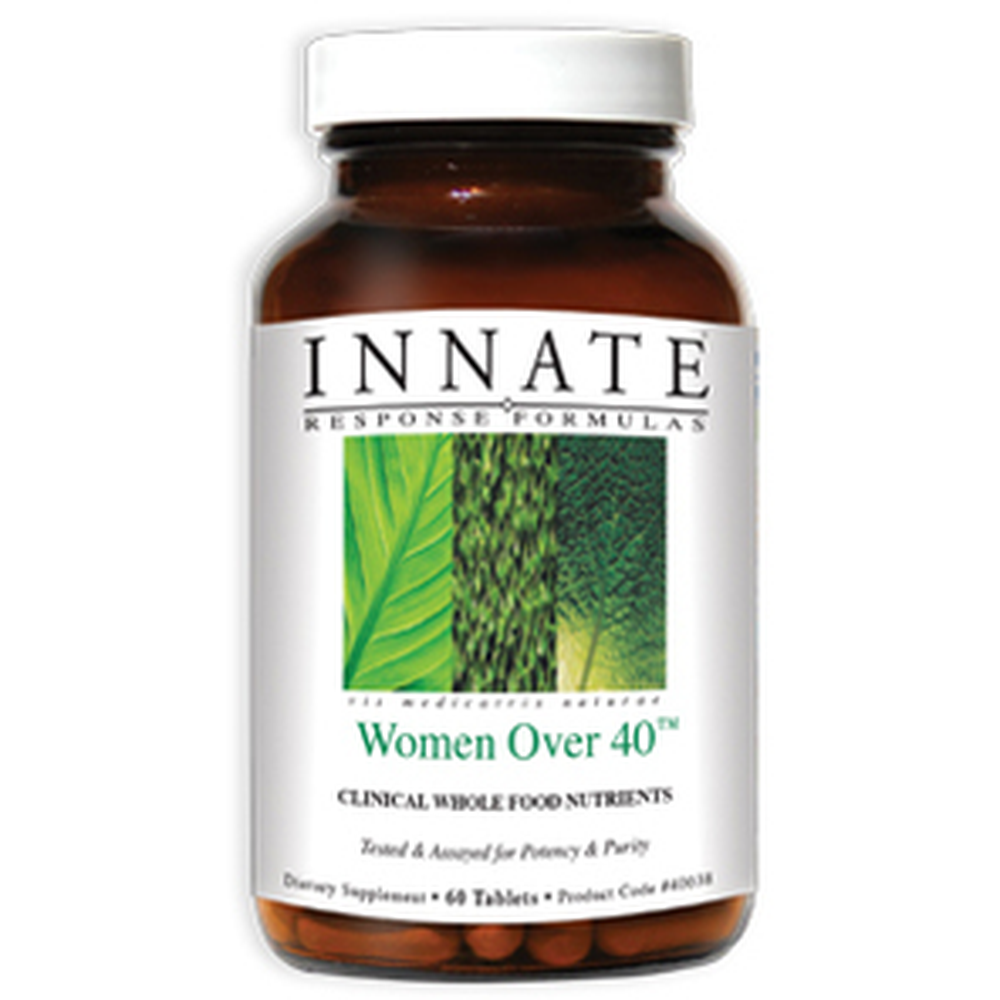 SKU: INR-40041
Women Over 40 120 tabs
This Product has been replaced with Women's 40+ Multivitamin (60 Tabs)
SKU: INR-40168
Dietary Supplement
FoodState® nutrients start with fresh and local foods. These foods are concentrated with our nutrient preservation process crafting the most complete whole food nutrients available today.
Purity Promise: Free of Gluten, Dairy, Soy, Magnesium Stearate, Herbicides, Pesticides, Sugar, Gelatin and Corn.
Suggested Use: 2 tablets daily, or as directed by your healthcare practitioner.
Supplement Facts
Serving Size 2 Tablets
Servings per Container 60
Amount per Serving
Clinical Whole Food Nutrients*
Vitamin A (Carrots*; 46 mg) 2300 IU
As Alpha & Beta Carotene with Mixed Carotenoids
(Cryptoxanthin, Lutein, Zeaxanthin, Lycopene)
Vitamin C (Oranges*; 240 mg) 60 mg
Vitamin D3 (S. cerevisiae*; 20 mg) 1000 IU
Vitamin E (Brown Rice*; 60 mg) 15 IU
Tocopherols (d-alpha, d-beta, d-gamma, d-delta)
Tocotrienols (d-alpha, d-beta, d-gamma, d-delta)
Vitamin K (Cabbage*; 2 mg) 20 mcg
Thiamine (B1) (S. cerevisiae*; 8 mg) 2 mg
Riboflavin (B2) (S. cerevisiae*; 20 mg) 2 mg
Niacinamide (S. cerevisiae*; 80 mg) 20 mg
Vitamin B6 (S. cerevisiae*; 13 mg) 2.5 mg
Folate (Broccoli*; 40 mg) 400 mcg
Vitamin B12 (S. cerevisiae*; 4 mg) 18 mcg
Biotin (Brown Rice*; 40 mg) 200 mcg
Pantothenate (S. cerevisiae*; 20 mg) 5 mg
Calcium (S. cerevisiae*; 200 mg) 10 mg
Iodine (S. cerevisiae*; 5 mg) 75 mcg
Magnesium (S. cerevisiae*; 860 mg) 43 mg
Zinc (from Amino Acid Chelate) 8 mg
Selenium (S. cerevisiae*; 25 mg) 25 mcg
Copper (S. cerevisiae*; 20 mg) 200 mcg
Manganese (S. cerevisiae*; 40 mg) 2 mg
GTF† Chromium (S. cerevisiae*; 60 mg) 120 mcg
Molybdenum (S. cerevisiae*; 25 mg) 50 mcg
Potassium (S. cerevisiae*; 1454 mg) 6 mg
Boron (S. cerevisiae*; 15 mg) 150 mcg
Organic Ashwagandha Root 75 mg
Organic Red Clover Flower 65 mg
Cranberry 50 mg
Organic Sacred Basil Leaf 50 mg
Organic Kale 25 mg
Other Ingredients: Vegetable Cellulose, Vegetable Lubricant, Silica
* FoodState® Nutrients
† Glucose Tolerance Factor