Women's Complete
Nutritional Frontiers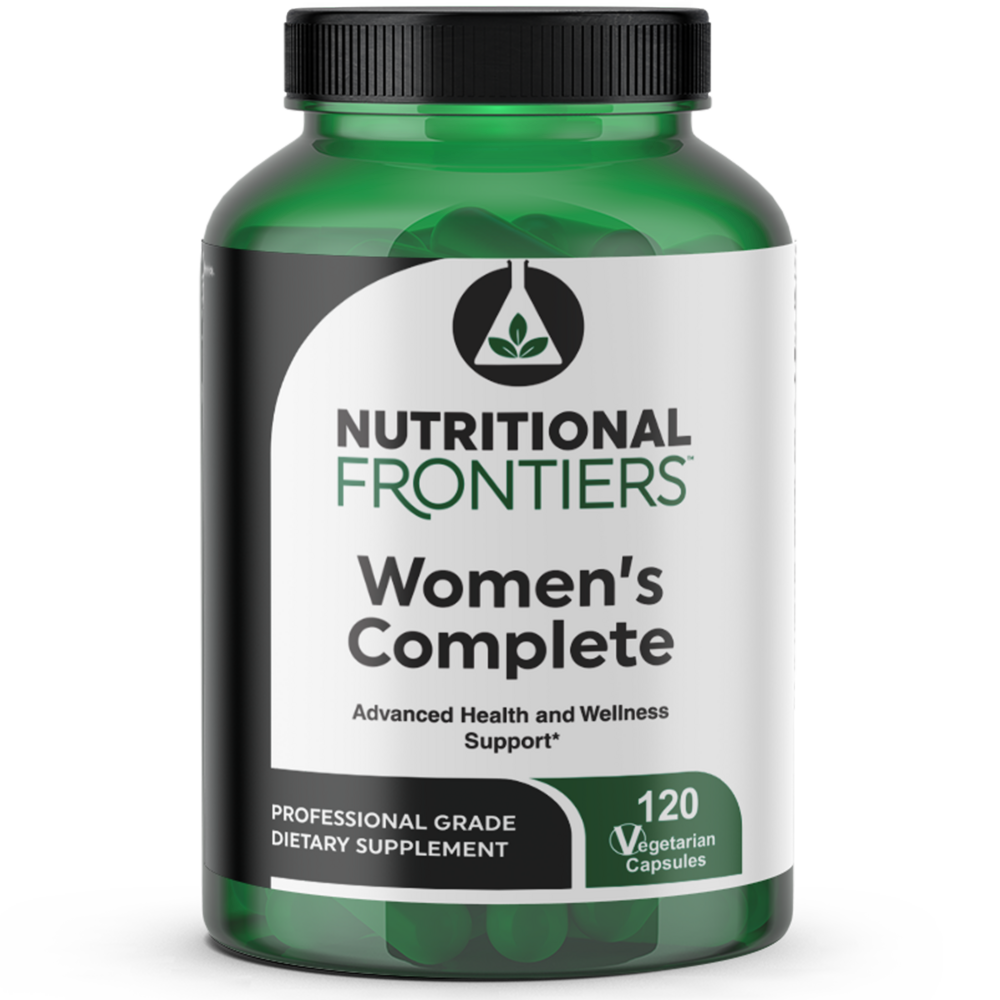 SKU: NUT412-06NF192A120
This formula contains a macronutrient matrix, a matrix of key vitamins and minerals, and a detoxification matrix. We are regularly exposed to a multitude of chemicals which may have damaging effects on our health. When functioning optimally, the body can neutralize the negative impact of many of these harmful agents. A detoxification protocol can assist your body with mobilizing and excreting toxins. Power Cleanse may be used as part of the 'cleansing' process.
Suggested Use:
As a dietary supplement, take 4 capsules per day, or as directed by your healthcare practitioner.


Serving Size: 4 Capsules

Amount Per Serving
Vitamin A ... 1500 mcg RAE
(as Beta Carotene)
Vitamin C ... 75 mg
(as Calcium Ascorbate)
Vitamin D3 ... 25 mcg
(Cholecalciferol)
Vitamin E ... 67 mg
(as d-Alpha Tocopheryl Succinate)
Vitamin K2 ... 100 mcg
(as MK7®)
Vitamin B1 ... 4 mg
(Thiamine)
Vitamin B2 ... 5 mg
(as Riboflavin-5-Phosphate)
Niacin ... 25 mg
(as Niacinamide)
Vitamin B6 ... 15 mg
(as Pyridoxyl-5-Phosphate)
Folate ... 800 mcg
(as Quatrefolic® (equivalent to 1600 mcg of (6S)-5- Methyltetrahydrofolic acid, glucosamine salt))
Vitamin B12 ... 400 mcg
(as Methylcobalamin)
Biotin ... 500 mcg
Pantothenic Acid ... 25 mg
(as D-Calcium Pantothenate)
Calcium ... 150 mg
(as Di-Calcium Malate (DimaCal™), Calcium Ascorbate, Di-Calcium Phosphate)
Iron ... 30 mg
(as Ferrous Bisglycinate Chelate) (Ferrochel™)
Iodine ... 150 mcg
(as Potassium Iodide)
Magnesium ... 75 mg
(as Di-Magnesium Malate (Albion™), Magnesium Bisglycinate Chelate (TRAACS™))
Zinc ... 20 mg
(as Zinc Bisglycinate Chelate)(TRAACS™)
Selenium ... 100 mcg
(as Selenium Glycinate)(Albion™)
Copper ... 1.5 mg
(as Copper Bisglycinate Chelate) (TRAACS™)
Manganese ... 5 mg
(as Manganese Bisglycinate Chelate)(TRAACS™)
Chromium ... 150 mcg
(as Chromium Nicotinate Glycinate Chelate)(TRAACS™)
Molybdenum ... 100 mcg
(as Molybdenum Glycinate Chelate)(TRAACS™)
Potassium ... 50 mg
(as Potassium Glycinate Complex)(Albion™)
Choline ... 110 mg
(as Choline L(+) Bitartrate) (VitaCholine™)
N, N-Dimethylglicine HCl ... 125 mg
Inositol ... 100 mg
Boron ... 1 mg
(as Bororganic Glycine)(Albion™)
Lactobacillus Rhamnosus ... 1.5 billion CFU
Lactospore® (Bacillus Coagulans) ... 1.5 billion CFU
Proprietary SuperFoods Blend ... 100 mg
(Cranberry powder, Broccoli powder, Garlic powder, Spirulina, Celery Seed powder, and Chlorella powder)
Other Ingredients: Hypromellose, microcrystalline cellulose, silicon dioxide, magnesium stearate.


Warning: Accidental overdose of iron-containing products is a leading cause of fatal poisoning in children under the age of 6. Keep this product out of reach of children. In case of accidental overdose, call a doctor or poison control center immediately