Xylitol Fruit Gum
Nutra BioGenesis
90 pieces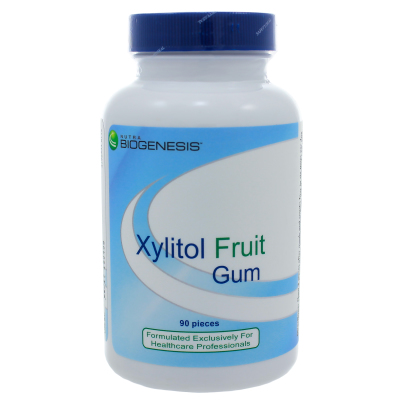 SKU: BI5-66964
Xylitol Fruit Gum contains xylitol which is used by dentists and doctors worldwide for dental health and earache prevention. Xylitol also has a low glycemic index and provides 40% fewer calories than sugar.*
-Tastes great, helps prevent cavities, and has 40% fewer calories than sugar*
-Helps prevent ear infections in children*
-Provides xylitol*
Directions:
For best results chew 2 pieces after meals and snacks 4-6 times per day, or as directed by your healthcare professional.
Serving Size: 2 pieces (2.16g)
Amount Per Serving
Calories ... 0
Total fat ... 0g
Cholesterol ... 0g
Sodium ... 0g
Total carbohydrates ... 1.5g
Sugars ... 0g
Sugar alcohols ... 1.5g
Xylitol ... 1.44g
Protein ... 0g
Contains:
Xylitol, gum base, fruit flavors, glycerin, gum arabic, soy (lecithin), beeswax.
Not a significant source of dietary fiber, Vitamin A, Vitamin C, Calicium or Iron
*These statements have not been evaluated by the Food and Drug Administration. These products are not intended to diagnose, treat, cure, or prevent any disease.
It looks like there are no similar
products available