Yum Yum D3 Liquid 200 IU/Drop
Jarrow Formulas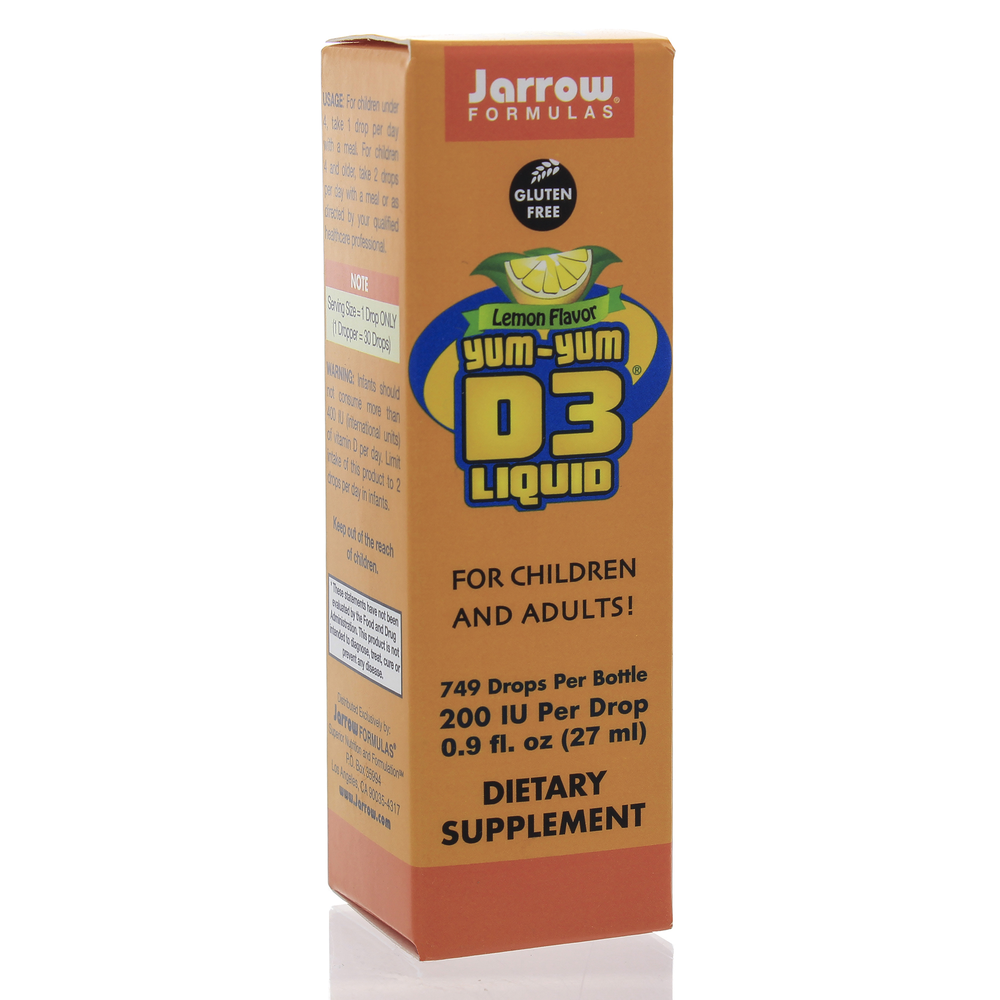 SKU: JAR-YUMDOIL
Yum Yum Vitamin D3 (cholecalciferol) Liquid
-Promotes Healthy Bones, Teeth, Brain and Immune System*
-Lemon-Flavored Vitamin D3 Liquid
-More than just for bone health
-749 Servings Per Bottle
-Easy to get higher potencies
-Vitamin D3: Preferred Form of D
Jarrow Formulas® Yum-Yum D3® Liquid delivers 200 IU of vitamin D3 (cholecalciferol) per drop. Vitamin D3 is essential for children (and adults) in promoting healthy bones, teeth, brain and immune system.*
For children under 4, take 1 drop per day with a meal. For children 4 and older, take 2 drops per day with a meal or as directed by your qualified healthcare professional.
NOTE: Serving Size = 1 Drop ONLY (1 Dropper = 30 Drops)
Serving Size: One Drop

Amount Per Serving
Vitamin D3 ... 200 IU
(cholecalciferol)
Other Ingredients: Medium chain triglycerides and natural lemon flavor.
Contains: Fish.

No wheat, no gluten, no soybeans, no dairy, no egg, no shellfish, no peanuts/tree nuts.
Infants should not consume more than 400 IU (international units) of vitamin D per day. Limit intake of this product to 2 drops per day in infants

KEEP OUT OF REACH OF CHILDREN.
These statements have not been evaluated by the Food and Drug Administration. This product is not intended to diagnose, treat, cure, or prevent any disease.