Zinc Orotate 51mg
Priority One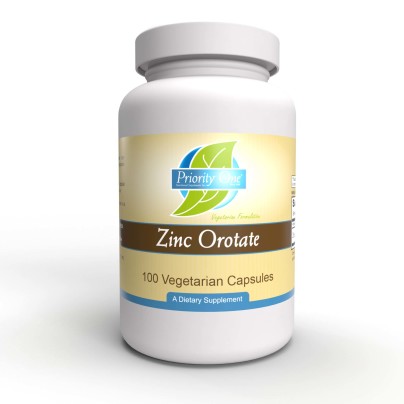 SKU: PR7-1610
Zinc Orotate nutritionally supports a healthy immune system, the bodys normal stress response along with a multitude of human bodily functions.*
Orotic acid is a biochemical substance made naturally by the human body; orotates are mineral salts created by binding a mineral to orotic acid.*
Take one (1) capsule daily, or as directed by your physician.
Serving Size: One Vegetarian Capsule
Amount Per Serving
Zinc ... 51mg
(as zinc orotate oxide)
Other Ingredients: Rice chelate, vegetarian capsule (hypromellose, purified water).
This product does not contain
preservatives
Bisphenol-A (BPA)
Phthalate Free
GMOs
Warning: Certain medications may interact with zinc, consult your physician before use.
Keep containing tightly closed, store in a cool, dry place.
Keep out of reach of children.