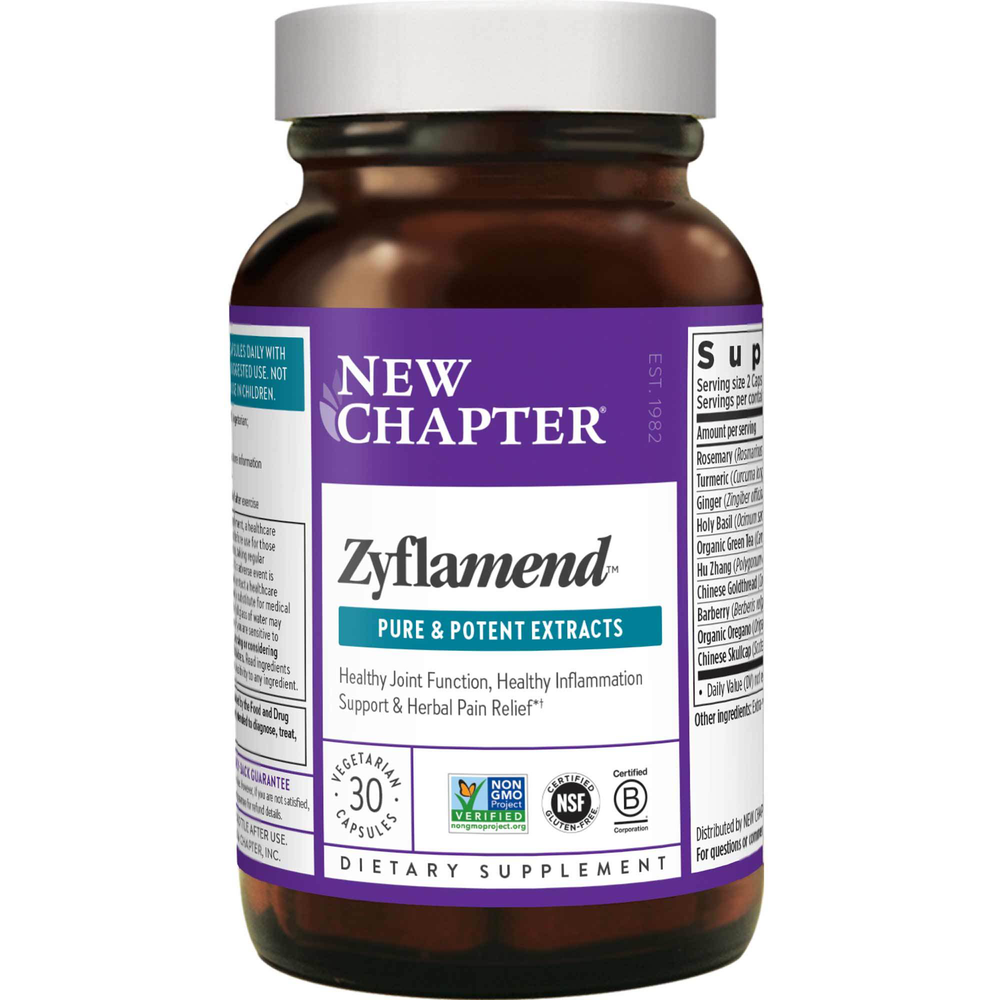 SKU: NCH-N40510
An Herbal Approach to Pain Relief after Exercise*†°
Available in 30, 60, 120 and 180 capsule sizes
Our #1-Selling Herbal
100% Vegetarian
Non-GMO Project Verified
What does 'Zyflamend' do for you?
Zyflamend is an herbal approach to pain relief.*† It helps you stay active by supporting a healthy inflammation response, and promoting healthy joint function and flexibility.* And it works hard—Zyflamend's 10 powerful herbs have remarkable synergy with each other and are proven to work better together (as shown in preclinical lab testing).
Works on pain where it can start, delivering potent Ginger to help relieve minor pain or soreness*†
10 herb blend proven to work better together-including synergistic herbs like Turmeric & & Ginger‡
Formulated with supercritical Turmeric for optimal absorption of Curcumin
What makes 'New Chapter Zyflamend' different?
Many people seeking joint support take glucosamine or chondroitin. While these supplements are popular for joint support, they only affect joint structure. That's where Zyflamend comes in. It's a holistic 10-herb blend expertly formulated to support your whole body's healthy response to inflammation, which in turn supports joint comfort and movement.*
Pure & potent 10 herb blend
4-in-1 support: Healthy mobility, flexibility, joint function, and healthy inflammation response*
Sustainably sourced and the first herbal pain reliever† to be Non-GMO Project Verified
No synthetic fillers, harsh Solvents, DLPA, or animal enzymes and byproducts
Zyflamend even won some awards:
2016 Best of Supplements Award for Pain Relief, Better Nutrition Magazine

2013 Best Herbal Supplement Vity Award, Specialty and Herbal Supplement category, Vitamin Retailer Magazine
†With Ginger for occasional pain relief after exercise.
‡As shown in preclinical lab testing
Suggested Use:
Take two capsules daily with food. Do not exceed suggested use. Not recommended for use in children.
Serving Size: 2 Capsules
Amount Per Serving
Rosemary ... 150mg
(Rosmarinus officinalis) (leaf) 100 mg supercritical extract and 50 mg hydroethanolic extract
Turmeric ... 110mg
(Curcuma longa) (rhizome) 10 mg organic supercritical extract and 100 mg hydroethanolic extract
Ginger ... 100mg
(Zingiber officinale) (rhizome) 54 mg organic supercritical extract and 46 mg hydroethanolic extract
Holy Basil hydroethanolic extract ... 100mg
(Ocimum sanctum) (leaf)
Organic Green Tea extract ... 100mg
(Camellia sinensis) (leaf)
Hu Zhang hydroethanolic extract ... 80mg
(Polygonum cuspidatum) (root and rhizome)
Chinese Goldthread extract ... 40mg
(Coptis chinensis) (root)
Barberry hydroethanolic extract ... 40mg
(Berberis vulgaris) (root)
Organic Oregano supercritical extract ... 40mg
(Origanum vulgare) (leaf)
Chinese Skullcap extract ... 20mg
(Scutellaria baicalensis) (root)
Other ingredients: Extra-virgin olive oil, hypromellose (capsule), candelilla wax and organic yellow beeswax.

This product is Certified Gluten Free by NSF, 100% Vegetarian, No Artificial Flavors or Colors.
Caution: As with any dietary supplement, a healthcare professional should be contacted before use for those with a long term medical condition, taking regular medication or planning surgery. If an adverse event is experienced, discontinue use and contact a healthcare professional. Supplements are not a substitute for medical therapy. Taking with a meal and a full glass of water may reduce stomach upset. Avoid use if you are sensitive to caffeine. Do not use if pregnant, nursing or considering pregnancy. Keep out of reach of children. Read ingredients carefully and avoid use if known sensitivity to any ingredient.
* These statements have not been evaluated by the Food and Drug Administration. This product is not intended to diagnose, treat, cure, or prevent any disease.