Adrenal D-Stress
Patient One MediNutritionals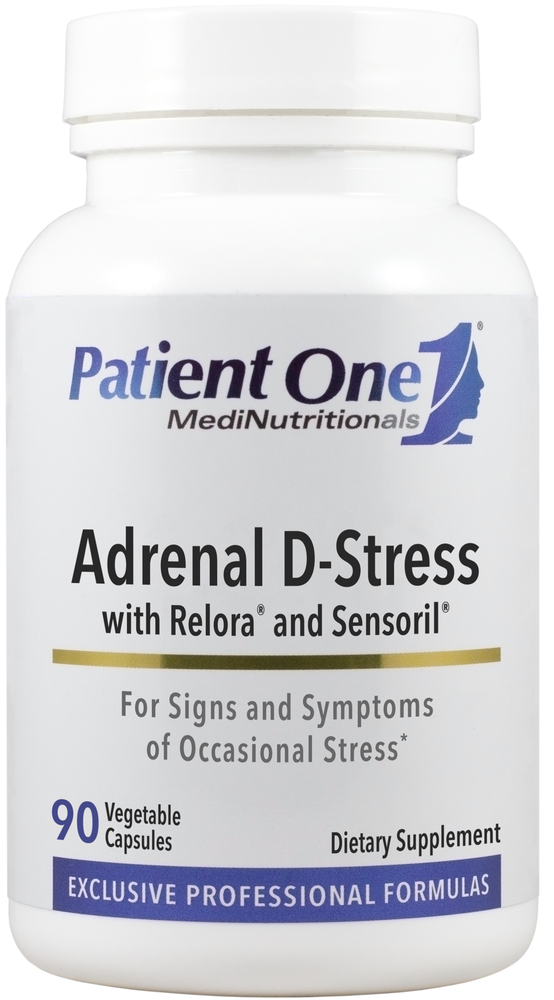 SKU: ONE631-P102390
Patient One Adrenal D-Stress is a vegetarian formula that supports a healthy stress response by optimizing hormonal balance, modulating cortisol, and restoring glandular performance diminished by overuse of stimulants and adrenal insufficiency. A potent adaptogenic herbal blend based on Ayurvedic traditions is united with restorative DHEA and pregnenolone hormones, as well as a range of nutrients that are depleted by stress.
Patient One Adrenal D-Stress is designed to assist with the signs and symptoms of occasional stress, including mental fatigue, tension, low sex drive, low energy, mood problems and weight management issues related to stress-induced overeating.
Take 3 vegetarian capsules daily, preferably in divided doses with morning and evening meals, or as directed by a qualified health care professional
Serving Size: 3 Capsules
Amount Per Serving:
Vitamin A ... 5000IU
(as CaroCare natural beta carotene from Blakeslea trispora)
Vitamin C ... 250mg
(as sodium ascorbate)
Thiamin ... 25mg
(Vitamin B-1) (as thiamine mononitrate)
Vitamin B-6 ... 25mg
(as pyridoxal-5-phosphate)
Zinc ... 15mg
(as zinc gluconate)
Pregnenolone ... 30mg
Pantethine ... 50mg
DHEA ... 5mg
(Dehydroepiandrosterone)
Sensoril ... 250mg
(Withania somnifera (roots and leaves) [minimum 8% withanolide glycoside conjugates (20 mg) and 32% oligosaccharides (80 mg))
Relora ... 500mg
(A proprietary blend of standardized extracts of Magnolia officinalis (bark) and Phellodendron amurense (bark))

Other Ingredients: Rice flour, vegetable cellulose (capsule), l-leucine.
This product contains NO milk, egg, fish, peanuts, crustacean shellfish (lobster, crab or shrimp), soybeans, tree nuts, wheat, yeast, gluten, or pork. Contains NO artificial sweeteners, flavors, colors, or preservatives.
Not for use of individuals under the age of 18 years. Do not use if you are pregnant or nursing. Consult a physician or licensed qualified health care professional before using this product if you have, or have a family history of, prostate cancer, prostate enlargement, heart disease, low "good cholesterol" (HDL), or if you are using any other dietary supplement, prescription drug, or over-the-counter drug. Do not exceed recommended serving. Exceeding recommended serving may cause serious adverse health effects. Possible side effects include acne, hair loss, hair growth on the face (in women), aggressiveness, irritability, and increased levels of estrogen. Discontinue use and call a physician or licensed qualified health care professional immediately if you experience rapid heartbeat, dizziness, blurred vision, or other similar symptoms.
The statements on this page have not been evaluated by the Food and Drug Administration. These products are not intended to diagnose, treat, cure or prevent disease.