Adrenal SAP (Licorice Free)
Nutritional Fundamentals for Health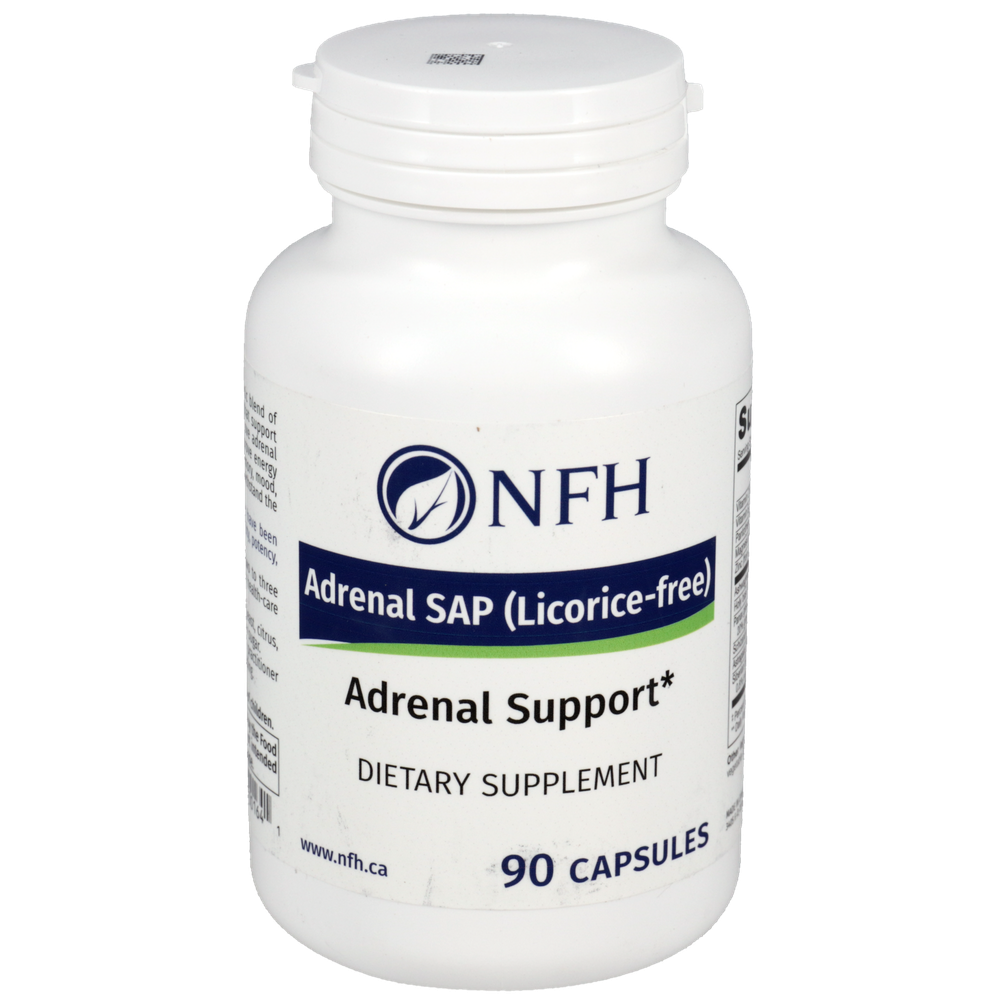 SKU: NFH-1064
Stress is an unavoidable force to which the human organism is constantly exposed in both short-term bursts and over extended periods of time. The bodys ability to withstand the damaging effects of stress is mediated primarily by the adrenal (aka suprarenal) glands: small, triangular glands located on top of the kidneys that secrete hormones involved in blood-pressure regulation, reproduction, and the stress response. Excessive and prolonged mental and physical stress can lead to adrenal insufficiency and associated symptomatic manifestations including fatigue, immunosuppression, and impaired blood-sugar and blood-pressure control. Adrenal SAP is a combination of vitamins, minerals, and adaptogenic herbs that support and strengthen the adrenal glands to improve adrenal function.
Take 1 capsule one to three times daily. Take with food. If you are taking other medications, take this product a few hours before or after them.
Serving Size: One Vegetable Capsule
Amount Per Serving
Vitamin C ... 250mg
(ascorbic acid)
Vitamin B5 ... 50mg
(calcium pantothenate)
Magnesium ... 19mg
(from magnesium bisglycinate)
Vitamin B6 ... 25mg
(pyridoxal-5′-phosphate)
Zinc ... 5mg
(from zinc picolinate)
Schisandra Fruit Extract ... 25mg
(Schisandra chinensis)(9% schizandrins)
Astragalus Root Extract ... 25mg
(Astragalus membranaceus)(3% astragalosides)
Holy Basil Leaf Extract ... 50mg
(Ocimum sanctum)(10% ursolic acids)
Ginseng Root Extract ... 50mg
(Panax ginseng)(20% ginsenosides)
Siberian Ginseng Root Extract ... 5mg
(Eleutherococcus senticosus)(0.8% eleutherosides)
Ashwaghanda Root Extract ... 50mg
(Withania somnifera)(3.5% withanolides)
Other Ingredients: Non-GMO dextrin and non-GMO maltodextrin.
This product does not contain
gluten
soy
wheat
dairy
eggs
yeast
starch
preservatives
artificial flavor
artificial color
Adrenal SAP contains licorice (Glycirrhiza glabra), [1] therefore patients with hypertension should instead use our Adrenal SAP Licorice-Free.
If you are pregnant or breast-feeding, consult your health-care practitioner before taking this product.