Adrenal SAP
Nutritional Fundamentals for Health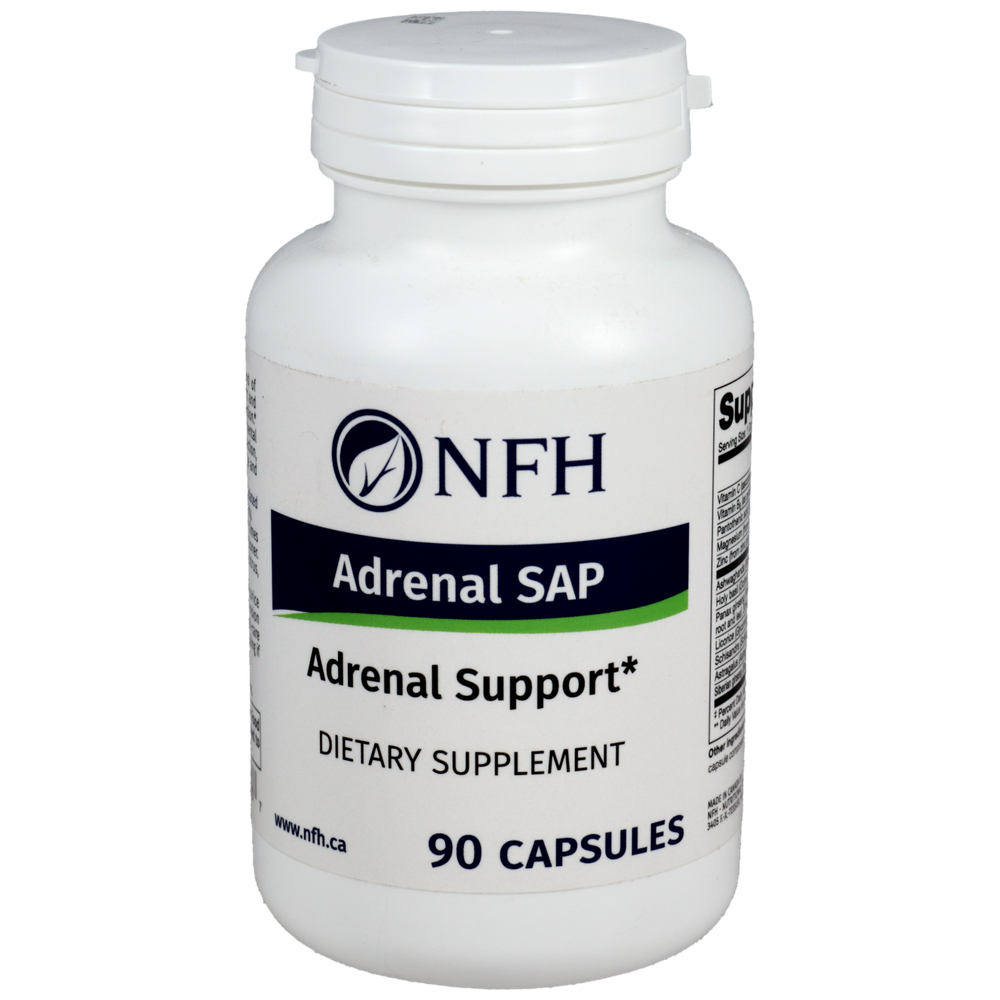 SKU: NFH-1033
Adrenal SAP™ is a comprehensive, synergistic blend of vitamins, minerals and adaptogenic herbs that support and strengthen the adrenal glands to improve adrenal function.* Adrenal SAP™ is designed to improve energy levels, mental and physical performance, memory, mood, immune function, and increase the ability to withstand the effects of acute and chronic stress.*
Adults: Take 1 capsule two or three times daily with a meal or as directed by your health-care practitioner.
Serving Size: 1 Capsule
Amount Per Serving
Vitamin C ... 250mg
(ascorbic acid)
Vitamin B6 ... 25mg
(pyridoxal-5-phosphate)
Vitamin B5 ... 50mg
(calcium pantothenate)
Magnesium ... 10mg
(from magnesium bisglycinate)
Zinc ... 5mg
(from zinc picolinate)
Ashwaghanda root ... 50mg
(Withania somnifera) 3.5% withanolides
Holy basil leaf ... 50mg
(Ocimum sanctum) 10% ursolic acid
Panax ginseng root ... 50mg
(Panax quinquefolium) 20% ginsenosides
Licorice root ... 50mg
(Glycirrhiza uralensis) 10% glycyrrhizin
Schisandra fruit ... 25mg
(Schizandra chinensis) 9% schizandrins
Astragalus root ... 25mg
(Astragalus membranaceus) 3% astragalosides
Siberian ginseng root ... 5mg
(Eleutherococcus senticosus) 0.8% eleutherosides
Other Ingredients: Vegetable magnesium stearate, non-GMO dextrin, non-GMO maltodextrin, silicon dioxide, and a non-GMO vegetable capsule composed of vegetable hypromellose and purified water.
Contains no: Preservatives, artificial flavour or colour, yeast, soy, wheat, gluten, dairy, starch, or eggs.
Cautions and Warnings: Adrenal SAP™ contains licorice (Glycirrhiza uralensis), therefore patients with hypertension should only use this product under the care of a health-care practitioner. Consult a health-care practitioner before taking if you are pregnant or breast-feeding. This product is non-GMO. Do not use if seal is broken. Keep out of reach of children.