Adrenal Support
Vital Nutrients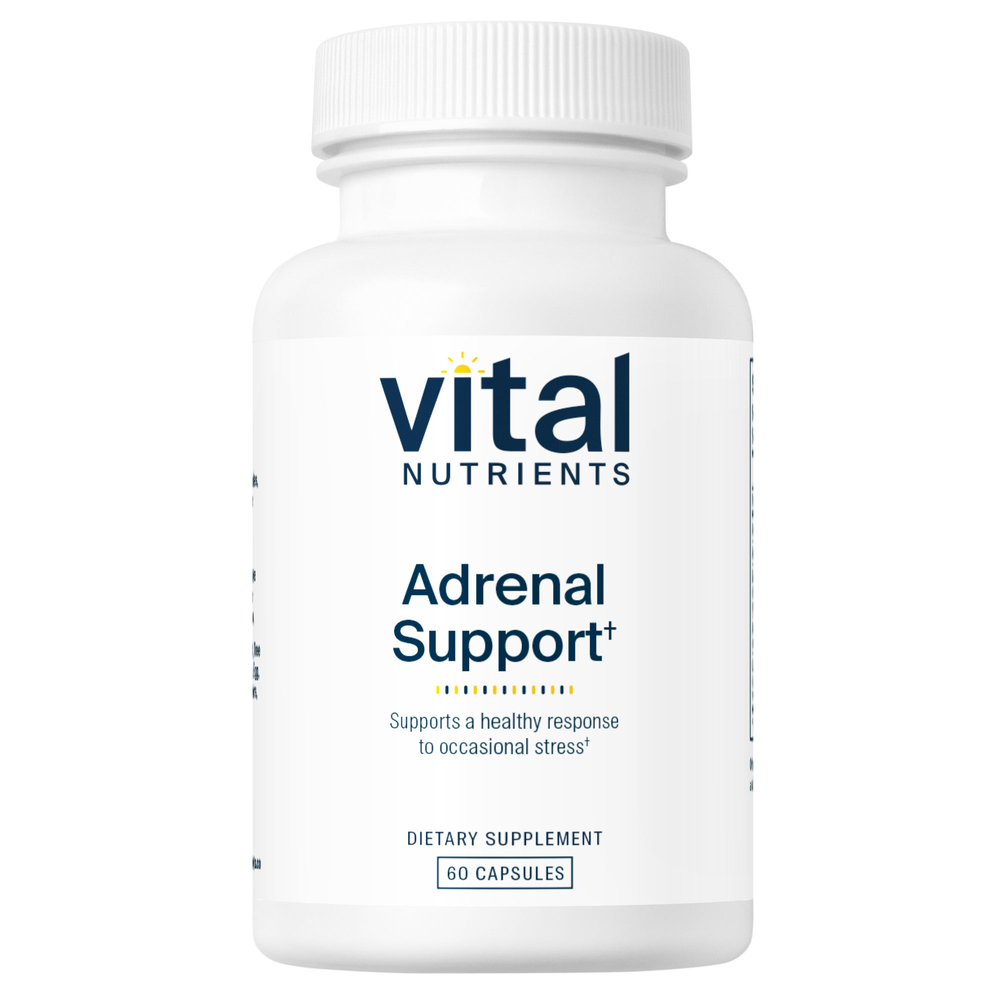 SKU: VN-ADR
• Supports healthy cortisol levels*
• Helps maintain a healthy immune system*
• Relieves mild stress and frustration*
Adrenal Support is a combination of whole adrenal, adrenal cortex and adaptogenic herbs that nutritionally support the adrenal glands.*The formula includes Ashwagandha Root extract to help maintain balanced levels of adrenal hormones and promote a general sense of well-being.* The formula also includes Pantothenic Acid (vitamin B5), which is an important cofactor for macronutrient metabolism and hormone synthesis.* The ingredients in Adrenal Support work together to enhance the body's ability to produce certain adrenal hormones, which helps support the immune system and relieve mild stress and frustration.*
Packaging and labels may vary.

 
Suggested Use:
Take 2 capsules, twice daily, or as directed by your healthcare professional.
Serving Size: 2 capsules
Amount Per Serving
Pantothenic Acid ... 100mg
(as calcium pantothenate)
Adrenal Whole ... 300mg
(Bovine)
Adrenal Cortex ... 150mg
(Bovine)
Eleuthero Root Extract ... 200mg
(Eleutherococcus senticosus, root,
standardized to 0.8% Eleutherosides)
Ashwagandha Root Extract ... 200mg
(Withania somnifera, root, standardized to 2.5% Withanolides)
Cordyceps sinensis Extract ... 100mg
(Cordyceps sinensis from Paecilomyces hepiali,
standardized to 8% Cordycepic Acids and 0.25% Adenosine)

Other Ingredients: Gelatin Capsule, Calcium Carbonate, Tapioca Powder, and Leucine.


Free of gluten, dairy, peanut, tree nut, soy and egg. Free of artificial flavors, colors, sweeteners, excipients (fillers, coatings, binders), sugar and non-GMO


 
Warning: If pregnant, consult your physician before taking.