Adrenergyn
Vita Aid Professional Therapeutics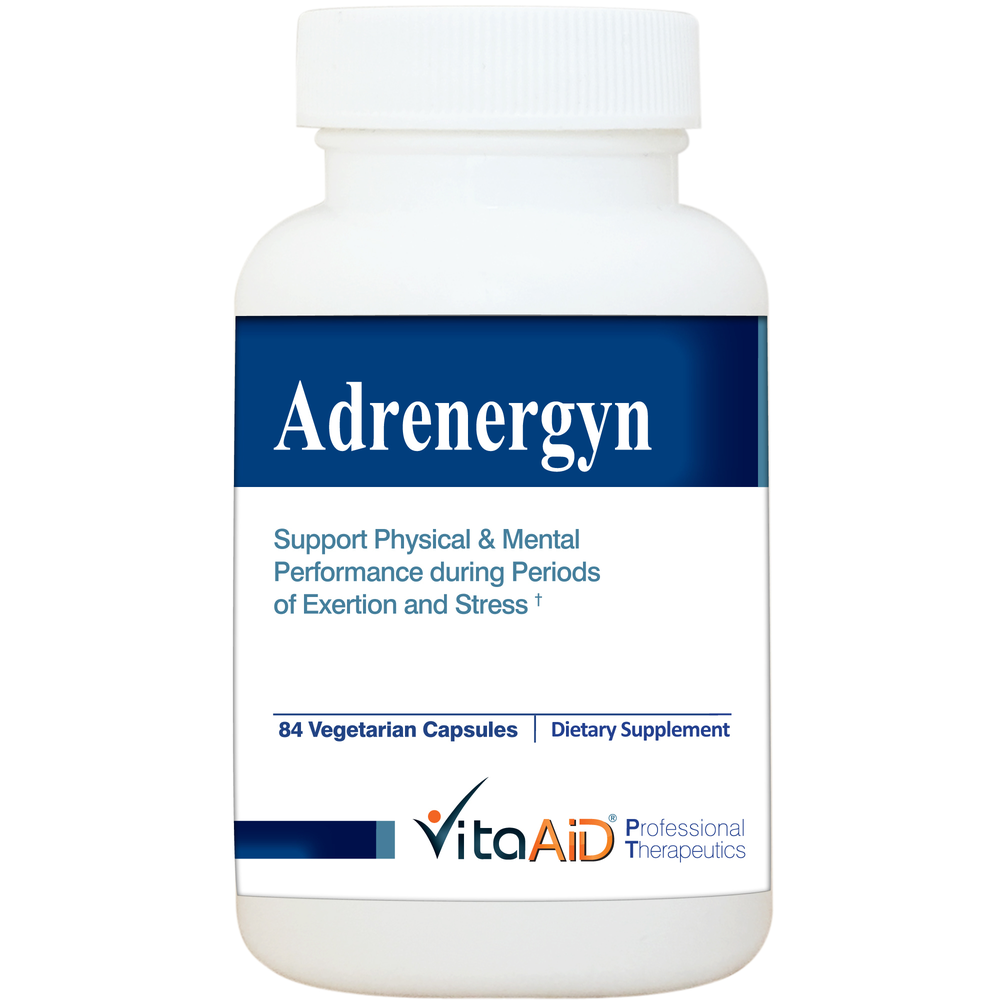 SKU: NAP604-VA901
Support Physical & Mental Performance during Periods of Exertion and Stress.*
Adrenergyn® contains a synergistic ratio of adaptogenic herbs and vitamin B5 for patients with HPA-axis disruption.*
Contains Cs-4 strain of Codyceps sinensis, the most extensively studied strain shown to enhance ATP generation and modulate cortisol levels.*
Clinically proven herbal remedies to increase the oxygen utilization in the body, scavenge free radicals that cause oxidative stress, and promotes a healthy response to stress.*
Useful in restoring circadian rhythm, improving restless sleep, tiredness, declined cognitive ability, and weakened immune function caused by a prolonged stress response.*
Suggested Use:
Take 3 capsules daily, preferably before meals, or as directed by your health care practitioner.
Serving Size: 3 Capsules
Amount Per Serving
Vitamin B5 ... 30mg
(from d-calcium pantothenate)
Rhodiola Extract ... 225mg*
(Rhodiola rosea)(10:1)(root)
(3% rosavins, 1% salidroside)
(equivalent to 2250 mg dried herb)
Cordyceps Extract ... 600mg
(Cordyceps sinensis Cs-4)
(8:1)(mycelium)(7% cordycepic acid)
(equivalent to 4800 mg dried herb)
Eleuthero Extract ... 210mg
(Eleutherococcus senticosus)
(10:1)(root)(0.8% eleutherosides)
(equivalent to 2100 mg dried herb)
Ashwagandha Extract ... 510mg
(Withania somnifera)
(6:1)(root)(7% withanolides)
(equivalent to 3060 mg dried herb)
Other Ingredients: Silicon dioxide, L-leucine, pullulan/hypromellose (capsule).


Consult a health care practitioner prior to use if you are pregnant or breastfeeding; or if you are taking any medications.