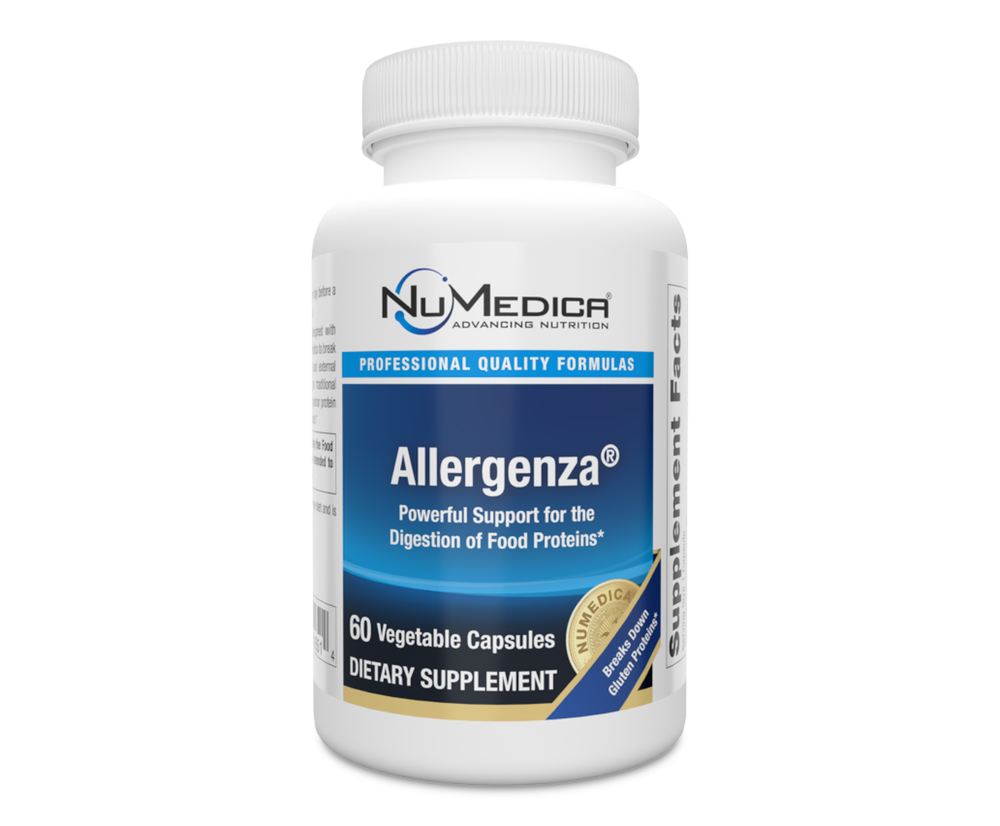 SKU: NMA-NM708
Allergenza
Allergenza® is a powerful formula uniquely designed with proprietary blends of enzymes, prebiotics and probiotics to break down gluten proteins by targeting both internal and external peptide bonds.* Allergenza® goes beyond the traditional DPPIV enzyme, offering superior degradation of gluten proteins by breaking down unhydrolyzed gluten peptides.* Additionally, the highly specialized prebiotic, PreForPro® is unique in supporting the proliferation of beneficial bacteria in both the small and large intestines.* This plays a critical role in breaking down gluten and other proteins to promote a healthy intestinal tract.*
Supplement Facts
Serving Size: 1 Vegetable Capsule
Amount Per Serving
Endo-peptidase
75,000 HUT
Protease
500 SAPU
Exo-peptidase
125 DPPIV
Probiotic Blend

5 billion live organisms
Saccharomyces boulardii
Bacillus subtilis
Lactobacillus acidophilus



5 billion live organisms
Prebiotic - PreForPro™

LH01 – Myoviridae
LL5 – Siphoviridae
T4D – Myoviridae
LL12 – Myoviridae

7.5 mg
Other Ingredients
Rice bran, HPMC (vegetable capsule), medium chain triglycerides.

Gluten Free, Dairy Free, Soy Free, Corn Free, GMO FreeSuggested Use
Take one capsule before each meal. For maintenance, take one capsule twice daily or as directed by your healthcare practitioner.
Storage
Store refrigerated.
*These statements have not been evaluated by the Food & Drug Administration. These products are not intended to diagnose, treat, cure or prevent any disease.