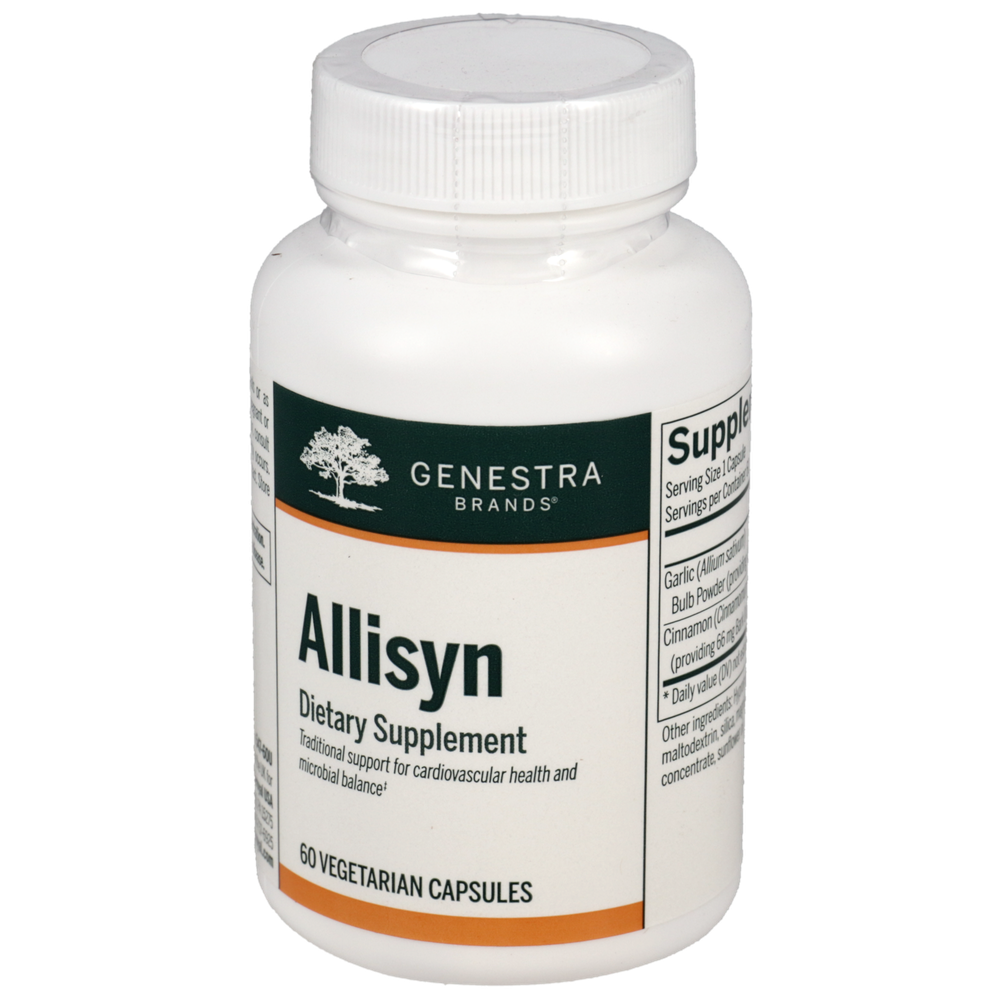 SKU: GN-10547
Garlic bulb and cinnamon bark combination
Contains ingredients traditionally used to maintain optimal cardiovascular health and to support healthy lipid metabolism*
Provides 10 mg of allicin and 80 mg of cinnamaldehyde per day
Allisyn is a blend of allicin and cinnamaldehyde that is traditionally used in herbal medicine to support optimal cardiovascular health. The main bioactive compound in garlic is allicin. When broken down, this sulfur-containing compound is responsible for the characteristic odor of garlic. Recent research indicates that long-term garlic consumption may support healthy lipid metabolism. In a randomized, placebo-controlled trial involving 150 adults, daily supplementation with 800 mg of garlic powder capsules (providing 2 mg of allicin) for six weeks supported cardiovascular health.*
Adult Dose: Take one capsule two times daily with meals, or as recommended by your healthcare practitioner.
Serving Size: 1 Capsule
Amount Per Serving
Garlic Bulb Powder ... 500mg
(Allium sativum)
Providing: Allicin ... 5mg
Cinnamon Bark ... 200mg
(Cinnamomum verum)
Providing: Cinnamaldehyde ... 40mg
Other Ingredients: Hypromellose, silica, magnesium stearate
Guaranteed to contain no added wheat, yeast, gluten, corn, sodium, sugar, artificial colouring or flavouring, antimicrobial preservatives, dairy or animal products. Ideal for vegans.
Risk Information: If you are pregnant or breastfeeding; if you have stomach or duodenal ulcers or a fever of unknown origin, do not use. If you are taking blood thinners or protease inhibitors; or if you have diabetes, consult your healthcare practitioner prior to use. If hypersensitivity (allergic) reaction occurs, discontinue use.
Quality Assurance: Safety-sealed for your protection and for product freshness. Do not use if outer seal is missing or broken. Store in a cool, dry place.