Amino Acid Supreme Powder
Designs for Health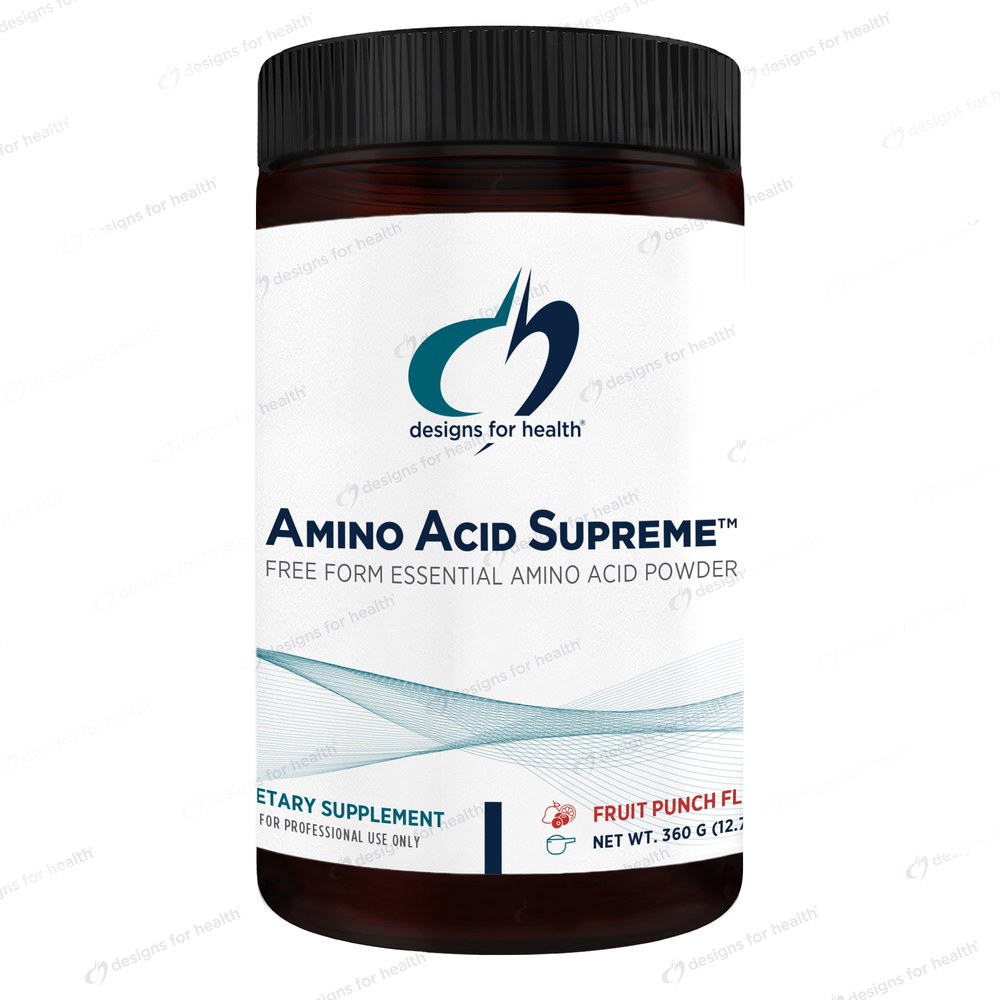 SKU: DFH-AASPDR
mino Acid Supreme™ is a balanced, amino acid formula in a great tasting fruit punch flavored powder. It provides essential amino acids in their free form, which makes them immediately available for absorption. This allows that they can be put to metabolic use much more readily and rapidly than amino acids contained in dietary protein. Alpha-ketoglutarate and vitamin B6 (as pyridoxal-5-phosphate) are included for optimal absorption and efficacy. Amino Acid Supreme™ contains zero grams of sugar and is sweetened with stevia.
As a dietary supplement, mix 12 grams (approx. one scoop) in 8-10 ounces of water per day, or as directed by your health care practitioner.
Serving Size:
12 grams (approx. one scoop)
Amount Per ServingCalories
... 20
Total Carbohydrate
... 5g
Dietary Fiber
... >1g
Vitamin B-6
... 20mg
(as Pyridoxal-5-Phosphate)

L-Leucine
... 2.5g
L-Phenylalanine
... 715mg
L-Valine
... 615mg
L-Histidine
... 590mg
L-Lysine
... 525mg
L-Arginine
... 525mg
L-Isoleucine
... 525mg
Alpha-Ketoglutarate
... 470mg
L-Methionine
... 435mg
L-Threonine
... 385mg
L-Tryptophan
... 120mg
Other Ingredients:
Natural flavors, partially hydrolyzed guar gum, stevia leaf extract (Stevia rebaudiana), citric acid, beet powder (color)
STORE AT ROOM TEMPERATURE.
KEEP OUT OF REACH OF CHILDREN.