Anti-V Formula
Natural Factors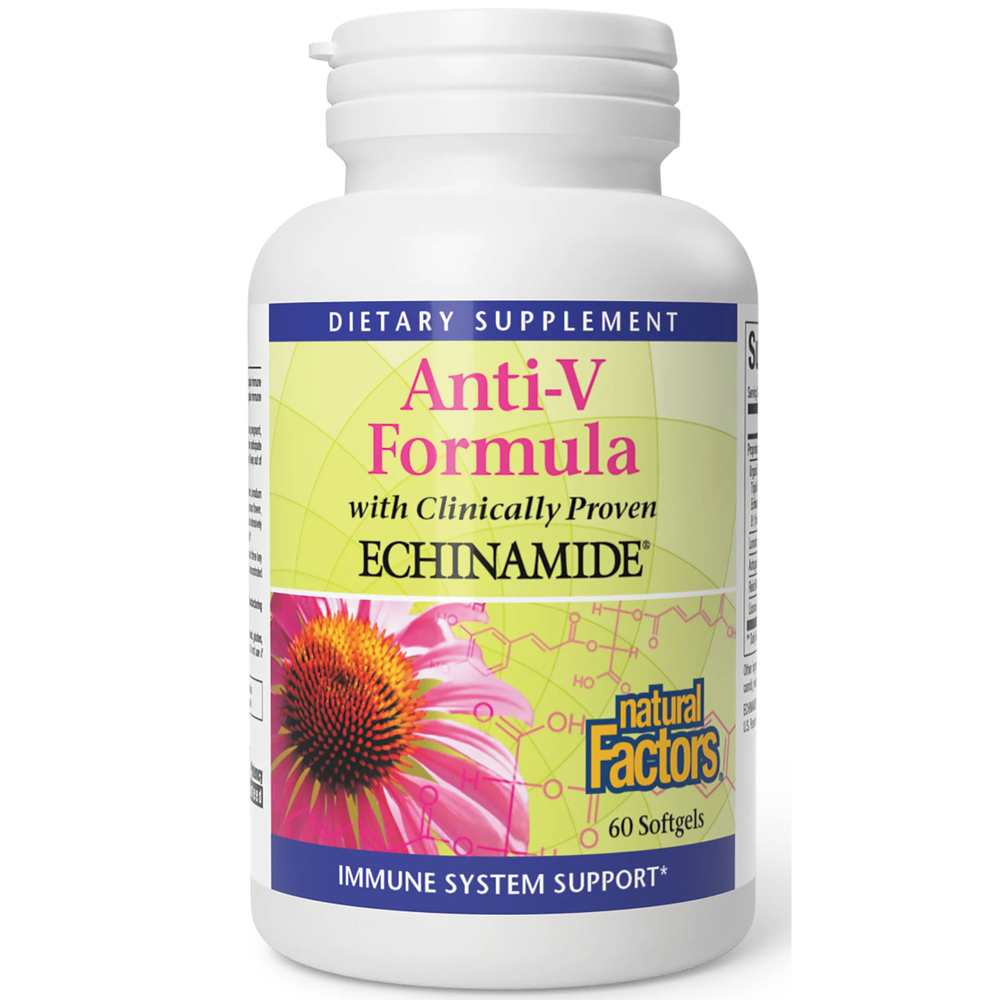 SKU: NF-4700
Provides immune system support.*

Suggested Use:
1 softgel every 2–3 hours for acute needs or 1 softgel 2 times per day for regular immune support.* Children 5 years and older, take 1 softgel every 4–6 hours or 1 softgel daily for regular immune support*, or use as directed by a health professional.

Serving Size: 1 SoftGel

Amount Per Serving
Proprietary Blend ... 128mg
Organic Echinamide® Triple Standardized Patented Processed Organically Grown Echinacea purpurea Fresh Liquid Extract 8:1 (flower & root)
Lomatium (Lomatium dissectum) (root)
Astragalus (Astragalus membranaceus) (root)
Reishi Mushroom (Ganoderma lucidum) (whole fruiting body)
Licorice (Glycyrrhiza glabra) (root)

Other Ingredients: Sunflower oil (non-GMO), softgel (gelatin, glycerin, purified water, carob), yellow beeswax, sunflower lecithin (non-GMO)
Contains no artificial colors, preservatives, or sweeteners; no dairy, starch, sugar, wheat, gluten, yeast, soy, corn, egg, fish, shellfish, salt, tree nuts, or GMOs. Sealed for your protection. Do not use if seal is broken. For freshness, store in a cool, dry place.

Cautions: As with any supplement, consult your health professional before use if you are pregnant, breastfeeding or trying to conceive, or if you are taking medication, have a medical condition or anticipate a surgery. Do not use if you are allergic to plants of the Asteraceae/Compositae (daisy) family. Keep out of the reach of children.