ImmuneAlign
Bioclinic Naturals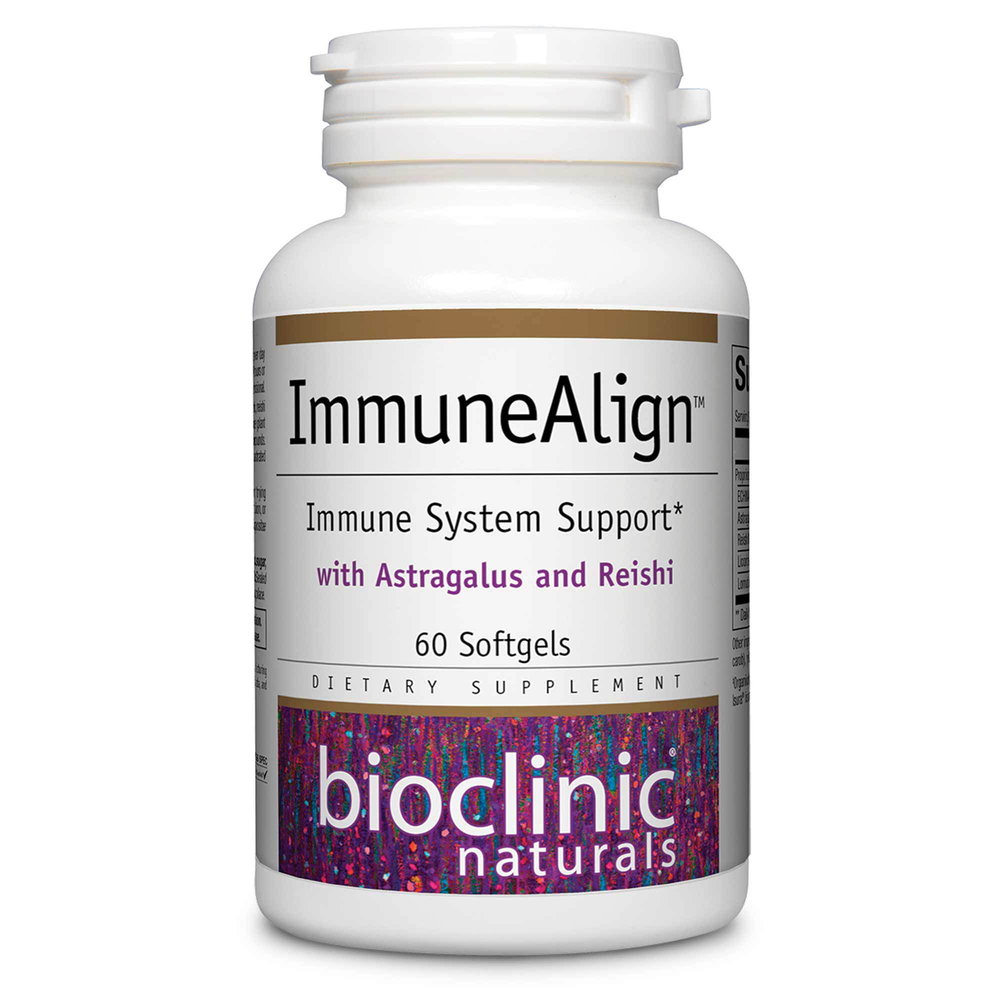 SKU: BCN-9607
ImmuneAlign includes a synergistic combination of five clinically important herbal extracts, standardized to ensure optimal concentration and effectiveness. In addition to immune support, the herbs have adaptogenic function, supporting their combined use for maintaining healthy immune function and supporting upper respiratory health.
Suggested Use:
Take 1 softgel every 2–3 hours for acute needs or 1 softgel 2 times per day for regular immune support*.
Children 5 years and older: Take 1 softgel every 4–6 hours or 1 softgel per day for regular immune support*, or as directed by a health care professional.
Serving Size: 1 Softgel
Amount Per Serving
Proprietary Blend … 128 mg **
ECHINAMIDE® Echinacea purpurea ‡ Fresh Liquid Extract 8:1 (aerial & root)
Astragalus (Astragalus membranaceus ) (root)
Reishi Mushroom (Ganoderma lucidum ) (whole fruiting body)
Licorice (Glycyrrhiza glabra ) (root)
Lomatium (Lomatium dissectum ) (root)
Other Ingredients: Sunflower oil (non-GMO), softgel (gelatin, glycerin, purified water,
carob), yellow beeswax, sunflower lecithin (non-GMO).
Contains no artificial colors, preservatives, or sweeteners; no dairy, starch, sugar, wheat, gluten, yeast, soy, corn, egg, fish, shellfish, salt, tree nuts, or GMOs.
Warning: Consult your health care professional prior to use if you are pregnant, trying to become pregnant, breastfeeding, taking medication, have a medical condition, or anticipate surgery. Do not use if you are allergic to plants of the Asteracae/ Compositae (daisy) family. Keep out of reach of children.