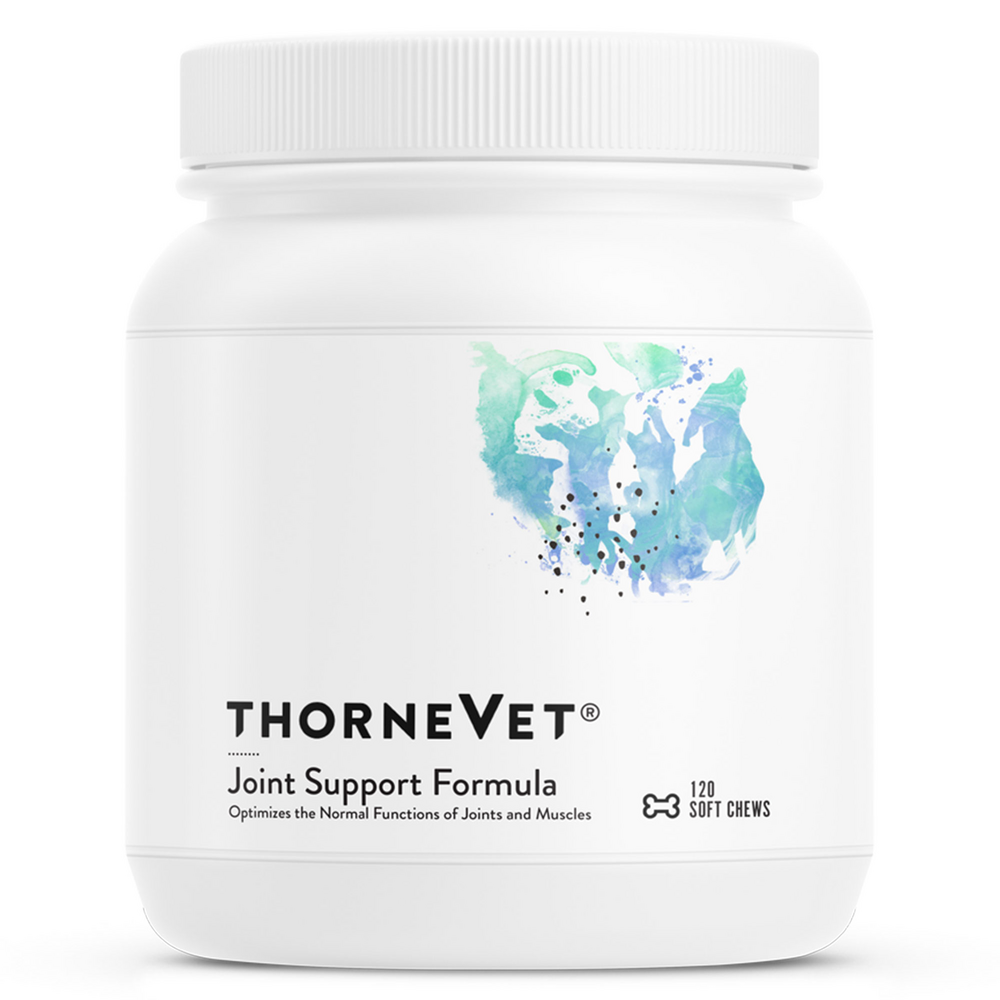 SKU: THOV-V944
Arthroplex helps cats and dogs maintain healthy joint mobility. It also relieves occasional soreness and stiffness and supports healthy cartilage. Although there are many joint health products available on the animal health market, it is extremely important to have high-purity ingredients that are readily absorbed, especially in an older companion animal with limited intestinal function.

The unique, high-purity ingredients in ThorneVET's Arthroplex meet both criteria. Arthroplex combines the proven joint support activity of glucosamine sulfate with other cartilage-supportive ingredients, including the botanicals Boswellia and curcumin. Boswellia's efficacy works by inhibiting the activity of lipoxygenase enzymes, thus down-regulating pro-inflammatory reactions. The curcumin in Arthroplex supports a healthy inflammatory response, and is the same well-absorbed curcumin phytosome found in CurcuVET®. Bromelain – a protein-digesting enzyme complex from pineapple – stimulates fibrinolytic activity and inhibits thromboxane A2, which helps to down-regulate pro-inflammatory cytokines and prostaglandins.
Suggested Use:
1-2 soft chews per 25 pounds of body weight two times daily for 2 weeks, then one time daily.

Serving Size:1 Piece

Amount Per Serving
Glucosamine Sulfate (as Glucosamine Sulfate Potassium Chloride complex)... 225 mg
Ascorbic Acid (Vitamin C)... 100 mg
DL-Phenylalanine ... 75 mg
Curcumin Phytosome (Curcuma longa extract (root) / Phosphatidylcholine complex from Sunflower) (CurcuVET®) ... 50 mg
Chondroitin Sulfate (Bovine) ... 50 mg
Methylsulfonylmethane ... 50 mg
Indian Frankincense extract (gum) (Boswellia serrata) ... 35 mg
Bromelain ... 35 mg
Hyaluronic Acid ... 10 mg

Other Ingredients: Arabic gum, Sweet potato powder, Buffered white distilled vinegar, Canola oil, Citric acid, Guar gum, Maltodextrin, Natural poultry flavor, Rosemary extract, Sunflower lecithin, Sunflower oil, Tapioca starch, Vegetable glycerin
Cautions: Safety during pregnancy is a concern. If lameness worsens, discontinue use and contact your veterinarian. Administer during or after the animal has eaten to reduce incidence of gastrointestinal upset. Federal law prohibits the off-label use of this product in ruminants.

Warnings: For animal use only. Keep out of the reach of children and animals. In case of accidental overdose, contact a health professional immediately.