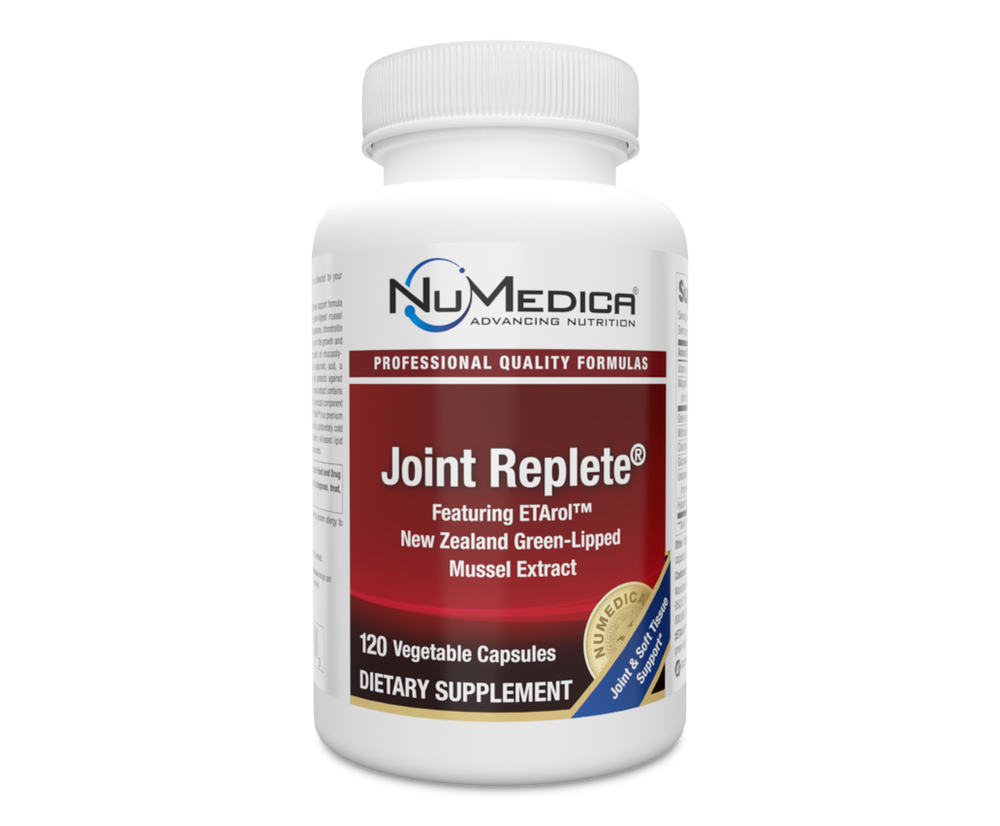 SKU: NMA-NM67
Joint Replete®
Joint Replete® is a comprehensive joint and soft tissue support formula featuring ETArol™, the highest quality, whole green-lipped mussel extract from New Zealand.* It also contains glucosamine, chondroitin sulfate and MSM, as well as manganese, which aids in the growth and development of normal bone and in the formation of mucopolysaccharides.* Additionally, Joint Replete® contains hyaluronic acid, a powerful antioxidant which promotes resiliency and protects against repetitive wear and tear.* The whole green-lipped mussel extract contains naturally occurring oils and glycosaminoglycans, the principal component of cartilage and synovial fluid found in the joints.*

ETArol™ is a premium quality whole green-lipped mussel extract produced by proprietary cold processing and should not be confused with inferior, oil-based lipid extracts commonly used in joint health dietary supplements.



Suggested Use:
Take four capsules per day or as directed by your healthcare practitioner.


Serving Size: 4 Capsules

Four Capsules Contain:
Vitamin C (as ascorbic acid) ... 75 mg
Manganese (as manganese glycinate 16%) ...10 mg
ETArol™† (green-lipped mussel) ... 1,040 mg
Methylsulfonylmethane (MSM) ...1,000 mg
Chondroitin Sulfate ... 500 mg
Glucosamine Sulfate ... 500 mg
Unsaponifiables (avocado/soybean) (ASU) ... 100 mg
Hyaluronic Acid ... 30 mg

Other Ingredients: Hydroxypropyl methylcellulose (vegetable capsule), vegetable magnesium stearate, silica.


Contains: Shellfish (crab, shrimp, lobster, crayfish) derivatives, soy.

Does Not Contain: Milk, eggs, fish, tree nuts, peanuts, wheat.






Warning: Persons with a known allergy to shellfish should not use this product.