B-Complex with Quatrefolic
Patient One MediNutritionals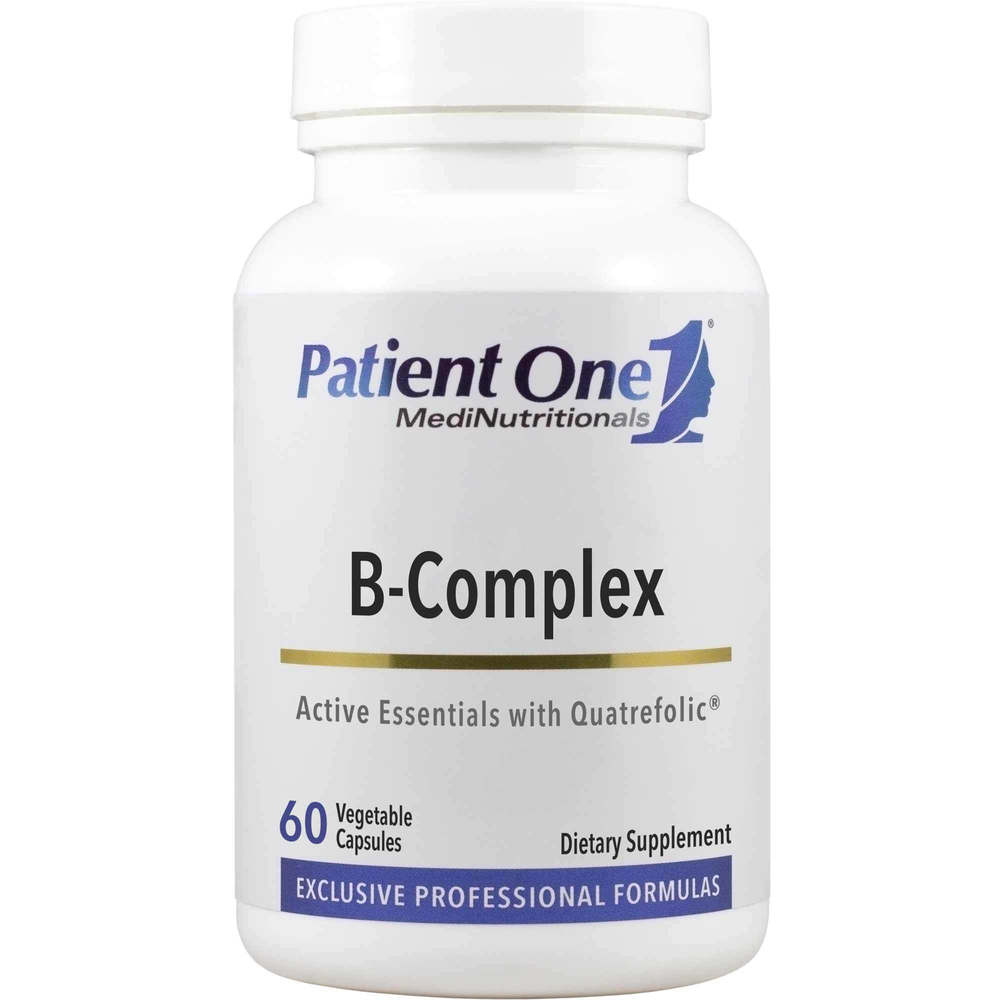 SKU: ONE631-P104060
Active essentials for cellular energy production, nervous system function and cardiovascular health
Supports cellular respiration and energy production
Promotes healthy triglyceride and lipoprotein levels
Enhances MAO activity
Supports mental clarity, memory, and focus
Optimizes new cell growth
Supports glucose metabolism
Patient One B-Complex, most commonly recommended for stress, is a blend of 10 essential compounds, including the complete spectrum of B vitamins in their activated and easily absorbable forms, plus related nutrients. Our formula features Quatrefolic®, a cutting-edge active form of folate, and thiamine as Benfotiamine, which has enhanced bioavailability and easily penetrates into the inside of cells.

Thiamine (as Benfotiamine and Thiamine HCl) B1
Patient One B-Complex provides Thiamine as Benfotiamine—the fat soluble, physiologically superior form of Vitamin B-1—along with Thiamine HCl to support healthy blood sugar metabolism and protection against advanced glycation and oxidative stress.
Riboflavin (as Riboflavin-5-Phosphate) B2
Readily absorbed in the small intestine but not stored by the body, Riboflavin is an essential B vitamin. Patient One provides Riboflavin in its active form, Riboflavin-5-Phosphate, making it more easily available for use in the body. Riboflavin plays a key role in the conversion of other B vitamins and in fat and glucose metabolism. Riboflavin is also an important nutrient for healthy eyesight and skin.
Niacin (as niacinamide) B3
Niacin is an evidence-backed B vitamin that is most commonly used to support cardiovascular wellness. Research has suggested that niacin influences pathways associated with triglycerides and high-density lipoprotein (HDL) cholesterol, helping to maintain blood cholesterol levels that are already within normal range.
Pyridoxine (as Pyridoxal-5-Phosphate) B6
Pyridoxal-5-Phosphate is the metabolically active form of vitamin B-6 that has been shown to protect living lipids and proteins against glycation reactions. Aging results in the formation of advanced glycation end products (AGEs) throughout the body. By inhibiting AGE formation and working as a coenzyme in chemical reactions, pyridoxal- 5-phosphate can support healthy nerves, eyes, and cardiovascular and kidney function.
Folate (as Quatrefolic®)
Quatrefolic®, the advanced 5-MTHF (5-methyltetrahydrofolate) form of folate, bypasses metabolic steps for enhanced folate bioavailability. In vitro and in vivo studies have proven that Quatrefolic, the glucosamine salt of 5-MTHF, has greater stability, solubility and bioavailability over calcium salt forms of 5-MTHF. Folic acid is well-known for its critical role in fetal development and also supports cardiovascular health, nervous system health, normal cell growth and energy production. It plays a role in brain energy, and helps to promote peak mental sharpness and clear memory.
Vitamin B-12 (as Methylcobalamin)
Methylcobalamin is a highly bioactive form of vitamin B-12 and accounts for most B-12 circulating in plasma. Methylcobalamin B-12 supplies methyl groups for protein and DNA synthesis while supporting circulation, neurotransmitter production, and cellular energy production. B-12 also optimizes healthy homocysteine levels, promoting overall cardiovascular wellness.
Biotin
Biotin has a beneficial effect on a number of structures and functions in the body. It is best known for its positive effect on hair and nails but also plays a role in supporting glucose metabolism by
Suggested Use:
Take 1 vegetarian capsule as a dietary supplement, preferably with a meal, or as directed by a qualified health care professional.

Serving Size: 1 capsule

Amount Per Serving
Vitamin B-1 ... 87.5 mg
(Thiamine HCl)
Riboflavin ... 25 mg
(Vitamin B-2) (as Riboflavin-5-Phosphate)
Niacin ... 75 mg
(Vitamin B-3) (as Niacinamide)
Pyridoxine ... 25 mg
(Vitamin B-6) (as Pyridoxal-5-Phosphate)
Folate ... 666 mcg DFE
(as Quatrefolic® [6S]-5-Methyltetrahydrofolic acid equivalent to 800 mcg of [6S]-5-Methyltetrahydrofolic acid, glucosamine salt)
Vitamin B-12 ... 400 mcg
(as Methylcobalamin)
Biotin ... 300 mcg
Pantothenic acid ... 100 mg
(Vitamin B-5) (as D-calcium pantothenate)
Choline ... 20 mg
(from Choline bitartrate)
PABA ... 25 mg
(para-aminobenzoic acid)
Benfotiamine ... 18 mg

Other Ingredients: vegetable cellulose, microcrystalline cellulose, leucine.


Made with ingredients that are free of: milk, egg, fish, peanuts, crustacean shellfish, soy, tree nuts, wheat, yeast, gluten, sesame and GMOs.

Quatrefolic® is a registered trademark of Gnosis S.p.A.
Warnings
If you are pregnant, nursing, or taking any medications, consult your doctor before use. Discontinue use and consult doctor if any adverse reactions occur.