Activated B w/SRT
Jigsaw Health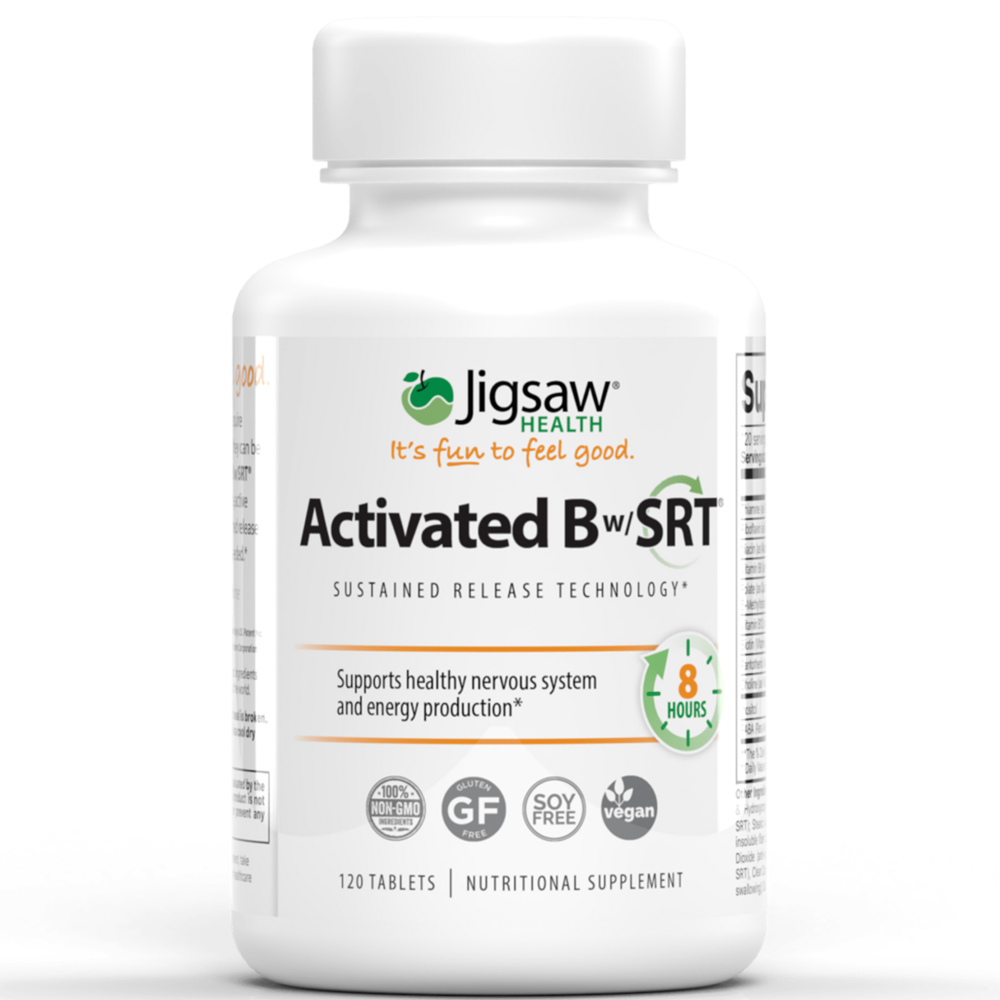 SKU: JIG-J0194
Activated B w/SRT
-Appropriate B supplementation can support healthy energy all day long*
-Active forms + SRT = Super absorption Ideal for those running low on B-
Vitamins*
-Easy on the body, no need for conversion Now with benfotiamine for extra nerve
function support*
B-vitamins are used by every cell in the body, every second of the day and
night. Running low on any one of them can create all kinds of health
challenges.*
Activated B w/SRT, unlike most B-complex products, provides the ready-to-use,
active forms needed by your body. Most vitamin B supplement products contain
only the inactive forms, so they are not readily absorbed or utilized and,
instead, are quickly eliminated from your body—making them ineffective.
As a dietary supplement, take one tablet daily; may take up to 2 tablets twice
daily or use as directed by your healthcare professional.
Serving Size: 1 Tablet
Amount Per Serving:
Vitamin B1 ... 25mg
(as Benfotiamine)
Vitamin B2 ... 25mg
(as Riboflavin 5-Phosphate sodium)
Vitamin B3... 15mg
(as Niacinaminde)
Vitamin B6 ... 25mg
(as Pyridocal 5-Phosphate)
Folate ... 200mcg
(as Quatrefolia 5-MTHF Acid Glucosaminic Salt)
Vitamin B12 ... 500mcg
(as Methylcobalamin)
D-Biotin ... 500mcg
Vitamin B5 ... 125mg
(as Calcium D-Pantothenate)
Choline Bitartrate ... 150mg
Inositol ... 75mg
Para-Aminobenzoic Acid (PABA) ... 15mg
Other Ingredients: Microcrystalline Cellulose, Hydroxypropyl Cellulose
(Modified Cellulose) Hydroxpropyl Methylcellulose (Modified Cellulose),
Stearic Acid, Croscarmellose Sodium, Magnesium Stearate, Silicon Dioxide, Guar
Gum, Cellulose, Food Glaze, and Micro Wax.
The presence of bright yellow urine after taking a vitamin B supplement is not a sign that they are all being flushed away. Riboflavin (Vitamin B-2) causes urine to turn a florescent yellow color. The Bs are still being absorbed, the color is simply a byproduct. If you have taken regular B vitamins before, youll notice that with sustained release Bs, the neon yellow color will usually be less intense initially, and yet noticeable for longer as it slowly releases at an optimal absorption rate of 6-8 hours.