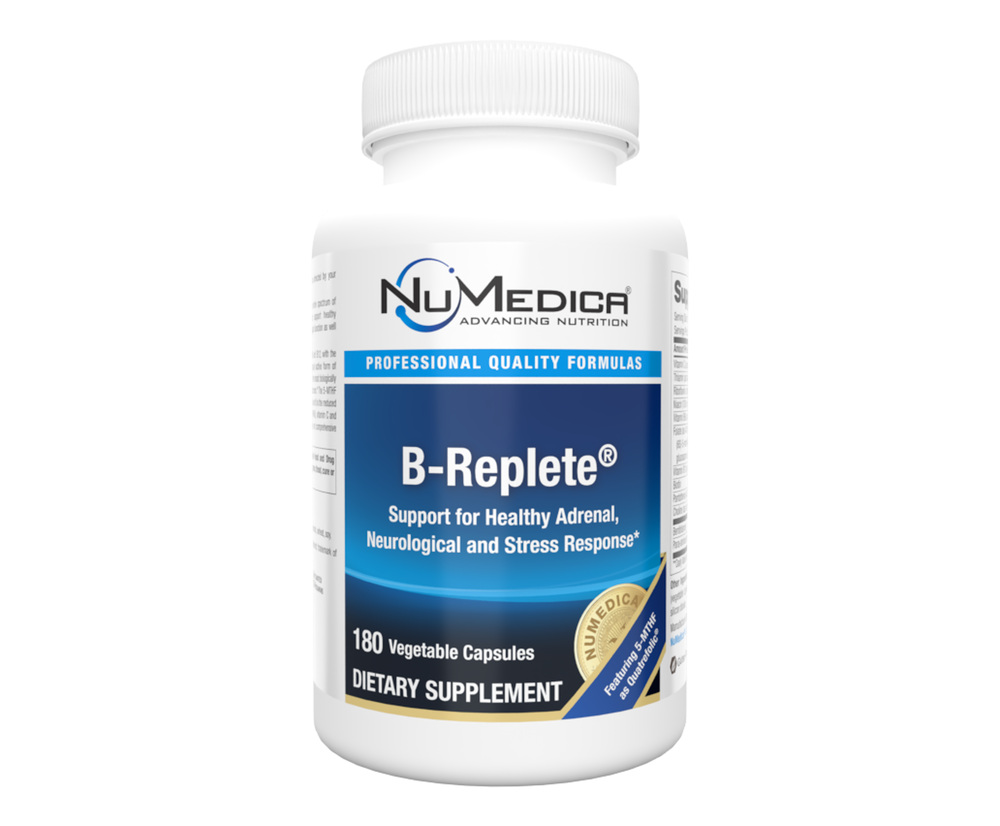 SKU: NMA-NM236
B-Replete®
B-Replete® is an advanced B-complex providing the entire spectrum of B vitamins and other complementary nutrients to support healthy homocysteine metabolism, adrenal, energy and neurological function as well as healthy stress response.* B-Replete® provides activated forms of vitamins B2, B6 and B12, with the addition of benfotiamine, a fat soluble and physiologically active form of thiamin. The 5-MTHF in this formula – Quatrefolic® – is the most biologically active form of folate, allowing rapid uptake into the bloodstream.* The 5-MTHF in this formula is also known as the 'L' form of 5-MTHF since it is the reduced form of folate. The addition of PABA, vitamin C and therapeutic doses of B12 and B6 make this a powerful and comprehensive activated B-complex that stands out above the rest.*
Supplement Facts
Serving Size: 1 Capsule
Amount Per Serving
Vitamin C (as ascorbic acid)
30 mg
Thiamin (Vitamin B1) (as thiamin hydrochloride)
20 mg
Riboflavin (Vitamin B2) (as riboflavin-5'-phosphate)
20 mg

Niacin (130 mg niacinamide, 10 mg niacin)
140 mg
Vitamin B6 (as pyridoxal-5'-phosphate)
25 mg
Folate
800mcg

Provided As:


5-MTHF (6S-5-methyltetrahydrofolic acid, glucosamine salt†)
400mcg

Folinic Acid
400mcg

Vitamin B12 (as methylcobalamin)
800mcg
Biotin
400mcg
Pantothenic Acid (as d-calcium pantothenate)
150 mg
Choline Citrate

30 mg
Benfotiamine
20 mg
Para-Aminobenzoic Acid (PABA)


Other Ingredients
Hydroxypropyl methylcellulose (vegetable capsule), microcrystalline cellulose, rice flour, ascorbyl palmitate, silica.
Does Not Contain:
Milk, eggs, fish, shellfish, tree nuts, peanuts, wheat, soy.
Suggested Use
Take one capsule 1-2 times per day or as directed by your healthcare practitioner.
†As Quatrefolic® 5-MTHF. Quatrefolic®
is a registered trademark of Gnosis S.p.A. Patent number 7,947,662.
*These statements have not been evaluated by the Food & Drug Administration. These products are not intended to diagnose, treat, cure or prevent any disease.