B Complex Neuro Factors
Protocol for Life Balance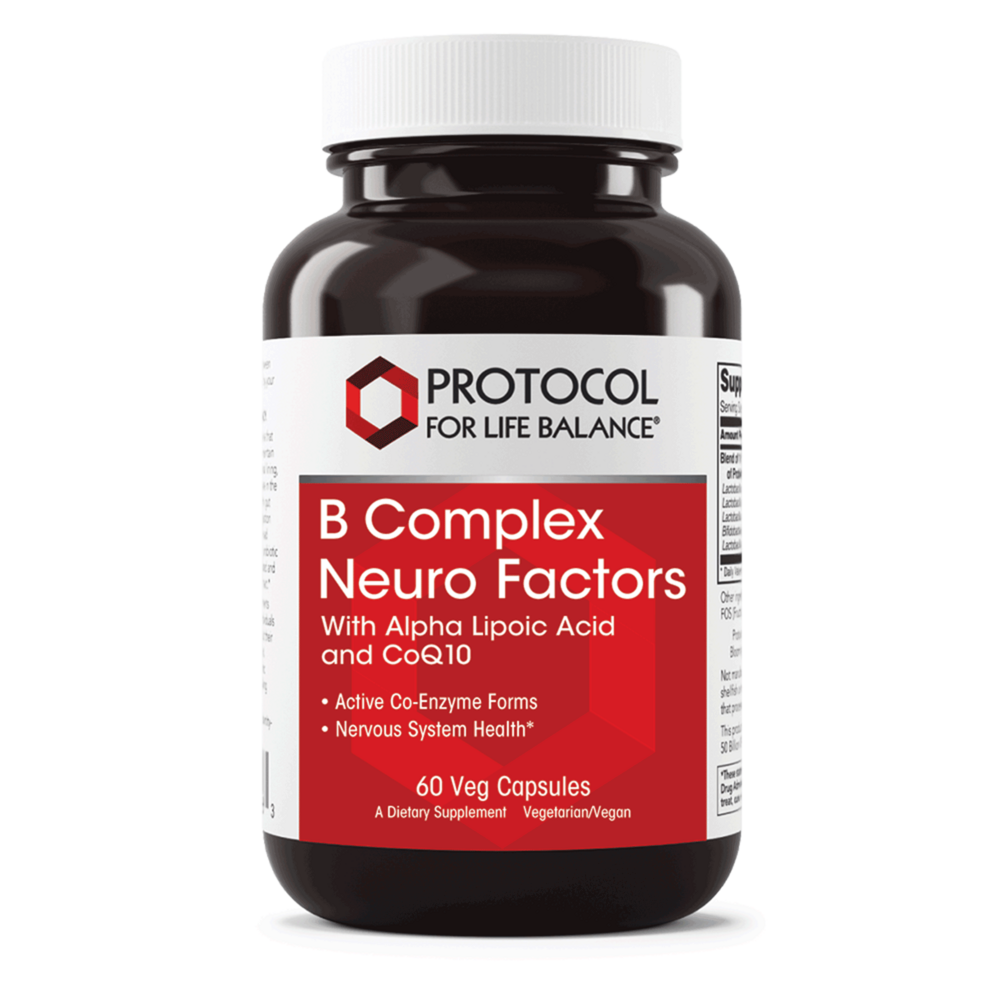 SKU: PROT-P0406
With Alpha Lipoic Acid and CoQ10
Nervous System Health*
Delayed-Release Capsules
Vegetarian/Vegan
As co-factors in numerous biochemical reactions, B Complex vitamins are critical for energy production and the proper metabolism of carbohydrates, fats, and proteins.* B Vitamins are also important for the maintenance of normal nervous system function, blood cell production, and countless other metabolic processes.* Our B Complex Neuro Factors has a balanced combination of B Vitamins in their activated CoEnzyme states. Acid-resistant capsules help to preserve ingredient integrity through the harsh acidic environment of the stomach for intact delivery to intestinal absorption sites.
Take 2 capsules daily with food, or as directed by your healthcare practitioner.
Serving Size: 2 Veg Capsules
Amount Per Serving
Vitamin C ... 60mg
(from Magnesium Ascorbate)
Thiamin ... 50mg
(Vit. B-1) (from Thiamin HCl and Cocarboxylase)
Riboflavin ... 50mg
(as Riboflavin & from Riboflavin-5-Phosphate Sodium)
Niacin ... 100mg
(Vitamin B-3) (from Inositol Hexanicotinate and NAD Trihydrate)
Vitamin B-6 ... 50mg
(from Pyridoxine HCl and P-5-P Monohydrate)
Folate ... 667 mcg DFE [400 mcg (6S)-5-MTHF**]
[from Quatrefolic® (6S)-5-MTHF** Glucosamine Salt]
Vitamin B-12 ... 250mcg
(as Methylcobalamin and Dibencozide)
Biotin ... 1, 000mcg
Pantothenic Acid ... 50mg
(Vitamin B-5) (from Calcium Pantothenate and Pantethine)
Choline ... 25mg
(from Choline Bitartrate)
Betaine Anhydrous ... 50mg
Alpha Lipoic Acid ... 50mg
PABA ... 25mg
(Para-Aminobenzoic Acid)
Inositol ... 30mg
(from Inositol Hexanicotinate, Inositol Hexaphosphate and Inositol)
CoQ10 ... 10mg
(Coenzyme Q10)
Other Ingredients: Cellulose (capsule) (acid-resistant), Cellulose Powder, Stearic Acid (vegetable source) and Silica.
Allergens: Not manufactured with wheat, gluten, soy, milk, egg, fish, shellfish or tree nut ingredients. Produced in a GMP facility that processes other ingredients containing these allergens.
**MTHF = Methyltetrahydrofolate
Quatrefolic® is a registered trademark of Gnosis S.p.A. and protected by U.S. Patent 7, 947, 662.
Cautions / Interactions:
If you are pregnant/nursing, consult your healthcare practitioner before using this product.
Do Not Eat Freshness Packet. Keep in Bottle.
Natural color variation may occur in this product.