Baby & Me™ Multivitamin
Innate Response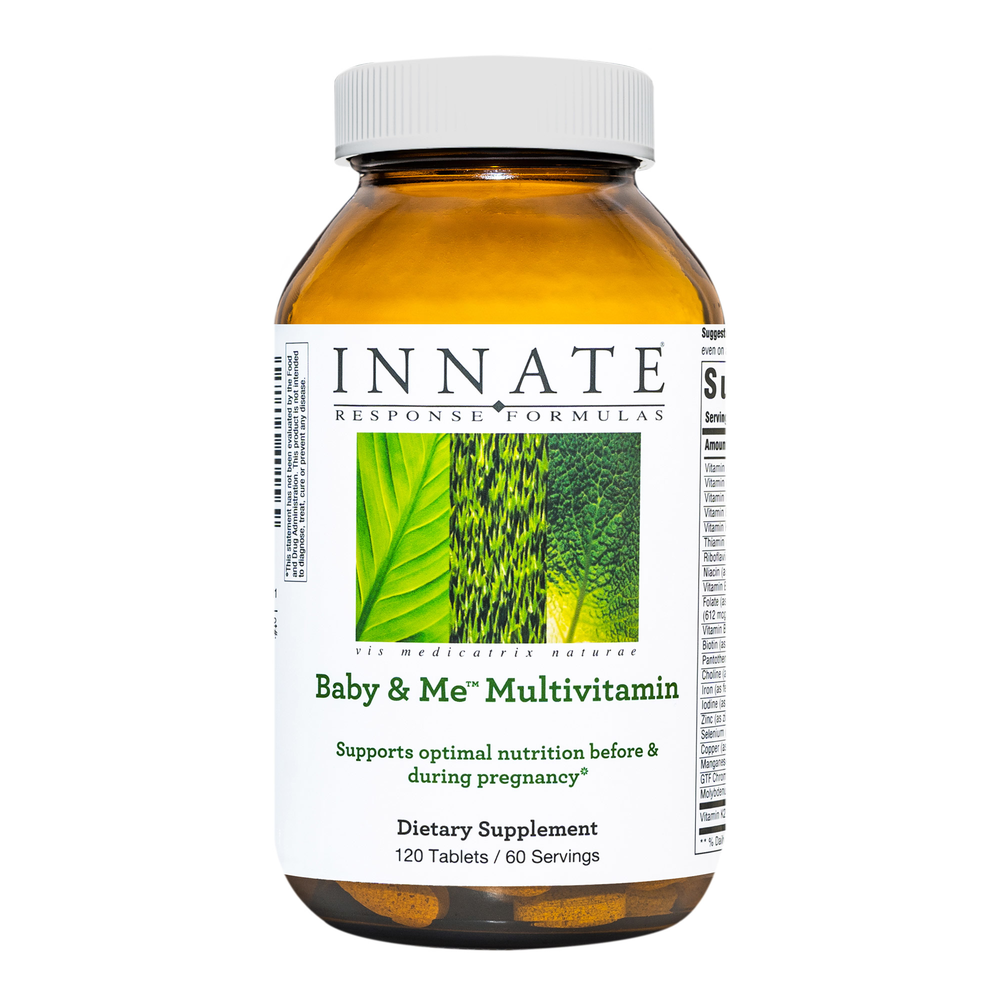 SKU: INR-40156
Supports the health of the mother and developing baby*
Contains FoodState® iron for healthy red blood cell production (requirements are higher during pregnancy)*
Made with the active form of vitamin B6, as well as methylated folate and B12 suitable for those who specifically desire methylated forms*
Includes 600 IU (15 mcg) of vitamin D to support healthy bones*
600 mcg of folate in its methylated form and choline support fetal health*
Calcium- and magnesium-free formulation. We suggest you also take INNATE Response Bone Health Multivitamin.
Formulated by award-winning integrative physician Tieraona Low Dog, M.D.
Take 2 tablets daily with a beverage. May be taken anytime throughout the day, even on an empty stomach.
Serving Size:
2 Tablets
Amount Per Serving
Vitamin A
... 750mcg RAE
(as beta carotene with carrot)
Vitamin C
... 100mg
(as ascorbic acid with organic orange)
Vitamin D3
... 15mcg
(as fermented cholecalciferol)
Vitamin E
... 20mg
(as d-alpha tocopherol from sunflower seed oil)
Vitamin K
... 60mcg
(as phytonadione with cabbage)
Thiamin
... 1.5mg
(as thiamine hydrochloride with S. cerevisiae)
Riboflavin
... 1.7mg
(as riboflavin 5'-phosphate sodium with organic brown rice)
Niacin
... 20mg
(as niacinamide with S. cerevisiae)
Vitamin B6
... 8mg
(as pyridoxal-5-phosphate with organic brown rice)
Folate
... 1020mcg DFE
(as L-5-methyltetrahydrofolate with broccoli) (612 mcg L-5-MTHF)
Vitamin B12
... 8mcg
(as methylcobalamin with S. cerevisiae)
Biotin
... 300mcg
(as biotin with organic brown rice)
Pantothenic Acid
... 10mg
(as d-calcium pantothenate with organic brown rice)
Choline
... 300mg
(as choline bitartrate)
Iron
... 18mg
(as fermented iron bisglycinate)
Iodine
... 150mcg
(as fermented iodine glycinate)
Zinc
... 15mg
(as zinc bisglycinate)
Selenium
... 50mcg
(as fermented selenium glycinate)
Copper
... 0.2mg
(as fermented copper bisglycinate)
Manganese
... 1mg
(as fermented manganese bisglycinate)
GTF Chromium
... 50mcg
(as fermented chromium glycinate, nicotinate, glutamate)
Molybdenum
... 10mcg
(as fermented molybdenum bisglycinate)
Vitamin K2
... 30mcg
(as menaquinone-7 with cabbage)
Other Ingredients:
Microcrystalline cellulose, ferment media (rice protein, organic brown rice, silicon dioxide, rice protein, stearic acid, autolyzed yeast extract, hypromellose.
Warning:
Accidental overdose of iron-containing products is a leading cause of fatal poisoning in children under six. Keep this product out of reach of children. In case of accidental overdose, call a doctor or poison control center immediately.