Biocidin Broad Spectrum Liquid Formula (Formerly Advanced Formula)
Biocidin Botanicals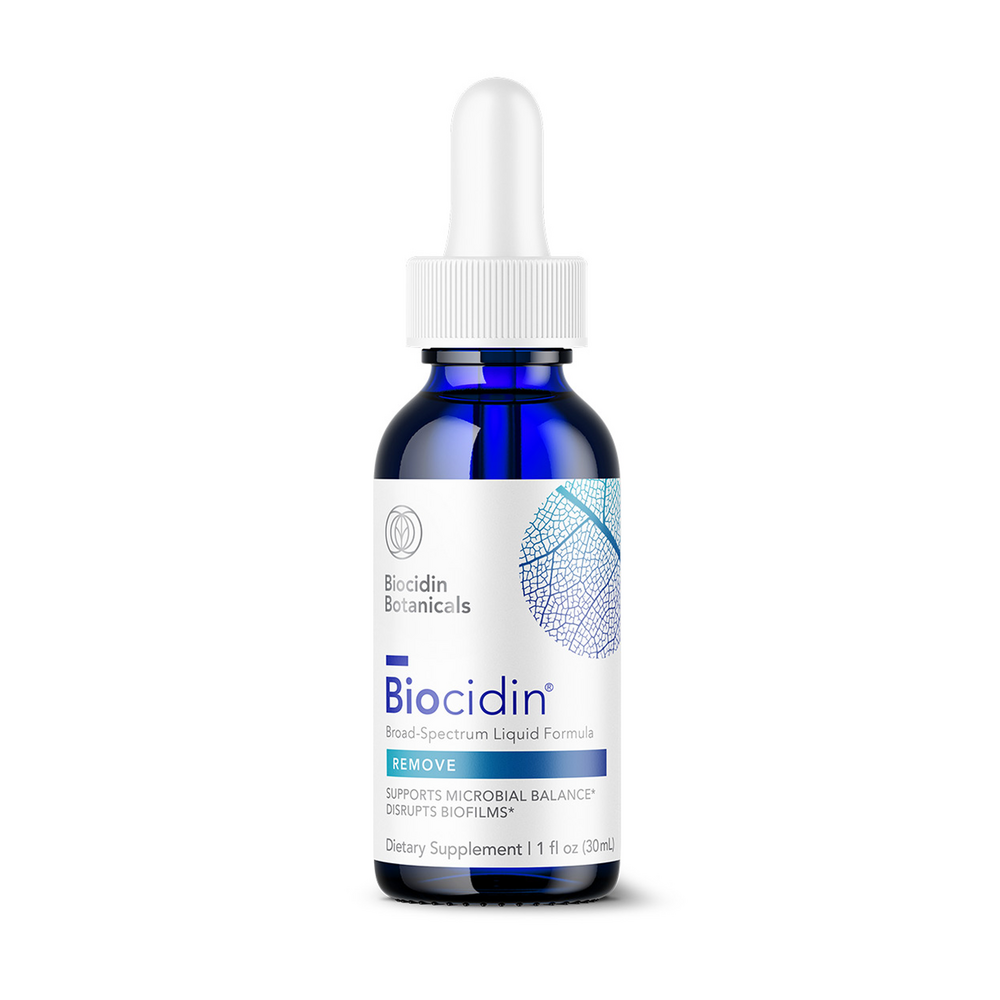 SKU: BI2-ABIC1
When dealing with gastrointestinal and systemic imbalances, Biocidin
®
cuts through the complexity. It clears away irritants, unwanted microbes, and biofilms, while selectively enhancing beneficial organisms. Our signature blend, Biocidin
®
combines 18 botanical extracts and essential oils. The result is a potent, broad-spectrum formula that targets the entire GI tract and helps maintain the delicate balance of microorganisms in the microbiome.* Its far-reaching effects include support for biofilm cleansing, immunomodulation, healthy digestion and elimination, and detoxification.*
Benefits
Supports gut health by addressing unwanted organisms*
Dismantles biofilms*
Selectively enhances beneficial organisms*
Immunomodulatory activity*
May improve regularity and reduce bloating and gas*
Helps improve vitality and mental clarity*
Supports healthy mobility and body comfort*
Features
Professional-grade ingredients
Laboratory tested and clinically researched
The go-to broad-spectrum formula for integrative and functional medicine practitioners for over 30 years
Pleasant taste appeals to children and adults


Suggested Use:
Begin with 1 drop and gradually increase up to 5 drops 3 times per day or as directed by your healthcare professional. Children may use 1 drop per 10 lbs. of body weight per day, divided into 2 doses.
Serving Size:
1 Drop
Amount Per Serving
Proprietary Herbal Blend
... 30mg
Bilberry fruit extract, Grape seed extract, Shiitake mushroom extract, Golden Seal root, Noni fruit extract, Garlic bulb, White Willow bark, Milk Thistle seed, Raspberry fruit, Echinacea Purpurea plant extract, Echinacea Angustifolia root, Black Walnut hull, Black Walnut leaf, Lavender oil, Oregano oil, Galbanum oil, Tea Tree oil, Fumitory aerial parts extract, Gentian Lutea root
Other Ingredients:
vegetable glycerin, ethanol (sourced from potato and/or sugar cane)

Contains walnut. This product is made without dairy, gluten, soy, corn, animal products, artificial coloring or flavoring.


Not for use during pregnancy.