Dentalcidin Broad-Spectrum Toothpaste with Biocidin
Biocidin Botanicals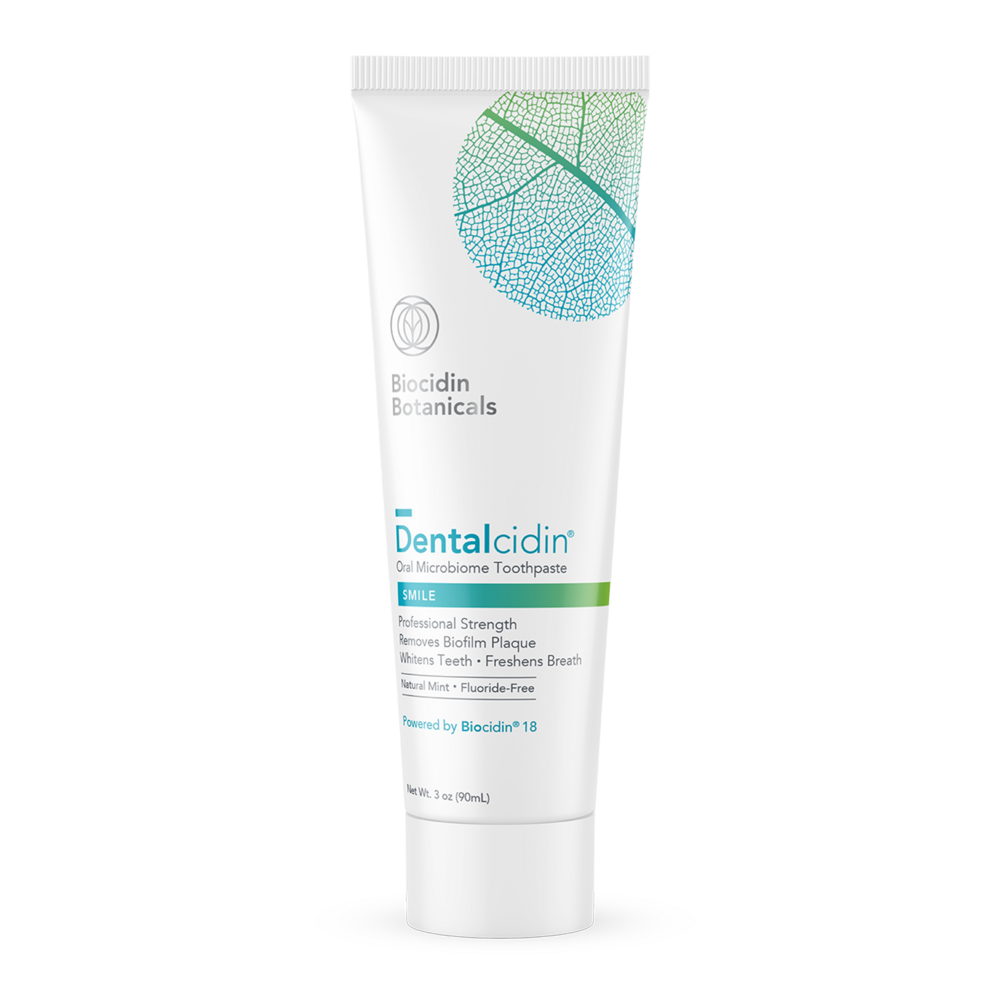 SKU: BI2-DENT
When it comes to oral care, plaque (a biofilm) is a universal challenge. Dentalcidin™ toothpaste contains Biocidin®, a botanical formula with a strong track record in removing biofilms. Dentalcidin™ toothpaste gently and effectively cleans and whitens teeth, while supporting healthy microbial balance.* Essential oils support fresh breath. For the greatest benefit, use Dentalcidin™ toothpaste with DentalcidinLS oral rinse.
Dentalcidin™ Benefits
Keeps teeth feeling clean all day*
Gentle, effective cleaning*
Maintains oral health*
Assists in removing oral biofilms (plaque)*
Supports oral microbiome balance*
Broad-spectrum activity*
Contains botanicals with antioxidant and tissue-soothing activity*
Dentalcidin™ Features
Professional-grade botanicals
Laboratory tested for potency and purity
Contains Biocidin® botanical formula
Contains essential oils for additional benefits Ideal for daily use
Light minty flavor suitable for all ages
Made without fluoride, gluten, dairy, soy, sugar, and artificial flavors and colorings
Suggested Use:
Brush with Dentalcidin
®
2-3 times daily. Formulated for use with Dentalcidin
®
LS Liposomal rinse for maximum results.
Ingredients
: Sorbitol, Water, Biocidin (Bilberry fruit extract, Grape seed extract, Shiitake mushroom extract, Goldenseal root, Noni fruit extract, Garlic bulb, White Willow bark, Milk Thistle seed, Raspberry fruit, Echinacea Purpurea plant extract, Echinacea Angustifolia root, Black Walnut hull, Black Walnut leaf, Lavender oil, Oregano oil, Galbanum oil, Tea Tree oil, Fumitory aerial parts extract, Gentian Lutea root), Vegetable glycerin, Hydrated silica, Sodium Lauroyl Sarcosinate, Tocopherol, Natural organic flavor, Cellulose Gum, Peppermint oil, Aloe, Cinnamon oil, Tangerine fruit extract, Bitter orange fruit extract, Sweet orange peel extract, Ascorbic acid, Citric acid, Lactic Acid, Clove oil, Tea Tree oil
This product is made without dairy, gluten, soy, corn, animal products, artificial coloring or flavoring.
Contains walnut
.
Store in a cool, dry place.