BioCleanse Capsule
Nutra BioGenesis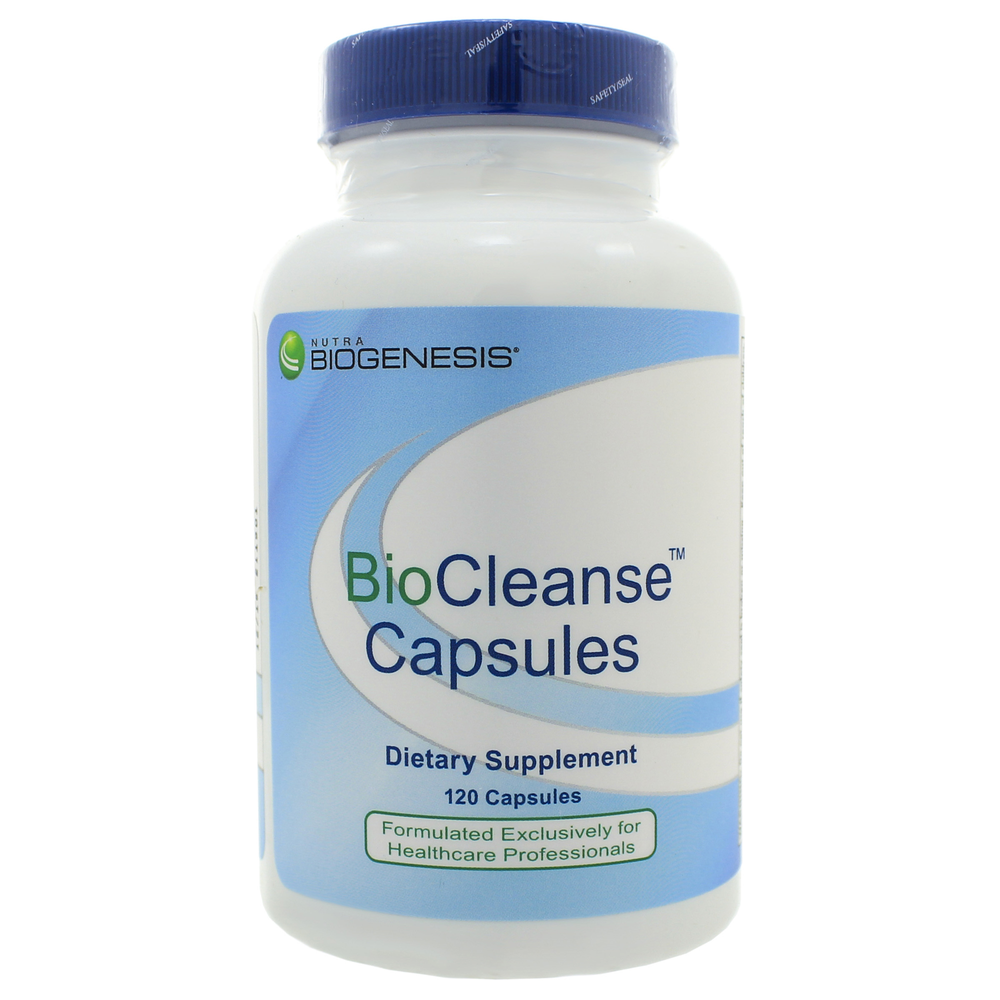 SKU: BI5-14428
BioCleanse™ Capsules are intended to provide nutritional and herbal support during detoxification. Specifically for individuals who may have special challenges related to phase 2 liver detoxification.
Helps remove metabolic waste products, heavy metals, solvents, and chemical toxins.†
Companion product to BioCleanse Functional Food.†
BioCleanse capsules are an additional tool for patients seeking exceptional cleansing results.†
In addition to our BioCleanse functional food powder, BioGenesis offers BioCleanse capsules. These capsules can be used when a more intense cleansing is desired. In a powdered beverage, there is a limit to the amount of support nutrients that can be included and still produce a palatable product. We have overcome this objection by producing the complementary product BioCleanse capsules. Here, only the specialty nutrients are included. This allows your doctor to enhance your detox program. This will assist in more effective neutralization and removal of metabolic waste products, heavy metals, solvents, and any number of chemical toxins. If a stronger cleansing is desired, use BioCleanse capsules along with BioCleanse functional food powder and follow the BioCleanse diet.
Another reason for using BioCleanse capsules is for patients who simply do not wish to use a functional food powder. In this situation, we recommend BioCleanse capsules be taken along with Ultra Genesis multivitamin/mineral (iron free) capsules and the BioCleanse diet. This method provides all the anti-inflammatory ingredients without the balanced caloric benefit of the BioCleanse functional food powder. This may be a good option for patients who are traveling, when carrying a food container is not practical. Either way, your patients can benefit from the BioCleanse program in a convenient manner.
Use only as directed. Take 4 capsules daily (dose may be divided) or as directed by your healthcare practitioner.
Serving Size: Four Capsules
Amount Per Serving
Glycine ... 750mg
N-Acetyl L-Cysteine ... 520mg
(NAC)
Taurine ... 500mg
Methylsulfonylmethane ... 350mg
(MSM)
Milk Thistle ... 250mg
(Silybum marianum)(seed extract)
(80% silymarin)
Calcium D-Glucarate ... 200mg
Broccoli ... 50mg
(Brassia oleracea italica)(seed extract)
(10% sulforaphane glucosinolate)
Pomegranate ... 10mg
(Punica granatum)(fruit extract)
(40% ellagic acid)
Green Tea ... 10mg
(Camellia sinensis)(leaf extract)
(98% polyphenols, 50% ECGC)
Watercress ... 10mg
(Rorippa nasturtium-aquaticum)(leaf)
Other Ingredients: Cellulose, vegetable cellulose capsule, ascorbyl palmitate, silica.
WARNING
Do not use if safety seal is broken or missing. Keep out of reach of children. Keep your licensed healthcare practitioner informed when using this product, especially if pregnant or nursing.
Keep tightly capped and store in a cool, dry place.