Detox Formula
Vital Nutrients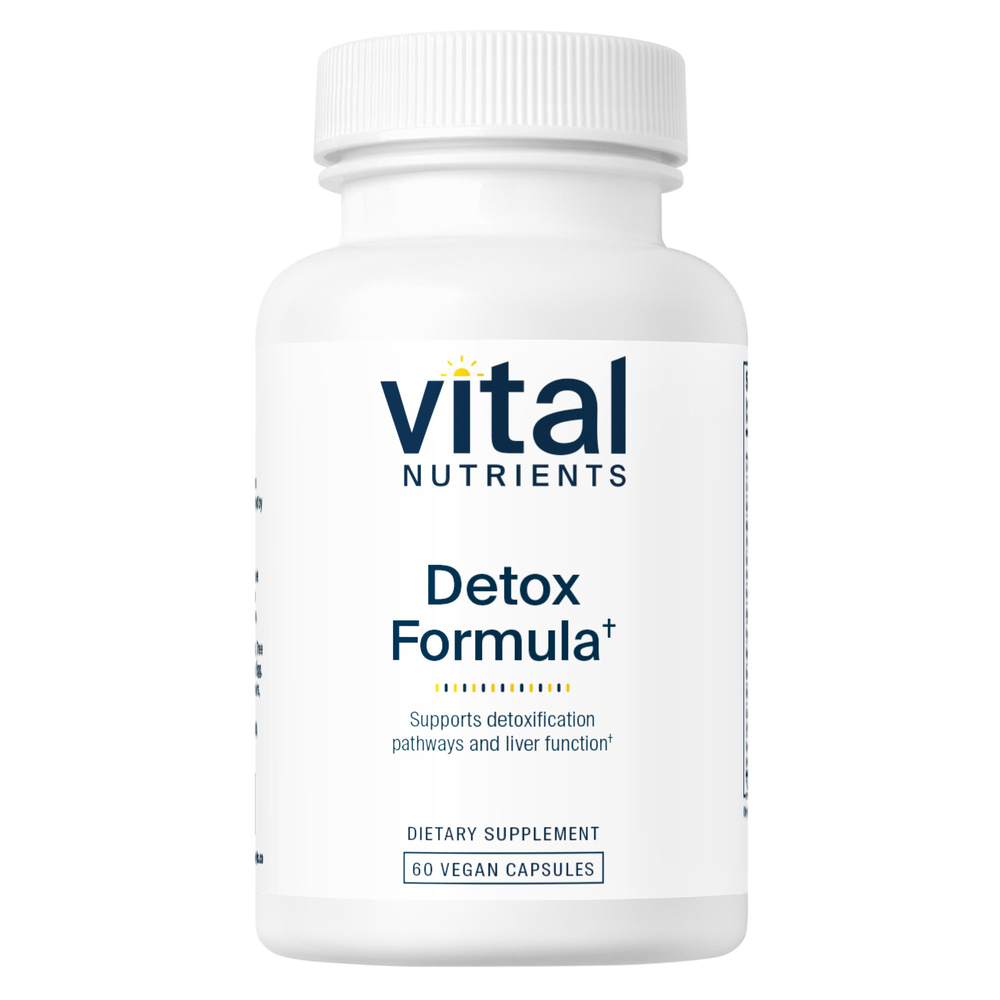 SKU: VN-DTX
• Supports natural detoxification pathways*
• Promotes healthy immune function*
• Maintains healthy liver function*
• Premium Vegan Formulation
Detox Formula is a unique combination of nutrients designed to promote healthy liver function.* The formula contains conditionally essential amino acids utilized in the body's detoxification pathways, as well as herbs that help maintain liver health.* The precursors of glutathione are included, as well as natural sources of sulfur, which support detoxification enzyme activity.* The high antioxidant content of nutrients such as Alpha Lipoic Acid supports the body's natural defense systems.*
Packaging and labels may vary.
 
Take 2 capsules, 2-3 times daily, or as directed by a healthcare practitioner.
Serving Size: 2 capsules

Amount Per Serving:
L-Glutamine ... 250mg
L-Taurine ... 250mg
Glycine ... 250mg
Milk Thistle Extract ... 200mg
 (Silybum marianum, seed, standardized to 80% silymarin)
Curcumin ... 100mg
 (Turmeric Extract, Curcuma longa, rhizome, standardized to 85% curcuminoids)
N-Acetyl Cysteine  ... 100mg
(NAC)
Alpha Lipoic Acid ... 100mg
Grape Extract  ... 50mg
(Vitis vinifera, seed, standardized to 85% polyphenols)
Methylsulfonylmethane ... 50mg
 (MSM)
Broccoli Sprout  ... 50 mg
(Brassica oleracea, spouted seed)
Yellow Dock ... 50mg
(Rumex crispus, root) 
Schisandra Extract  ... 50mg
(Schisandra chiensis, berry, standardized to 2% total schizandrins)
Green Tea Extract ... 25mg
(Camellia sinensis, leaf, standardized to 90% polyphenols & 50% epigallocatechin gallate [EGCG]) 

Other Ingredients: Vegetarian Capsule (cellulose), Ascorbyl Palmitate, Silica.
Free From: Gluten, Dairy, Peanut, Tree Nut, Fish, Shellfish, Soy, Sesame, Egg, Artificial Flavors, Colors, Sweeteners,
and Unnecessary Excipients. Vegan and non-GMO.
 
Warning: If you are pregnant or lactating, taking medication or have a medical condition, consult your healthcare practitioner before use.