Liver Detox
Protocol for Life Balance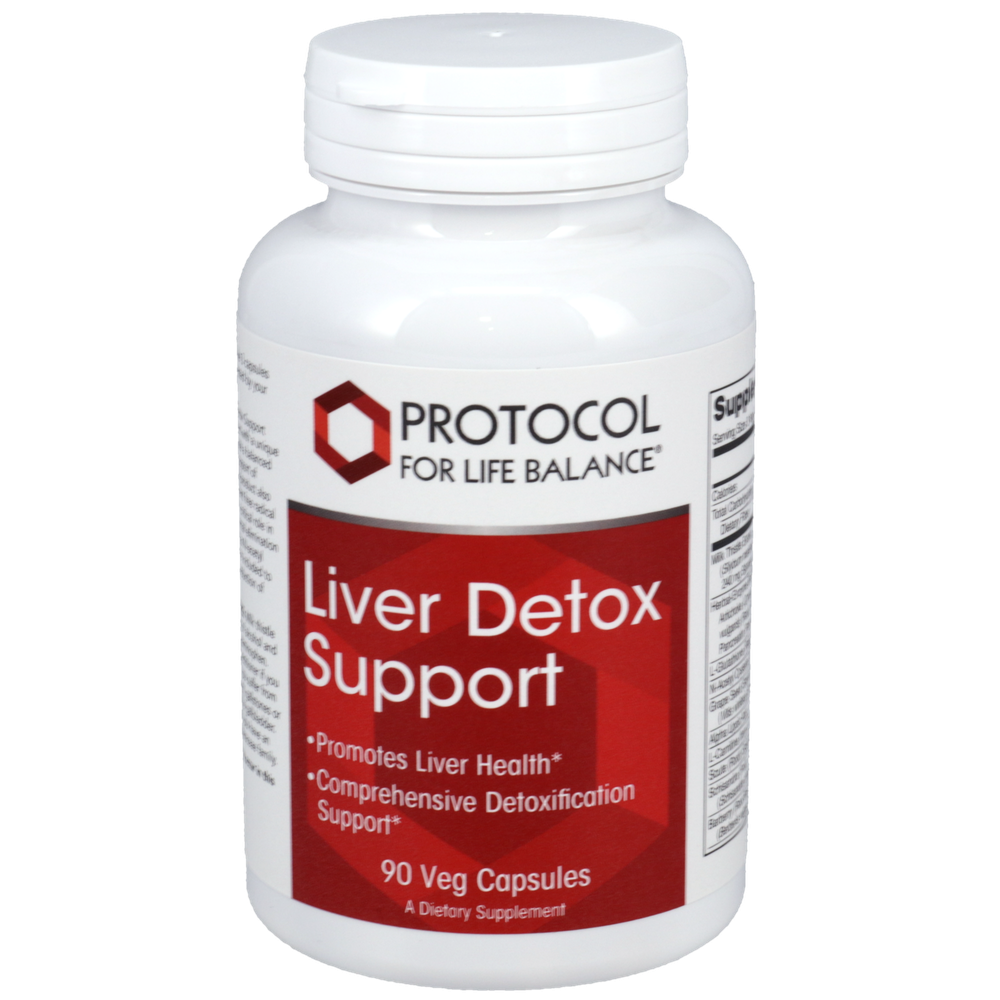 SKU: PROT-P2448
Liver Detox™ is a blend of herbs and nutrients designed to support healthy liver function.* Liver Detox™ has Milk Thistle Extract, which has been shown to favor healthy liver function.* In addition, Liver Detox™ has N-Acetyl Cysteine and Methionine, two amino acids known to enhance the production of glutathione by the liver.* Glutathione plays an essential role in liver detoxification mechanisms.* Also included in Liver Detox™ are other herbs (i.e. Schisandra, Scute) that have been shown in non-clinical studies to support healthy liver function.*
Take 3 capsules daily with food, or as directed by your healthcare practitioner.
Serving Size: Two Softgels
Amount Per Serving
Calories ... 10
Total Carbohydrate ... 1g
Dietary Fiber ... <1g
Milk Thistle Extract ... 300mg
(Silybum marianum)(Fruit/Seeds)
(Standardized to 240mg Silymarin Flavonoids - equivalent 80%)
Herbal-Enzyme Blend ... 90mg
Artichoke (Cynara scolymus)(Leaf), Beet (Beta vulgaris)(Root), Raspberry (Rubus idaeus)(Leaf), Pancreatin (Pancreatic Enzymes)
Setria™ L-Gluthione ... 100mg
(Reduced)
N-Acetyl Cysteine ... 100mg
(NAC)
Grape Seed ... 100mg
(Standardized Extract)(Vitis vinifera)
(Standardized for Polyphenols)
Dandelion ... 100mg
(Root)(Taraxacum officinale)
L-Carnitine ... 50mg
(from L-Carnitine Tartrate)
Scute ... 50mg
(Root)(Scutellaria baicalensis)
Schisandra ... 100mg
(Fruit)(Schisandra chinensis)
Barberry ... 30mg
(Root Bark)(Berberis vulgaris)
Turmeric ... 30mg
(Root)(Curcuma longa)
L-Methionine ... 20mg
Other Ingredients: Cellulose Powder, Cellulose (capsule), Silica, Stearic Acid (vegetable source), Magnesium Stearate (vegetable source) and Ascorbyl Palmitate.
This product does not contain
wheat
gluten
soy
milk
egg
fish
shellfish
Produced in a GMP facility that processes other ingredients containing these allergens.
Setria™ is a trademark of KYOWA HAKKO BIO CO., LTD.
Cautions
Milk Thistle may affect the metabolism of alcohol and some drugs, including acetaminophen. Consult your healthcare practitioner if you are pregnant/nursing or if you suffer from obstruction of the bile ducts, gallstones or other serious diseases of the gallbladder. Do not take this product if you have an allergy to plants of the Asteraceae family.
Do not eat freshness packet. Keep in bottle. Natural color variation may occur in this product.