Liver SAP
Nutritional Fundamentals for Health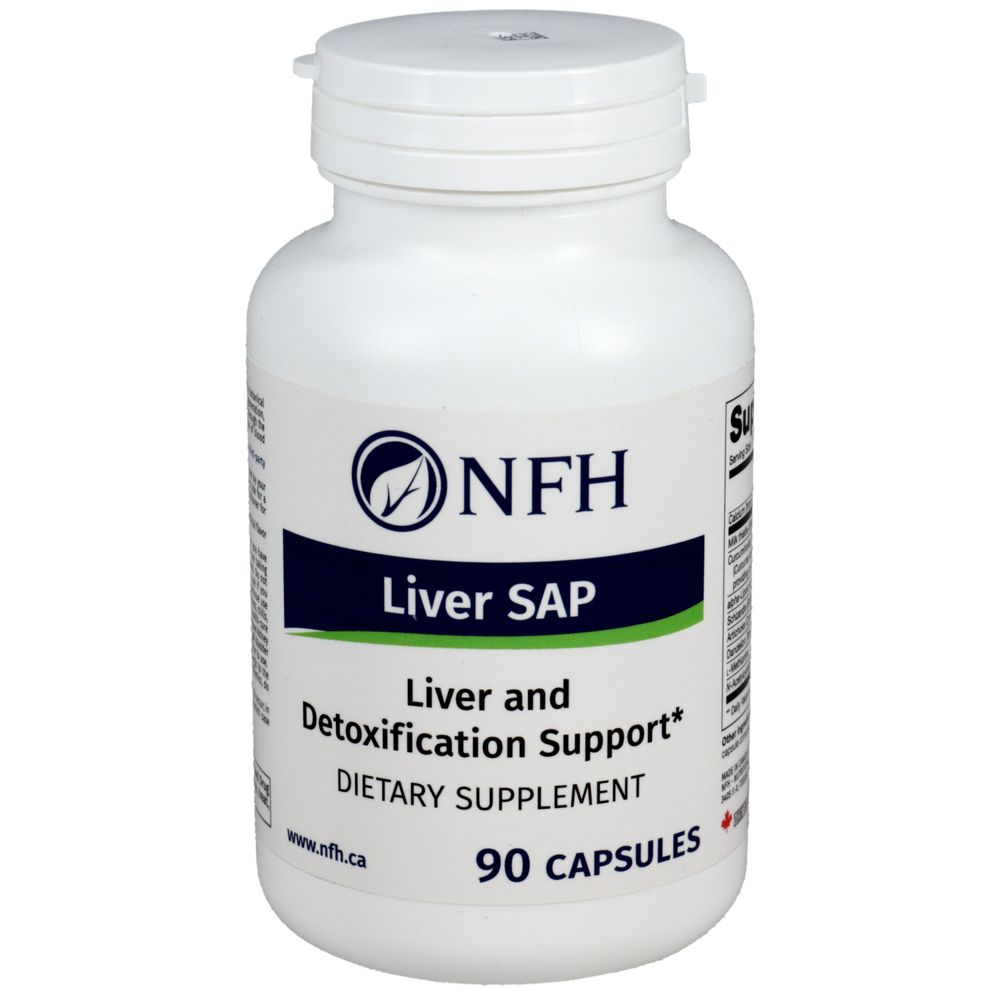 SKU: NFH-1037
Liver SAP™ contains a comprehensive, synergistic blend of high-quality botanical extracts and nutraceuticals to support healthy liver function and regeneration, detoxification and antioxidant status.* Supporting optimal liver function through the use of Liver SAP™ may positively affect digestion, skin quality, regulation of blood glucose and lipid levels, immune function and hormone balance.*
Take 1 capsule twice daily with food or as directed by your health-care practitioner. Use for a minimum of 3 weeks to see beneficial effects.
Serving Size: One Capsule
Amount Per Serving
Calcium ... 6.5mg
(from 50mg of calcium D-glucarate)
Milk Thistle Extract ... 250mg
(silybum marianum)
(seed)(80% silymarin)
Curcumin Extract ... 125mg
(Curcuma longa)
(root)(95% curcuminoids)
Alpha Lipoic Acid ... 100mg
Schizandra Extract ... 50mg
(Schizandra chinensis)
(berry)(9% schisandrins)
Artichoke Extract ... 50mg
(Cynara scolymus)
(whole)(5% cynarin)
Dandelion Extract ... 50mg
(Taraxacum officinale)
(root)(3% flavonoids)
L-Methionine ... 50mg
N-Acetylcysteine ... 25mg
Other Ingredients: Vegetable magnesium stearate, silicon dioxide, maltodextrin (non-GMO), and a non-GMO vegetable capsule composed of vegetable hypromellose and purified water.
This product does not contain
preservatives
artificial flavors
artificial colors
sugar
dairy
wheat
gluten
soy
yeast
CAUTION
Consult a health-care practitioner prior to use if you have asthma, diabetes, gallstones, stomach ulcers, excess stomach acid, a bile duct obstruction or are taking antiplatelet medication, blood thinners or beta blockers such as talinolol. Do not exceed recommended dose. Consult a health-care practitioner prior to use if you have cystinuria; if you are taking nitroglycerin, antibiotics, or any other medication; if you are attempting to conceive. Discontinue use if you develop symptoms of liver trouble.
Do not take if you are pregnant, breast-feeding, or allergic to the Asteraceae/Compositae/daisy family.
Known adverse reactions
Hypersensitivity, such as allergy, has been known to occur; in which case, discontinue use. May cause heartburn, nausea, or vomiting; in which case, discontinue use and consult a health-care practitioner.
Color of product may vary. Do not use if seal is broken. Keep out of reach of children.