BiofilmX
Vita Aid Professional Therapeutics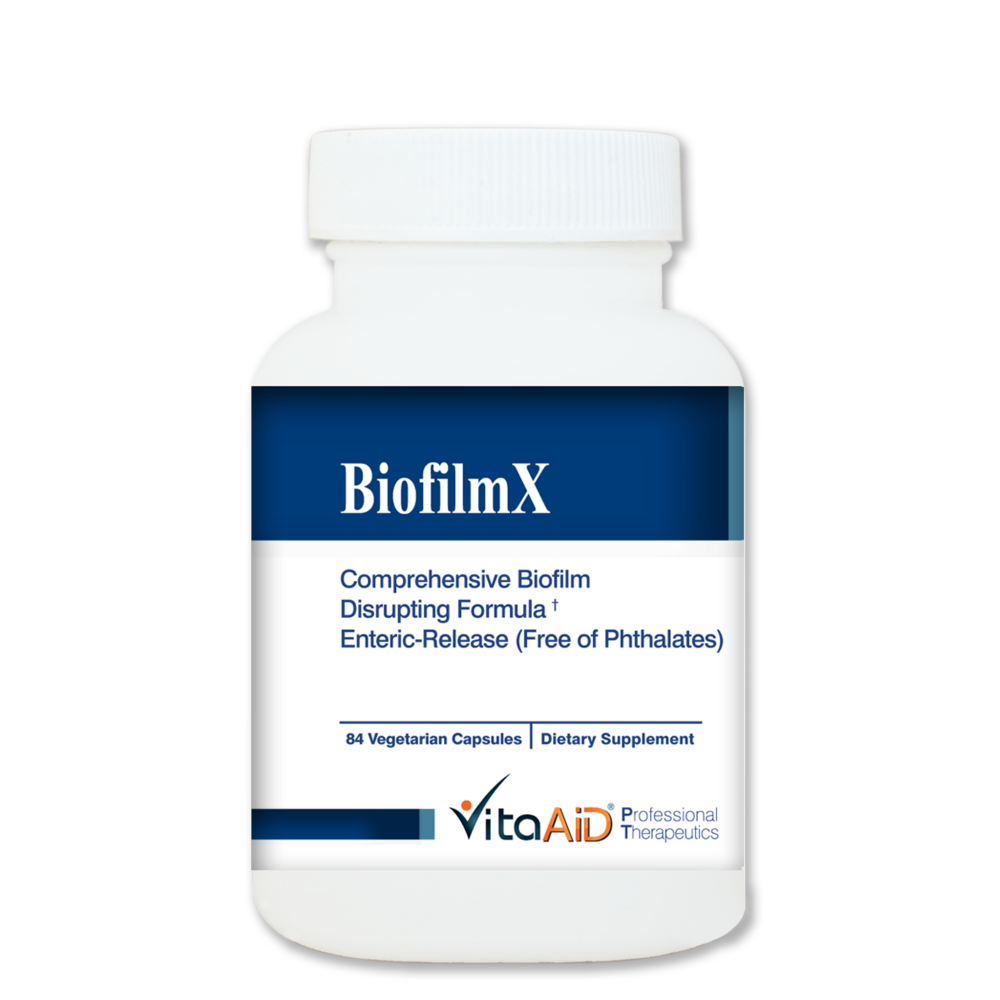 SKU: NAP604-VA939
Mucolytic Formula with Biofilm Disruptors*
BiofilmX combines multiple fibrinolytic & mucolytic enzymes to
help breakdown biofilms.*
Serrapeptase - a potent mucolytic enzyme that help reduce the inhibitory effects of bacterial biofilms, enhance anti-microbial activity, and helps promote healthy inflammatory responses.*
Systemic fibrinolytic proteases and polysaccharide - digesting enzymes to help breakdown the integrity of biofilms and their adhesion to target tissues.*
Alpha lipoic acid - a sulfurhydryl-containing compound known to disrupt biofilm formation and provide antioxidant protection to the host.*
Enteric-release encapsulation (FREE of phthalates that are commonly found in enteric coating) to bypass stomach acid.
Adults, take 1 capsule, 3 times per day, or as directed by your health care practitioner.
Serving Size: 1 Capsule
Amount Per Serving
Serrapeptase ... 30, 000 SU
(from Serratia marcescens E-15)
Protease ... 15, 000 HUT
(from Aspergillus oryzae)
Nattoziem ... 1, 500 FU
(from Aspergillus melleus)
Xylanase ... 1, 100 XU
(from Trichoderma longibrachiatum)
Pectinase ... 50 Endo-P
(from Aspergillus niger)
Beta-Glucanase ... 30 BGU
(from Trichoderma longibrachiatum)
Glucoamylase ... 25 AGU
(from Aspergillus niger)
Hemicellulase ... 4, 000 HU
(from Aspergillus niger)
Cellulase ... 500 CU
(from Aspergillus niger)
Alpha Lipoic Acid ... 200mg
Other Ingredients: Silicon dioxide, L-leucine, pullulan/hypromellose (capsule).
Consult a health care practitioner prior to use if you are pregnant or breastfeeding; or if you are taking any medications.