BioFoundation-G
Bioclinic Naturals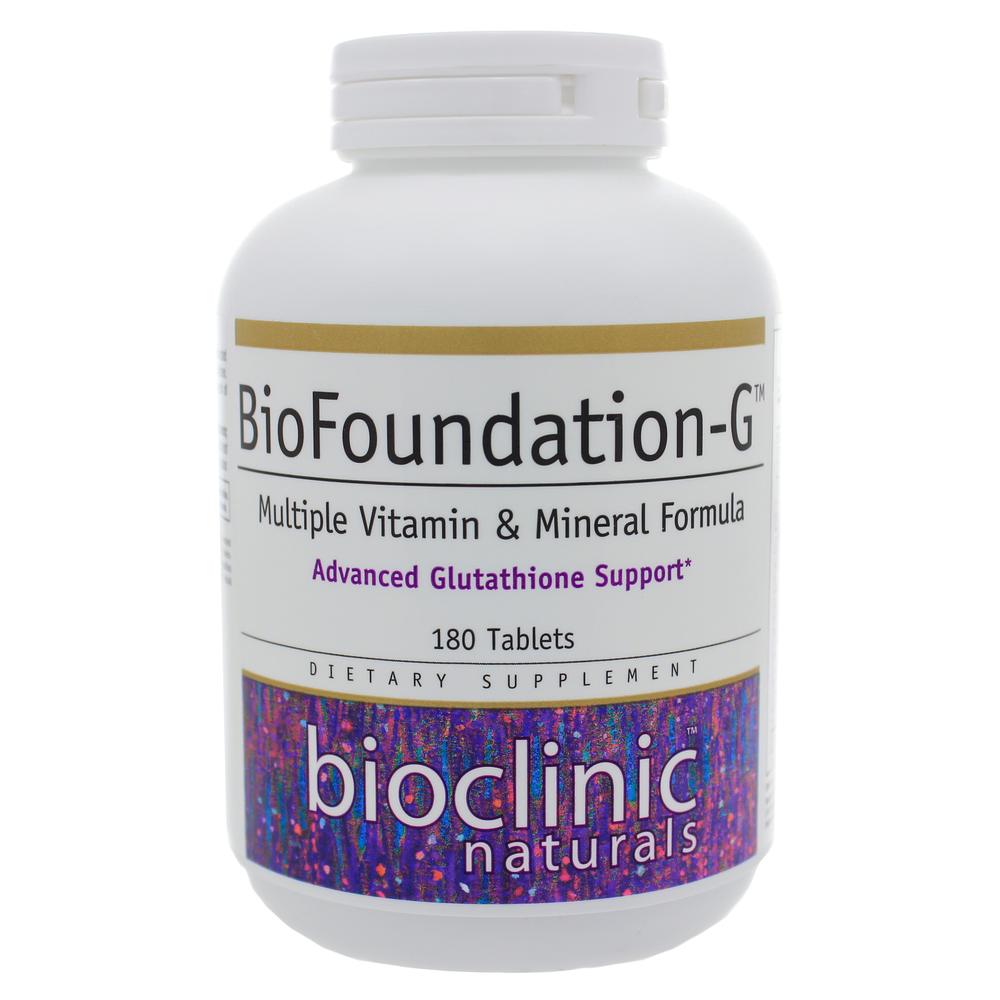 SKU: BCN-9476
A broad spectrum and highly bioavailable multivitamin and mineral, BioFoundation-G's formulation uses clinically driven research to provide the nutritional foundation needed for the modern environment. This complete multi contains clinical doses of nutrients such as N-acetyl cysteine and R-alpha-lipoic acid, well established to increase cellular levels of glutathione, the most prevalent intercellular antioxidant. Glutathione is also one of the most important conjugators of numerous environmental and endogenous toxins, and is known to be depleted not only by xenobiotics, but also by chronic conditions such as diabetes, as well as inflammatory and neurodegenerative diseases. Glutathione support is also linked to lower rates of cell death and apoptosis.
BioFoundation-G also provides physiologically relevant doses of hepatoprotectors such as milk thistle, antioxidants, mitochondrial bioenergetic enhancers such as CoQ10, and co-factors for critical detoxification enzymes. It contains 2000 IU vitamin D3, 45 mcg vitamin K2 and 200 mg niacinamide per serving, more than most existing multi vitamin formulas. It also provides 50 mg of the biological modifiers natural trans-resveratrol and green tea phytosome per serving, nutrients shown to have anti-inflammatory, antiobesity, anti-aging, cardiovascular and stress related benefits.
Unique Features
• Provides rate limiting nutrients for glutathione production, necessary for xenobiotic detoxification
• Full spectrum multiple vitamin and mineral, with 2000 IU vitamin D3 per serving
• Contains clinical doses of resveratrol, lipoic acid, CoQ10, milk thistle and green tea extract
• Broad spectrum antioxidant support, including bilberry and citrus extracts, lipoic acid, lycopene and lutein
• Highly bioactive and bioavailable nutrients, such as pyridoxal-5-phosphate and vitamin K2 (Menaquinone 7)


Suggested Use:
Take 2 tablets, three times per day with meals or as directed by a healthcare professional.
Serving Size: 1 Tablet
Amount Per Serving:
Vitamin A ... 500IU
(as vitamin A palmitate)
Vitamin C ... 167mg
(ascorbic acid)
Vitamin D3 ... 333IU
(as cholecalciferol)
Vitamin K2 ... 7.5mcg
(as menaquinone-7)
Thiamin ... 4mg
(as thiamin hydrochloride, vitamin B1)
Riboflavin ... 4mg
(vitamin B2)
Niacin ... 46mg
(as niacin and niacinamide)
Vitamin B6 ... 2.5mg
(as pyridoxal-5-phosphate and pyridoxine hydrochloride)
Folate ... 83mcg
(folic acid)
Vitamin B12 ... 167mcg
(as methylcobalamin)
Biotin ... 8mcg
Pantothenic Acid ... 17mg
(as calcium pantothenate)
Calcium ... 17mg
(as calcium chelate)
Iodine ... 167mcg
(from kelp) (whole plant)
Magnesium ... 33mg
(as magnesium chelate)
Zinc ... 2.5mg
(as zinc citrate)
Selenium ... 33mcg
(as selenomethionine)
Copper ... 0.2mg
(as copper chelate)
Manganese ... 1mg
(manganese citrate)
Chromium ... 33mcg
(as chromium polynicotinate)
Molybdenum ... 67mcg
(as molybdenum citrate)
Potassium ... 7mg
(as potassium citrate)
Betaine ... 17mg
(as betaine hydrochloride)
Bilberry extract ... 7mg
(Vaccinium myrtillus)
(fruit) (25% Anthocyanidins)
Boron ... 42mcg
(as boron citrate)
Choline ... 4mg
(as choline bitartrate)
Citrus Bioflavonoids ... 8mg
(Citrus limonum, Citrus sinensis), powder (fruit)
Coenzyme Q10 Ubiquinone ... 8mg
(microorganism)
Vitamin E ... 33mg
Green tea Phytosome® ... 8mg
(Camellia sinensis)
(leaf) (13% epigallocatechin-3-O-gallate)
Hesperidin ... 4mg
(Citrus sinensis) (fruit)
Inositol ... 4mg
Lutein ... 0.55mg
(Tagetes erecta) (flower)(10% lutein)
LYC-O-MATO® Lycopene ... 0.275mg
(Lycopersicon esculentum), (fruit) (5% lycopene)
Milk Thistle Phytosome® ... 25mg
(Silybum marianum)
N-Acetlyl Cysteine ... 25mg
Para-Aminobenzoic Acid (PABA) ... 4mg
R-Alpha-Lipoic Acid ... 42mg
ResveratrolRichTM Proprietary Blend ... 17mg
wine grapes (Vitis vinifera) powder
extract (fruit) and Japanese knotweed
(Polygonum cuspidatum) (root)
Vanadium ... 2.5mcg
(as vanadium citrate)
Other ingredients: Cellulose, croscarmellose sodium, coating (sodium carboxymethyl-cellulose, dextrin, dextrose, soy lecithin, sodium citrate), magnesium stearate (vegetable grade).
Contains no artificial preservatives, colors or sweeteners; no dairy, gluten or wheat.


Contraindications: While no specific contraindications are known, this product should be avoided by individuals with a history of hypersensitivity to any of its ingredients. Vitamin D supplementation should be done with caution in those with hypercalcemia or granulomatous diseases, such as sarcoidosis. This product does not contain iron, and may not be the most suitable for use during pregnancy and lactation. Not recommended for children under 12. Children over 12 can take half the recommended adult dose if able to swallow tablets.
Drug Interactions: Vitamin K supplementation may decrease the efficacy of warfarin, or require more close monitoring of its administration. This product contains nutrients known to reduce hypertension and hyperglycemia, and may require lower dosing or discontinuation of related medications.
Sealed for your protection. Do not use if seal is broken. For freshness, store in a cool, dry place.