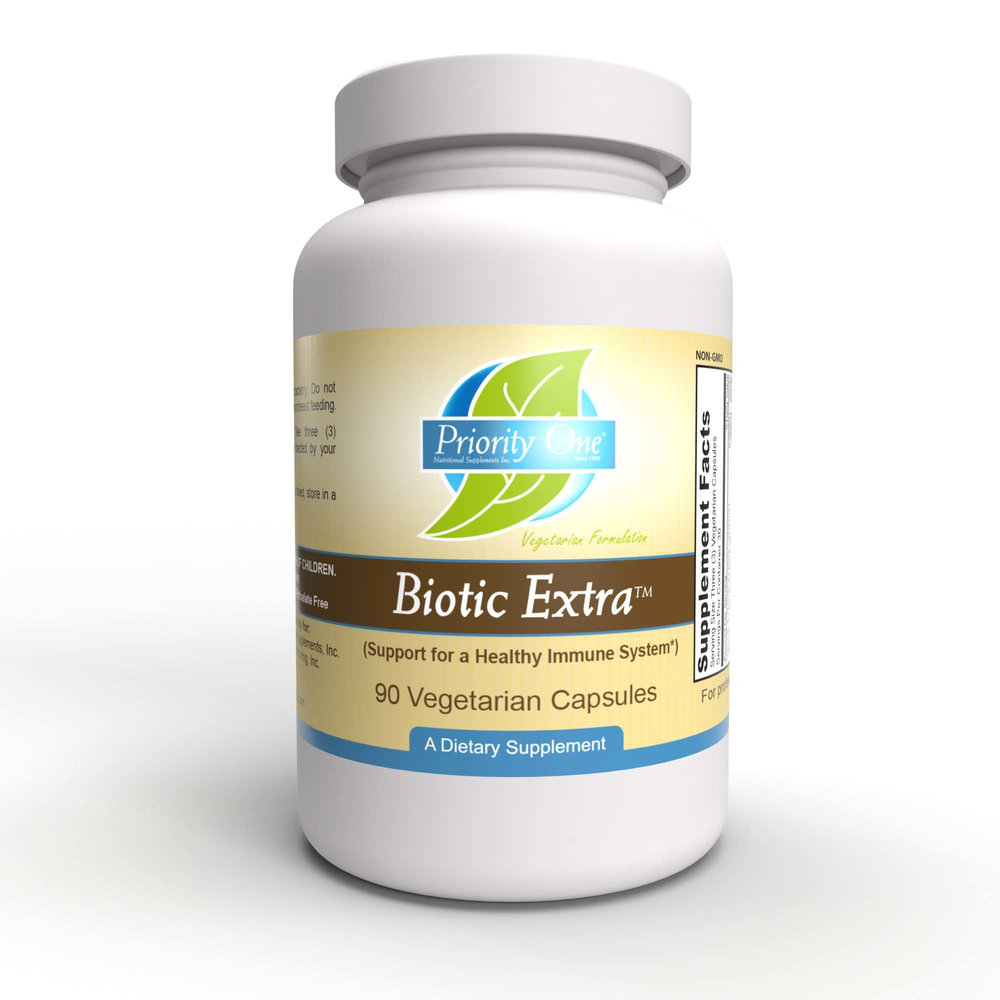 SKU: PR7-1658
Biotic Extra is a unique natural combination of vitamins, minerals, and botanicals specifically designed to nourish a healthy immune system.*
Arabinoglalactan found in this biological response modifying formula is derived from the living larch tree, specifi cally in the cell layer behind the bark. This polysaccharide is a rich carbohydrate that arborists cite as an essential element for recovery after injury
to the tree. Polysaccharides are often found in other well-known medicinal herbs such as echinacea and astragalus.*
Take three (3) capsules daily or as directed by your physician.
Serving Size: Three Vegetarian Capsules
Amount Per Serving
Vitamin A ... 9, 998IU
(100% as beta carotene)
Vitamin C ... 402mg
(as ascorbic acid)
Vitamin B-6 ... 15mg
(as pyridoxine hcl)
Magnesium ... 3mg
(as magnesium rice chelate oxide)
Zinc ... 15mg
(as zinc gluconate)
Beta D-Glucan ... 15mg**
(1, 3)(1, 6)
Bitter Orange ... 402mg**
(fruit)(Citrus aurantium)
(25% Bioflavonoids)
Larix laricina ... 456mg**
(wood)(Arabinogalactan)
Myrrh ... 39mg**
(gum-resin)(extract 4:1)
(Commiphora molmol)
Ginger ... 27mg**
(root)(extract 4:1)
(Zingiber officinale roscoe)
Garlic ... 27mg**
(bulb)(Allium sativum)
Barberry ... 39mg**
(root)(extract 4:1)
(Berberis vulgaris)
Oregon Grape ... 150mg**
(root)(Berberis aquifolium)
Grapefruit ... 33mg**
(seed)(extract 4:1)
(Cittus paradisi)
Olive ... 126mg**
(leaf)(20% Oleuropein)
(Olea europara L.)
Shiitake ... 33mg**
(whole mushroom)(extract 4:1)
(Lentinus edodes)
Maitake ... 126mg**
(mushroom)(Grifola frondosa)
Cordyceps sinensis ... 300mg**
(mycelium)(extract 4:1)
Other Ingredients: Silicon dioxide, citric acid, gluten free maltodextrin, vegetarian capsule (hypromellose, purified water).
This product does not contain
Bisphenol-A (BPA)
Phthalate
GMOs
Warning: Contains barberry. Do not use if you are pregnant or breast feeding.
Keep container tightly closed, store in a cool, dry place.
Keep out of reach of children.