Bone-Up (Vegetarian)
Jarrow Formulas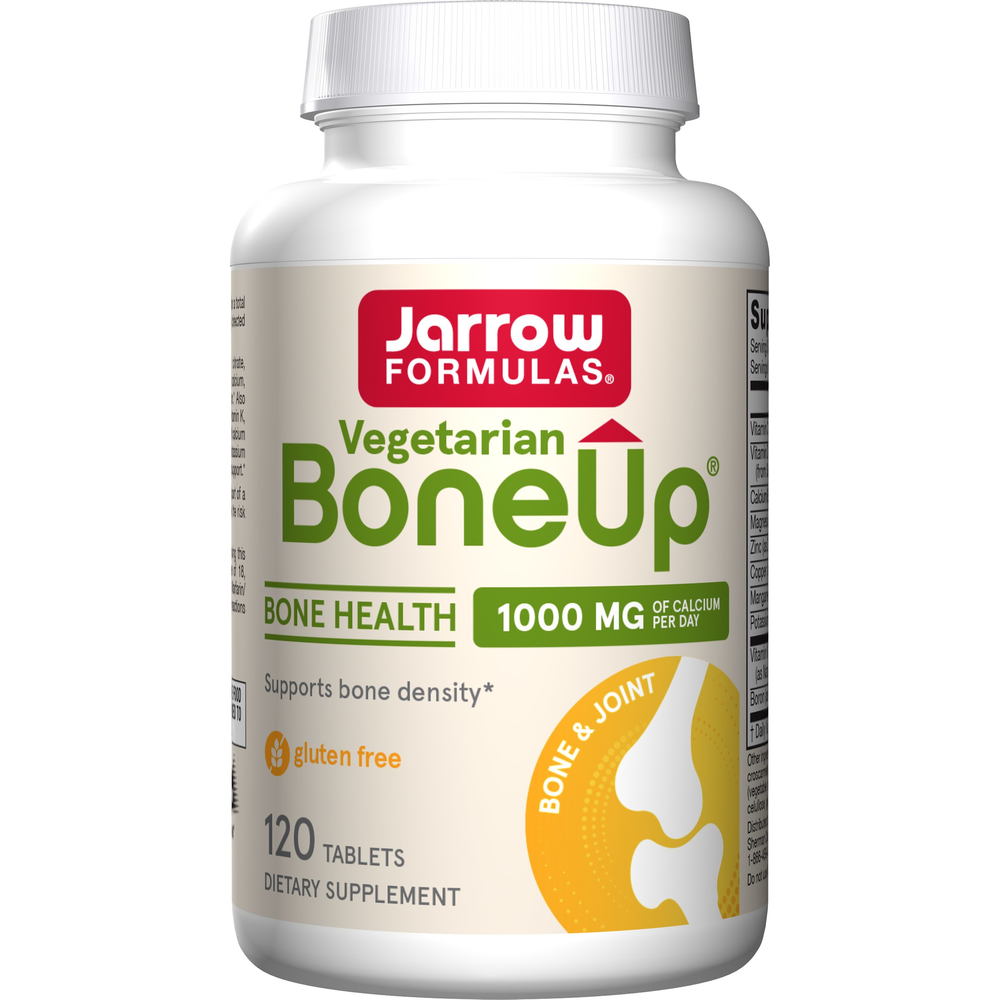 SKU: JAR-VBU
Vegetarian/Vegan Bone-Up® provides calcium citrate, a vegetarian/vegan source of the essential mineral calcium and a form that has demonstrated superior absorption. Also, Vegetarian/Vegan Bone-Up® is formulated with vitamin K2 (as MK-7 from natural fermentation [a more bioavailable form of vitamin K]) and vitamin D2, ingredients that support the deposition of calcium into the bones as well as assist in building up the organic bone matrix.* Potassium citrate is a systemic alkalizer added for optimal osteo support.*
Jarrow Formulas HEALTH CLAIM: Adequate calcium and vitamin D as part of a healthful diet, along with physical activity, may reduce the risk of osteoporosis later in life.
For best results, use with Jarrow Formulas® JarroSil®, the biologically Activated Silicon®.
Suggested Use:
Take 2 tablets 3 times per day (for a total of 6) with meals to facilitate maximum absorption, or as directed by your qualified healthcare professional.
Serving Size: 6 Tablets
Amount Per Serving
Vitamin C … 200mg
(as Calcium Ascorbate)
Vitamin D2 … 1000IU
(as D2 Ergocalciferol) (from Saccharomyces cerevisiae nutritional yeast)
Calcium … 1000mg
(as calcium citrate)
Magnesium … 500mg
(as Magnesium Oxide)
Zinc … 10mg
(L-OptiZinc®) (as Zinc L-Methionine Sulfate)
Copper … 1mg
(as Copper Gluconate)
Manganese … 1mg
(as Manganese Citrate)
Potassium … 99mg
(as Potassium Citrate)
Vitamin K2 … 45mcg
(as Natural MK-7 (menaquinone-7))†
Boron … 3mg†
(as Boron Citrate)
Other Ingredients: Cellulose, stearic acid (vegetable source), yeast (inactivated Saccharomyces cerevisiae [source of vitamin D2]), magnesium stearate (vegetable source), silicon dioxide and a food-grade coating.
Mineral amounts are elemental.
No wheat, gluten, soybeans, dairy, egg, fish/shellfish, or peanuts/tree nuts.
Suitable for vegetarians/vegans.
Caution: If you have a medical condition, are pregnant, lactating, trying to conceive, or taking medications (especially warfarin/Coumadin), consult your healthcare professional before using this product.
Store in a cool, dry place.