BoneUp® Three Per Day
Jarrow Formulas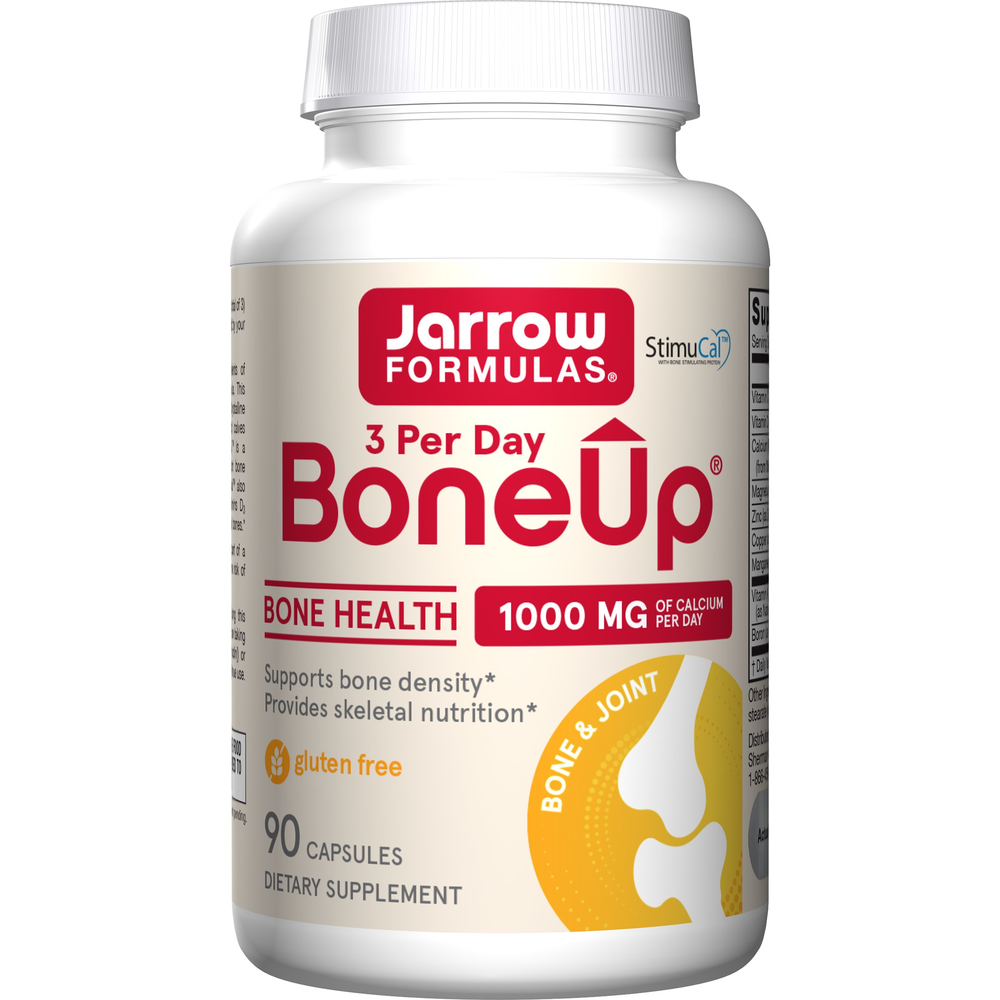 SKU: JAR-BUTPD
BoneUp® 3 Per Day offers many of the same nutrients of regular BoneUp® but in a convenient, 3-capsule formula. BoneUp® is a comprehensive micronutrient formula that provides StimuCal™ MicroCrystalline HydroxyApatite (from free-range New Zealand calves) and micronutrients to support bone health.* StimuCal™ MCHA is a natural source of calcium shown to support bone mineral density better than calcium carbonate.* StimuCal™ also provides bone proteins, including type I collagen.* Vitamins D3 and K2 (as natural MK-7 from fermentation) work together to support calcium deposition into bones.*
HEALTH CLAIM: Adequate calcium and vitamin D as part of a healthful diet, along with physical activity, may reduce the risk of osteoporosis later in life.


Suggested Use:
Take 1 capsule 3 times per day with meals, (for a total of 3) to facilitate maximum absorption, or as directed by your qualified healthcare professional.
Serving Size: 1 Capsule
Amount Per Serving
Vitamin C ... 33.3mg
(as Ascorbic Acid)
Vitamin D3 ... 8.3mcg (333IU)
Calcium ... 333.3mg
(Elemental) (from Microcrystalline Hydroxyapatite)
Magnesium ... 166.7mg
(as Magnesium Oxide)
Zinc ... 3.3mg
(as Zinc L-Methionine Sulfate)
Copper ... 0.333mg
(as Copper Gluconate)
Manganese ... 0.333mg
(as Manganese Citrate)
Vitamin K2 ... 15mcg
(as Natural Derived MK-7 [Menaquinone-7])
Boron ... 1mg
(as Boron Citrate)
Other Ingredients: Capsule (bovine gelatin), magnesium stearate (vegetable source) and silicon dioxide.

No wheat, gluten, soybeans, dairy, egg, fish/shellfish, or peanuts/tree nuts.
StimuCal™ is a registered trademark of PharmaZen Ltd., and is patent pending.



NOTE: If you have a medical condition, are pregnant, lactating, trying to conceive, or taking medications (especially warfarin/Coumadin), consult your healthcare professional before using this product.

Keep out of reach of children.

Store in a cool, dry place.