Osteo SAP
Nutritional Fundamentals for Health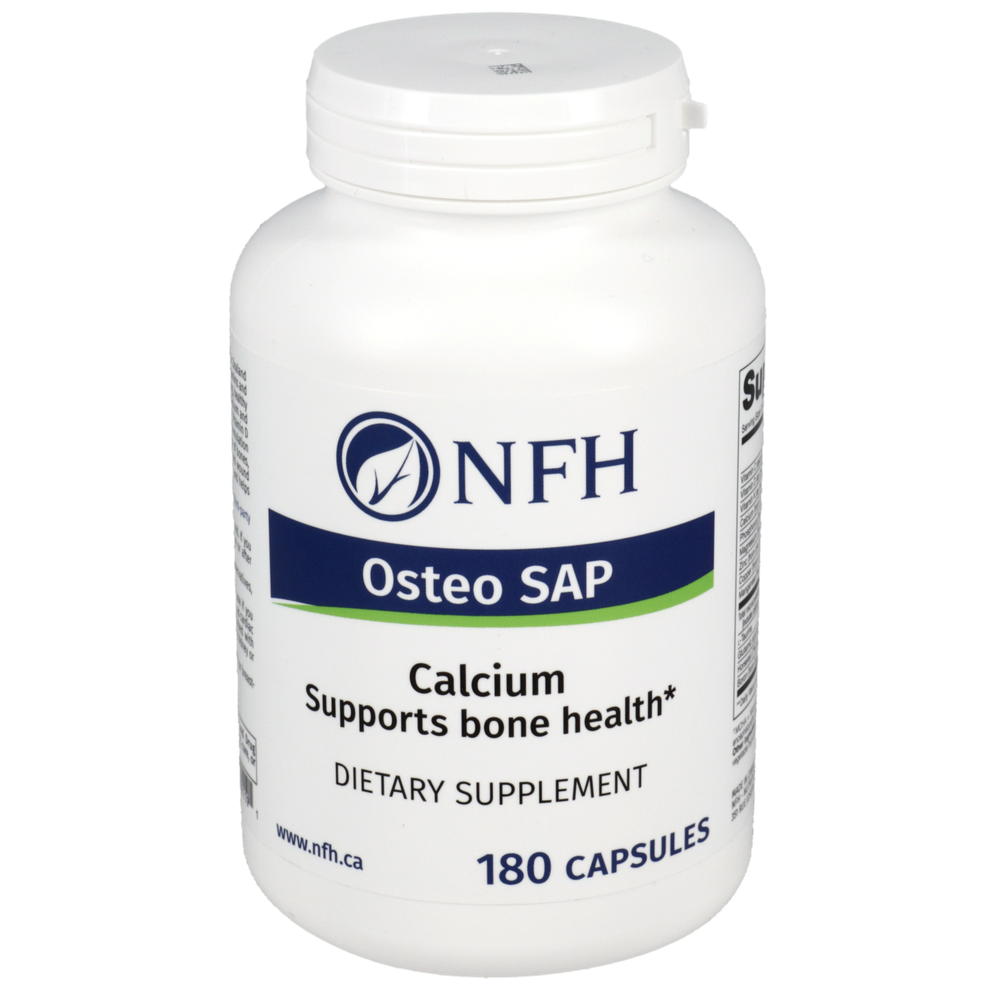 SKU: NFH-1019
Osteo SAP™ supplies a comprehensive, synergistic blend of New Zealand bovine microcrystalline hydroxyapatite. (MCHA) complex, minerals, vitamins and amino acids to enhance bone-building osteoblasts and support strong, healthy bones.* Osteo SAP™ provides a daily dose of 875mg of elemental calcium and 437mg of elemental magnesium, a 2:1 ratio to provide bone support.* Vitamin D helps in the absorption and use of calcium and phosphorus.* The formulation provided by Osteo SAP™ helps in the development and maintenance of cartilage and gums; helps in connective tissue formation and wound healing; helps to form red blood cells; helps maintain healthy skin; and helps to maintain immune function.*
Take 2 capsules three times daily with food. If you are taking other medications, take this product a few hours before or after them.
Serving Size: Two Capsules
Amount Per Serving
Protein ... 292mg
(from MCHA)
Vitamin C ... 17mg
(ascorbic acid)
Vitamin D3 ... 333IU
(cholecalciferol)
Vitamin K2 ... 33mcg
(menaquinone-7)
Calcium ... 292mg
(from MCHA)
Phosphorus ... 146mg
(from MCHA)
Magnesium ... 146mg
(from magnesium bisglycinate)
Zinc ... 3mg
(from zinc picolinate)
Copper ... 333mcg
(from copper gluconate)
Manganese ... 1mg
(from manganese citrate)
Microcrystalline hydroxyapatite ... 1167mg
(freeze-dried MCHA)
L-Taurine ... 17mg
Glutamic acid hydrochloride ... 17mg
Horsetail ... 8mg
(7% silica)
Boron ... 1mg
(from boron citrate)
Other Ingredients: Vegetable magnesium stearate, silicon dioxide, dicalcium phosphate, and a non-GMO vegetable capsule composed of vegetable hypromellose and purified water.
This product does not contain
preservatives
artificial flavors
artificial colors
dairy
wheat
gluten
yeast
citrus
eggs
CAUTION
Consult a health-care practitioner prior to use if you are taking blood thinners; if you are taking cardiac medications such as cardiac glycosides or antiarrhythmic agents; or if you have been diagnosed with estrogen-dependent cancer. Do not use if you have edema due to kidney or cardiovascular disease.
For adult use only. Do not use if you are pregnant or breat-feeding or have excess stomach acid.
Do not use if seal is broken. Keep out of reach of children.