Botanical Treasures®
Natura Health Products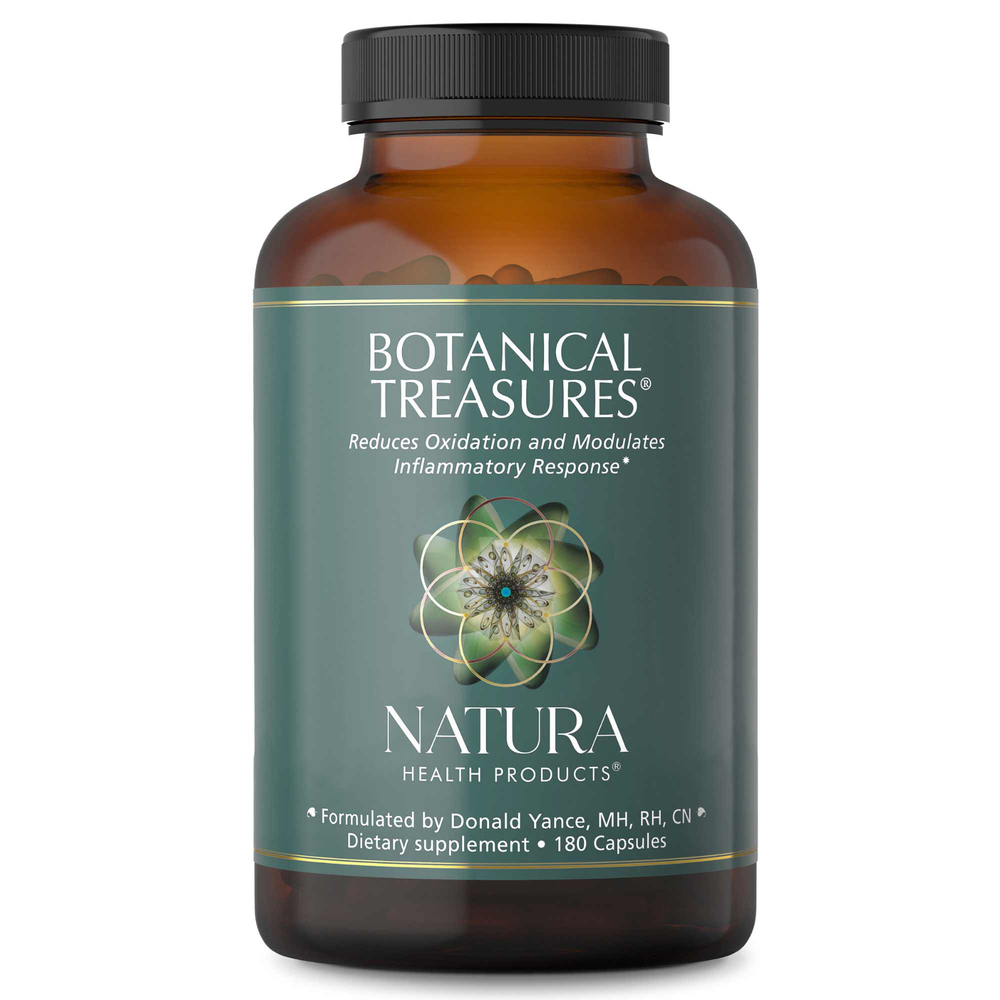 SKU: NTH-BTRC104
provides antioxidant activity*
modulates inflammatory response*
promotes proper cell behavior*
features Curcumin C3 Complex® 95% curcuminoid Turmeric extract
Botanical Treasures® delivers broad spectrum antioxidant activity to quench free radicals, thereby normalizing gene behavior and supporting healthy aging. This highly concentrated herbal extract formula features Curcumin C3 Complex®, an advanced patented extract of Turmeric, standardized to 95% curcuminoids. Botanical Treasures® blends the traditional knowledge of Vitalist herbalism, Traditional Chinese Medicine and Ayurveda with the extensive findings of modern research. The result is a comprehensive formula to promote lifelong health and vitality.*
Take 2 capsules 2 times daily, or as directed by your health care practitioner.
Serving Size:
2 capsules
Amount Per ServingTurmeric Rhizome Ext
... 250mg
(Curcuma longa) 95% Curcuminoids
Green Tea Leaf Ext
... 200mg
(Camellia sinensis)98% Polyphenols, 75% Catechins, 45% EGCG
Japanese Knotweed Root Ext
... 100mg
(Polygonum cuspidatum) 50% Trans-Resveratrol
Quercetin Dihydrate
... 100mg
(from Sophorae japonica Bud)
Grape Seed Ext
... 100mg
(Vitis vinifera) 95% Proanthocyanidins
Grape Skin Ext
... 50mg
(Vitis vinifera) 30% Polyphenols
Amla Fruit Ext
... 50mg
(Emblica officinalis) 40% Tannins
Holy Basil Leaf Ext
... 50mg
(Ocimum sanctum L.) 2% Ursolic Acid
Ginger Rhizome Ext
... 40mg
(Zingiber officinale) 5% Gingerols
Rosemary Leaf Ext
... 30mg
(Rosmarinus officinalis) 6% Carnosic Acid
Luo Han Guo Fruit Ext
... 15mg
(Siraitia grosvenorii)
Bromelain from Pineapple Stem Ext
... 10mg
(Ananas comosus) 2400 GDU/gram
Long Pepper Fruit Ext
... 5mg
(Piper longum) 1.5% Piperine
Other Ingredients:
Vegetable capsule (HPMC, water), microcrystalline cellulose, magnesium stearate, silicon dioxide
Does Not Contain:
Wheat, gluten, soy, milk, eggs, fish, crustacean shellfish, tree nuts, peanuts
If pregnant or nursing ' consult your qualified health care practitioner before use. Keep out of reach of children. Protect from heat' light' and moisture.