Botanical Treasures®
Natura Health Products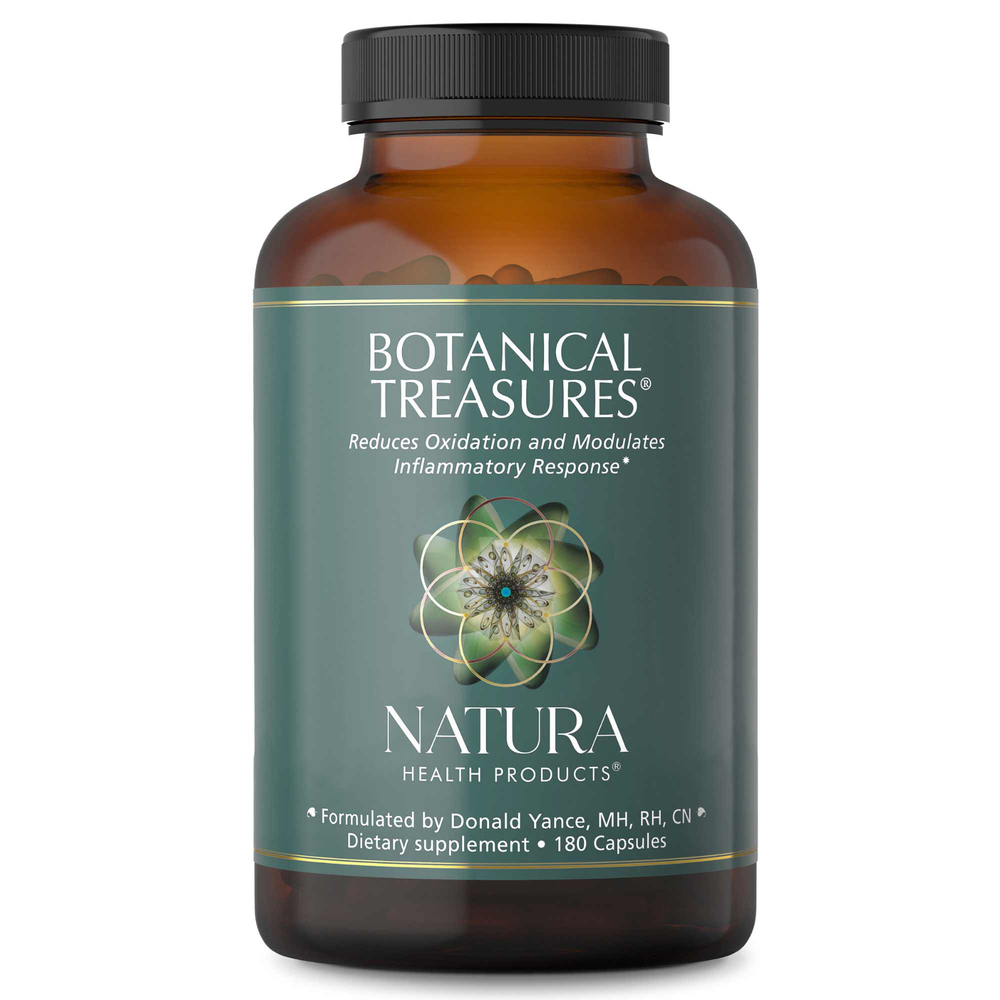 SKU: NTH-BTRC104
provides antioxidant activity*
modulates inflammatory response*
promotes proper cell behavior*
features Curcumin C3 Complex® 95% curcuminoid Turmeric extract

Botanical Treasures® delivers broad spectrum antioxidant activity to quench free radicals, thereby normalizing gene behavior and supporting healthy aging. This highly concentrated herbal extract formula features Curcumin C3 Complex®, an advanced patented extract of Turmeric, standardized to 95% curcuminoids. Botanical Treasures® blends the traditional knowledge of Vitalist herbalism, Traditional Chinese Medicine and Ayurveda with the extensive findings of modern research. The result is a comprehensive formula to promote lifelong health and vitality.*

 
Suggested Use:
Take 2 capsules 2 times daily, or as directed by your health care practitioner.


Serving Size: 2 capsules

Amount Per Serving
Turmeric Rhizome Ext ... 350mg
(Curcuma longa) 95% Curcuminoids (Curcumin C3 Complex®)
Green Tea Leaf Ext ... 200mg
(Camellia sinensis) (<2% caffeine)
Black Cumin Seed Ext. … 130mg
(Nigella sativa) (Nigellin®)
Grape Seed Ext ... 70mg
(Vitis vinifera) 
Trans-Resveratrol … 50mg
(from Polygonum cuspidatum Root Ext.) (Resvenox®)
Holy Basil Leaf Ext ... 50mg
(Ocimum sanctum L.)
Rosemary Leaf Ext ... 50mg
(Rosmarinus officinalis)
Ginger Rhizome Ext ... 50mg
(Zingiber officinale)
Amla Fruit Ext …45mg
(Emblica officinalis)(Saberry®)
Black Pepper Fruit Ext ... 5mg
(Piper longum) (BioPerine®)

Other Ingredients: Rice Flour, Magnesium Stearate, Silicon Dioxide, Vegetable Capsule (Hydroxypropyl Methylcellulose).

 
If pregnant or nursing ' consult your qualified health care practitioner before use. Keep out of reach of children. Protect from heat' light' and moisture.