Broncafect Phytosynergist®
MediHerb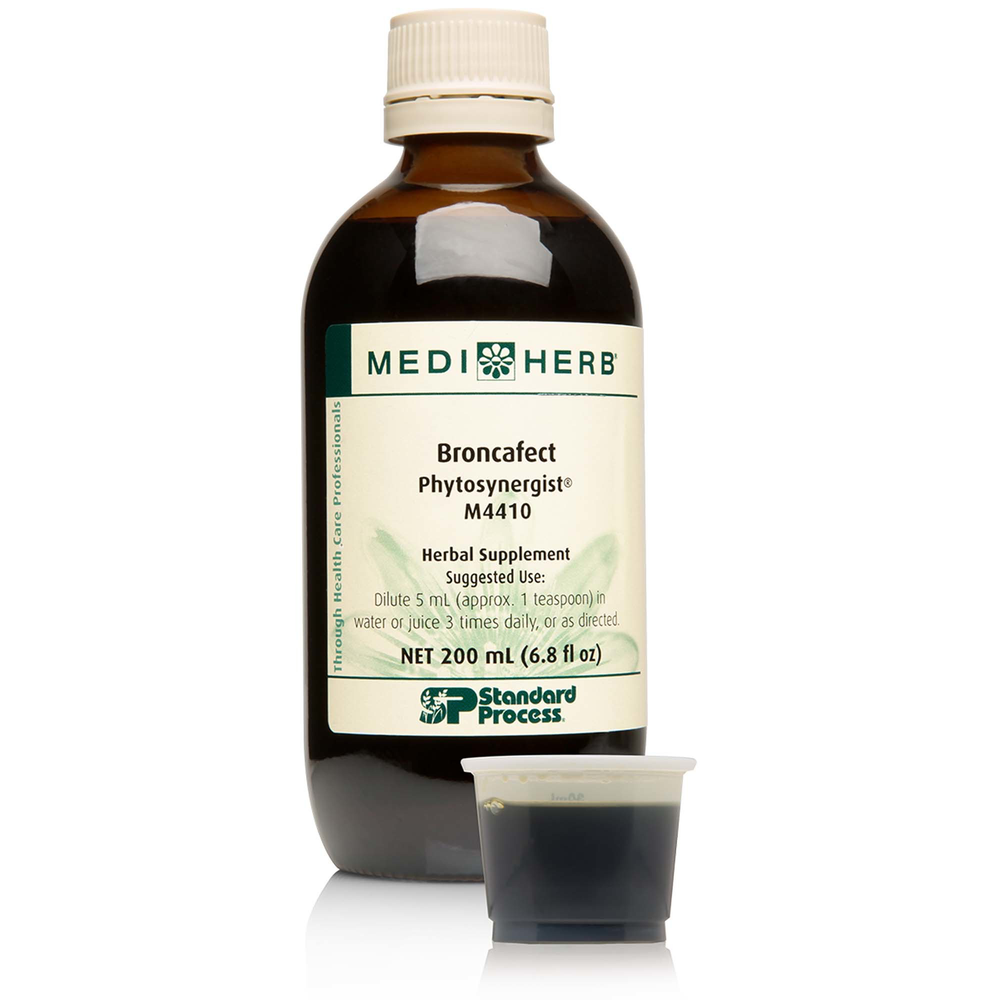 SKU: MDH-M4410
Broncafect Phytosynergist® contains herbs traditionally used to support respiratory tract function and healthy mucus flow.
It contains Echinacea, Licorice, Pleurisy Root, Thyme, Ginger and White Horehound. These herbs have been traditionally used in herbal preparations to:
Support healthy respiratory tract function and the ability to break up respiratory secretions
Support normal mucus flow
Support healthy immune system function
Help relieve temporary mild throat discomfort associated with hoarseness, dry throat and irritants*
Dilute 5 mL (approx. 1 teaspoon) in water or juice 3 times daily, or as directed.
Serving Size:
5 mL (1 tsp)
Amount Per ServingCalories
... 15
Echinacea root 1:2 extract
... 1.0ml
from Echinacea angustifolia root 500 mg
Licorice root extract
... 1.0mL
from Glycyrrhiza glabra root 1.7 g
Pleurisy root 1:2 extract
... 1.0mL
from Asclepias tuberosa root 500 mg
Thyme leaf 1:2 extract
... 1.0mL
from Thymus vulgaris leaf 500 mg
Ginger rhizome 1:2 extract
... 500mcL
from Zingiber officinale rhizome 250 mg
White Horehound herb 1:2 extract
... 500mcL
from Marrubium vulgare herb 250 mg
Other Ingredients:
Purified water, 48% alcohol and maltodextrin.
Caution:
Contraindicated in high blood pressure, edema (water retention), congestive heart failure, low blood potassium, pregnancy and lactation. Contraindicated in known allergy to plants of the daisy family.