Wellness Herbal Resistance Alcohol Free
Source Naturals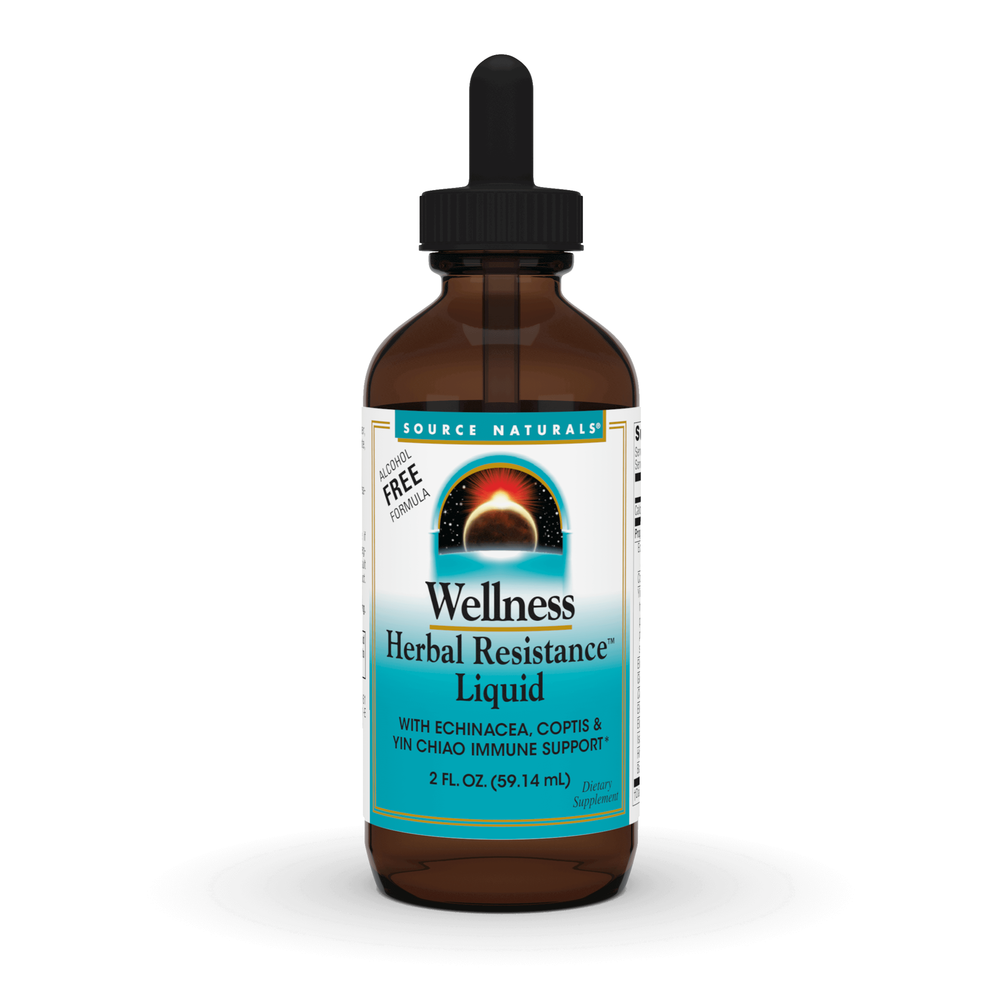 SKU: SOU-SN1161

Wellness Herbal Resistance™ Alcohol Free Liquid
with Echinacea, Coptis & Yin Chiao Immune Support
Wellness Herbal Resistance™ Alcohol Free Liquid contains a powerful combination of herbs designed to help support your immune system. Echinacea and coptis promote well-being while Yin Chiao, a valued Chinese herbal complex, helps our bodies maintain a sense of balance.*

Supplement Facts
Serving Size: 1/2 Teaspoon (Approx. 2.5 mL)

Amount %DV
Calories 10
Proprietary Extract Blend: Approx.2.5 mL
Echinacea (E. purpurea and E. angustifolia) Root
Coptis Root
Yin Chiao Formula (Japanese honeysuckle flower, forsythia fruit, peppermint leaf, germinated soy bean, licorice root, schizonepeta aerial parts, phragmites rhizome, platycodon root, burdock seed, and bamboo shoot)
Elderberry Fruit
Ginger Root
Cinnamomum spp. Bark
Eleuthero Root
Elderberry Flower
Isatis Root
Horehound Aerial Parts
Bayberry Bark

Suggested Use
1/2 teaspoon three times daily (1/2 teaspoon is approximately 45 drops).

Other Ingredients
vegetable glycerin, purified water, honey, peppermint essential oil, potassium benzoate, and potassium sorbate.

Warning
This product contains honey. Do not use if allergic to honey or other bee products. If you are pregnant, may become pregnant, or breastfeeding, consult your health care professional before using this product. Not for use by children under 1 year old.
Do not use if either tamper-evident seal is broken or missing. Keep out of the reach of children.
Shake well before using.

*These statements have not been evaluated by the Food & Drug Administration. These products are not intended to diagnose, treat, cure or prevent any disease.