Candicid Forte - California Only
Ortho Molecular Products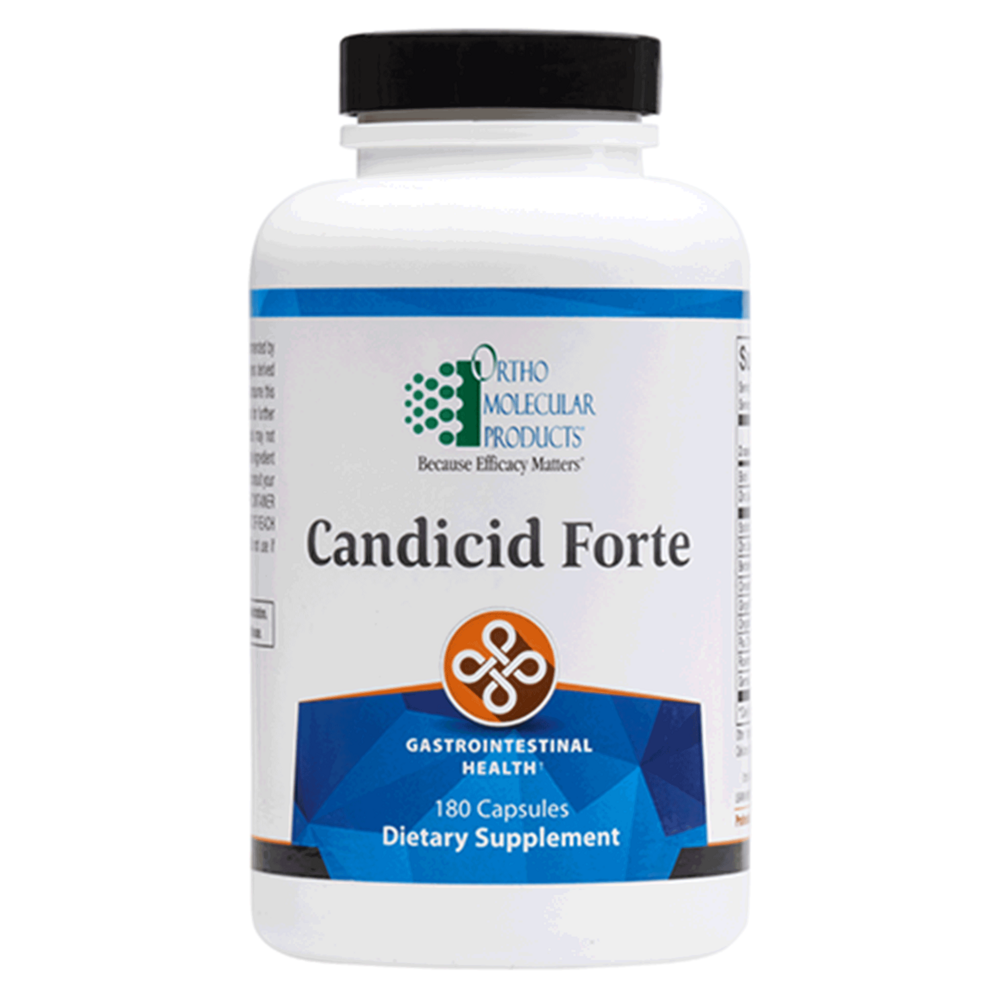 SKU: OHM-510180C
Candicid Forte supports optimal GI microflora balance through a blend of nutrients, natural botanical extracts and fatty acids.*
Gastrointestinal health is directly affected by factors like poor diet and a stressful lifestyle. The prevalence of refined sugars and carbohydrates and lack of fiber in Western diets have been directly linked to changes in the intestinal and colonic environments. Since more than 70% of the body's immune system resides in the gut, establishing a healthy microbial balance is critical in reducing immune challenges and maintaining inflammatory balance.
Candicid Forte provides a blend of nutrients, potent botanicals and essential oils to promote healthy microbial balance and immune support. Formulated with the goal of building a healthy gastrointestinal (GI) flora, Candicid Forte includes biotin, a nutrient that inhibits yeast from converting into the more aggressive fungal form. In addition, sodium caprylate is included to disrupt the metabolism of Candida and create a hostile environment for colonization. It also includes potent botanicals, such as berberine HCl, Pau d'Arco, oregano, rosemary, cinnamon and ginger, to sooth the GI tract, provide potent antioxidant support, and ensure microbial balance.
Promotes Healthy Microbial Balance
Helps Maintain Gastro-Intestinal Comfort
Provides Nutrients that Increase Antioxidant Protection
Enhances Immune Function
Suggested Use:
Take 2 capsules three times per day or as recommended by your health care professional.
Serving Size: 2 Capsules
Amount Per Serving
Biotin … 300 mcg
Sodium … 20 mg
(from Sodium Caprylate)
Berberine Hydrochloride Hydrate … 150 mg
Oregano Leaf Extract … 150 mg
Sodium Caprylate … 150 mg
Cinnamon Bark Extract … 100 mg
German Chamomile … 100 mg
(Flower)
Ginger Root … 100 mg
Pau D'Arco Inner Bark Extract … 100 mg
Rosemary Leaf Extract … 100 mg
Other Ingredients: Natural Vegetable Capsules, Microcrystalline Cellulose, Magnesium Stearate, and Calcium Silicate.
Does Not Contain: Gluten, corn, yeast, artificial colors and flavors.
Cautions:
Do not consume this product if you are pregnant or nursing. Consult your physician for further information.