Cholest-Plex
Patient One MediNutritionals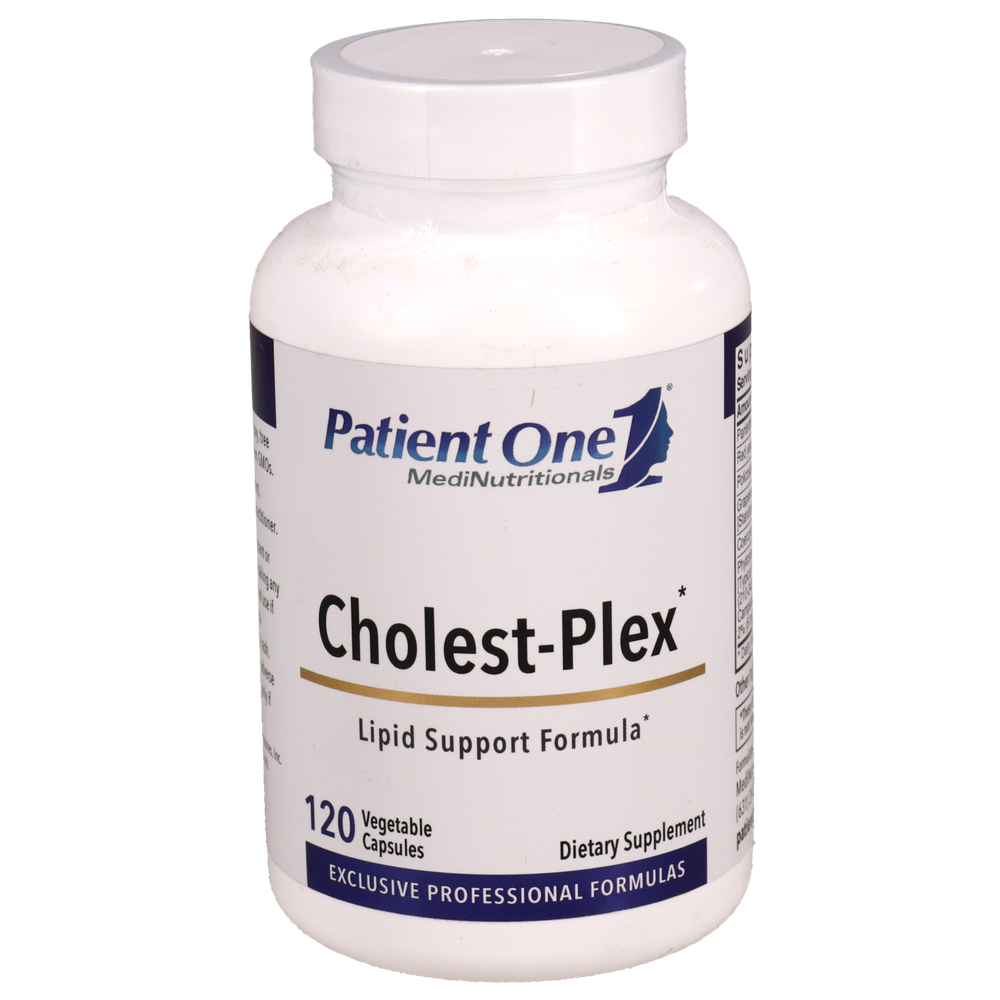 SKU: ONE631-P1035120
Combines targeted heart-health ingredients that naturally support cholesterol levels already within normal range
Supports normal triglyceride and LDL levels
Modulates HMG-CoA reductase with antioxidant tocotrienols
Optimizes circulation and supports heart health
Promotes blood vessel integrity and flexibility

Patient One formulated Cholest-Plex to be a gentle, well-tolerated natural formula for maintaining cholesterol levels already within a normal range. Cholest-Plex combines evidence-backed natural ingredients in use for millennia with patented advancements for healthy lipid maintenance. Presented in ideal nutritional potencies and ratios, Cholest-Plex balances cardiovascular wellness via diverse biological pathways, blocking cholesterol absorption and synthesis, promoting blood vessel flexibility, regulating inflammation and enhancing endothelial function.
Suggested Use:
Take 2 vegetarian capsules once daily as a dietary supplement or as directed by a qualified health care professional.
Serving Size: 2 Capsules

Amount Per Serving
Pantethine ... 50mg
Red Yeast Rice powder ... 600mg
(Monascus purpureus) (seed)
Policosanol ... 10mg
(from sugar cane wax)
Grapeseed extract ... 50mg
(Vitis vinifera) (inner core of fruit) [Standardized for 95% proanthocyanidins (47.5 mg)]
Coenzyme Q10 ... 30mg
(ubiquinone)
Phytosterols ... 300mg
[as Phytopin® Pine Extract (99% sterols)]
[Typical Profile provides: Beta-Sitosterol 70-80% (210-240 mg), Beta-Sitostanol NMT 15% (45 mg), Campesterol 6-10% (18-30 mg), Campestanol NMT 2% (6 mg), Other Phytosterols NMT 3% (9 mg)]

Other Ingredients: vegetable cellulose (capsule), l-leucine, rice flour.


This product contains NO milk, egg, fish, peanuts, crustacean shellfish, soy, tree nuts, wheat, gluten.
This product is free of ingredients derived from genetically modified organisms (GMOs).

Phytopin® is a registered trademark of DRT Nutraceuticals (France).
Warnings:
Do not use if you are allergic to rice or if you are pregnant or nursing. Consult your health practitioner before use if taking any cholesterol, blood thinning or other medications. Do not use if you have kidney or liver disease. Discontinue use if you experience any unexplained muscle pain, weakness or rash. Discontinue use and consult health practitioner if any adverse reactions occur. Keep out of reach of children. Use only if safety seal is intact.