Clearface Acne Skin Vitamins
Codeage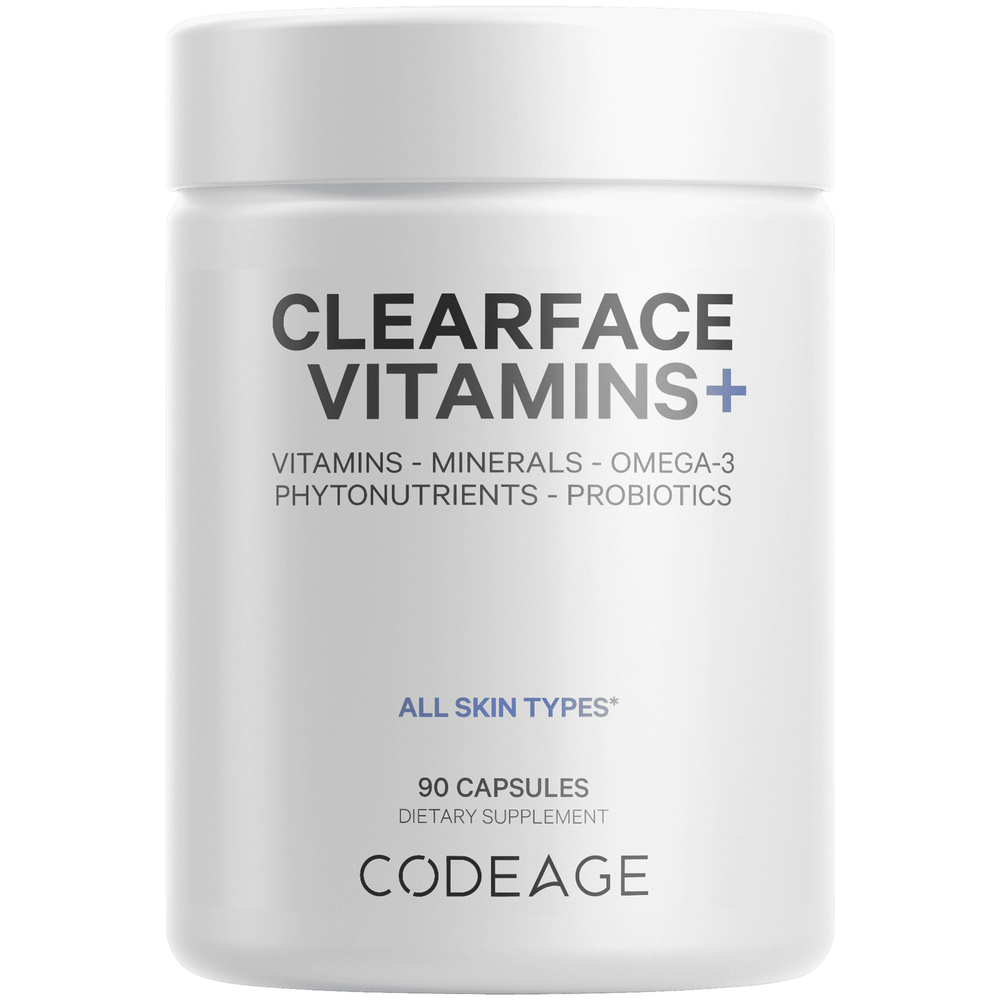 SKU: COD404-853919008731
Codeage Clearface is an all-in-one formula featuring vegan vitamin A as 100% Beta-Carotene, vitamin C, vitamin D3 from wild harvested lichen, and vitamin E from rice bran combined with 30 mg of zinc along with selenium, copper, manganese, and chromium. This supplement also provides thiamin (vitamin B1), riboflavin (vitamin B2), niacin as niacinamide, and 20mg of pantothenic acid, 500mg of L-Lysine HCL and 450mg of vegan omega-3 fatty acids. Each serving offers a probiotic blend delivering 10 billion CFU with 5 different strains and a variety of skin botanicals such as milk thistle extract, spirulina algae, matcha green tea, dandelion leaf, beet root powder, and more.
Promote healthy skin*
Have antioxidant properties*
Suggested Use:
Adults take 3 capsules daily with 8 ounces of water or your favorite beverage. May be taken with or without food.
Serving Size:
3 Capsules
Amount Per Serving
Vitamin A
... 700 mcg
(as Beta-Carotene; from Blakeslea trispora)
Vitamin C
... 120 mg
(as L-Ascorbic Acid)
Vitamin D3
... 25 mcg
(as Cholecalciferol; from Wild Harvested Lichen)
Vitamin E
... 15 mg
(from Rice Bran; containing Alpha, Beta, Gamma, & Delta Tocopherols)
Thiamin
... 5mg
(as Thiamine HCI
Riboflavin
... 5 mg
Niacin
... 25 mg
(as Niacinamide)
Pantothenic Acid
... 20 mg
(as D-Calcium Pantothenate)
Iodine
... 113 mcg
(from Organic Kelp)
Zinc
... 30 mg
(as Amino Acid Chelate)
Selenium
... 200 mcg
(as Amino Acid Chelate)
Copper
... 2 mg
(as Amino Acid Chelate)
Manganese
...1.6 mg
(as Citrate)
Chromium
... 60 mcg
(as Picolinate; Or anicall Bound with GTF Activity)
L-Lysine HCL
... 500 mg
Vegan Omega-3
... 450 mg
(Eicosapentaenoic Acid & Docosahexaenoic Acid)
Skin Cleanse & Detox Blend
... 300 mg
Milk Thistle Seed Extract (Std. to 80% Silymarin), Spirulina Algae Powder, Matcha Green Tea Leaf Powder, Dandelion Leaf Extract 4:1, Beet Root Powder, Methylsulfonylmethane (MSM), L-Proline, Organic Chlorella Algae Powder, Horsetail Aerial Parts Extract, Oregon Grape Powder (Root), Alpha Lipoic Acid
Probiotic Blend
(10 Billion CFU) ... 117 mg
L. rhamnosus (2 Billion CFU), L. acidophilus (3 Billion CFU), B. bifidum (1 Billion CFU), L. casei (2 Billion CFU), L. plantarum (2 Billion CFU)
Rice Phytoceramide Extract
... 35 mg
BioPerine
... 5 mg
(Black Pepper Extract; Fruit; Piper nigrum)
Other Ingredients:
Methylcellulose Capsule.
Does not contain:
GMO, gluten, soy, carriers, preservatives, hormones, fillers & artificial ingredients.
Ideal for Vegans
Warning
: Do not exceed recommended dose. Pregnant or nursing mothers, children under 18 and individuals with a known medical condition should consult a physician before using this or any dietary supplement. Please use caution if you have allergies or sensitives to any of the listed ingredients.