Teens Fermented Multivitamin
Codeage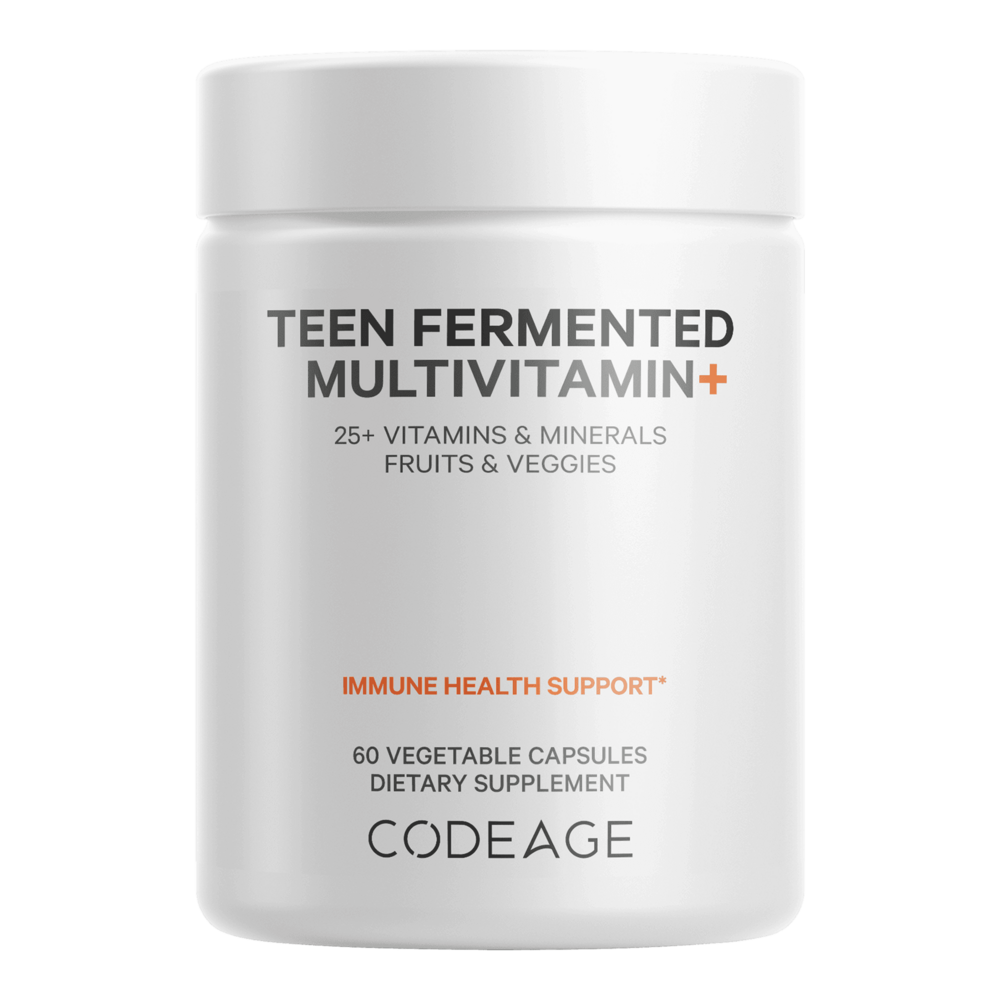 SKU: COD404-853919008526
Codeage Teen Multivitamin supplement is specifically formulated for teenage boys and girls aged 12 to 18. This premium formula offers 25+ daily vitamins and minerals in an all-in-one solution. Our teen multi is made with real whole foods and offers probiotics, vegan vitamins A beta carotene, plant-based vitamin C acerola cherry, vegan vitamin D3 from wild-harvested lichen, vitamin E, K2, methylated B-Complex (Folate, B6, B12, Biotin), essential minerals such as Calcium, Magnesium, Potassium, Zinc, Selenium, Vegan Omega-3, CoQ10, lutein, zeaxanthin & more.
Teens have different needs that may demand specific solutions. Our multivitamins for teens are designed for the unique period when children transition to adulthood. A formula that offers a large variety of vitamins as their needs and dreams evolve to their future success.
The ingredients of this daily teen formula are known to:
Support healthy vision, and the functioning of your organs and immune system, and may help protect bones*
Support iron absorption, immunity and antioxidant levels*
Promote the absorption of calcium and phosphorus levels in the blood for healthy bones and support healthy immune system function*
Can act as an antioxidant that may help protect cells*
Support bone and dental health*
Support energy levels, brain function, and cell metabolism*
Contain essential minerals to support overall health*


Suggested Use:
Take 2 capsules daily with 8 ounces of water or your favorite beverage. May be taken with or without food.


Serving Size: 2 Capsules

Amount Per Serving
Vitamin A ... 750 mcg
(as Beta Carotene)
Vitamin C ... 80 mg
(as L-Ascobate; Acerola Cherry)
Vitamin D3 ... 25 mcg
(as Wild Harvested Lichen)
Vitamin E ... 20 mg
(as D-Alpha Tocopherol)
Thiamin (Natural) ... 1.3 mg
Riboflavin ... 1.5 mg
Niacin ... 12 mg
(as Niacinamide)
Vitamin B6 ... 1.3 mg
(as Pyridoxal 5-Phosphate)
Folate ... 680 mcg DFE
[as Quatrefolic (6S)-5- Methyltetrahydrofolic Acid, Glucosamine Salt]
Vitamin B12 ... 2 mcg
(as Methylcobalamin)
Biotin ... 150 mcg
Pantothenic Acid ... 5 mg
(as Calcium Pantothenate)
Calcium ... 110 mg
(as Aquamin ; Citrate)
Iron ... 5 mg
(as Ferrous Fumarate)
Phosphorus ... 25 mg
(as Dicalcium Phosphate)
Iodine ... 120 mcg
(from Kelp†)
Magnesium ... 95mg
(as Citrate)
Zinc ... 5 mg
(as Amino Acid Chelate)
Selenium ... 40 mcg
(as L-Selenomethionine)
Copper ... 0.06 mg
(as Amino Acid Chelate)
Manganese ... 1.6 mg
(as Citrate)
Chromium ... 25 mcg
(as Chromium Picolinate)
Molybdenum ... 35 mcg
(as Amino Acid Chelate)
Probiotic & Enzyme Blend (1B CFU‡) ... 73 mg
L. bulgaricus, B. bifidum, L. acidophilus, Papain, Protease, Lipase, Cellulase
Teen Health Blend ...50 mg
Fermented Blueberry (Fruit)†, Fermented Broccoli (Whole Plant)†, Fermented Carrot (Root)†, Fermented Cranberry (Fruit)†, Fermented Ginger (Root)†,Fermented Kale (Leaf)†, Fermented Orange (Fruit)†, Fermented Pomegranate (Fruit)†, Fermented Raspberry (Fruit)†, Fermented Spinach (Leaf)†
Inositol ... 25 mg
Rutin ... 5 mg
(from Black Olives)
Boron ... 500 mcg
(from Amino Acid Chelate)
Lutein ... 450 mcg
(from Marigold)
Omega-3 ... 450 mcg
(from Microalgae)
Coenzyme Q10 (CoQ10) ... 425 mcg
Astaxanthin ... 360 mcg
(from Algae)
Lycopene ... 185 mcg
(from Tomatoes)
Zeaxanthin ... 110 mcg
(from Marigold)
Vitamin K2 ... 75 mcg
(as Menaquinone-7)
Trace Minerals (from Sea Water) ... 20 mcg

Other Ingredients: Methylcellulose Capsule, Potassium Chloride.



Vegan. Non-GMO, dairy, soy, and gluten free.




Warning
: Consult your physician prior to using this product if you are pregnant, nursing, taking medication, or have a medical condition. Discontinue use two weeks prior to surgery. This product is manufactured in a facility that processes fish and tree nuts.